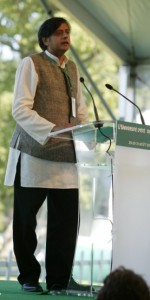 Sharai Tharoor (54), the Minister of State for External Affairs resigned on Sunday (April 18) night bringing to an end a high voltage political controversy over his role and that of his friend Sunanda Pushkar in the Kochi franchise of the Indian Premier League (IPL) cricket. His decision was a sequel to the Congress core group's view that he had become a liability and that any delay in closing the chapter could suck the government and the party into it.
Tharoor was summoned to the Prime Minister's residence where the core group met and was told to quit. He complied with the direction. Dr. Manmohan Singh immediately forwarded the resignation to the President Pratibha Patil who was away in Pune. And accepted it.
A lateral entrant into the Congress who was rewarded with a berth though of junior level in the high profile external affairs ministry, has been in the eye of one storm or the other from the word go. His first brush with controversy took places shortly after his induction into the government with his penchant to write on the Twitter on issues that belong to the domain of cabinet responsibility. He earned the sobriquet Twitter Minister.
His exit under a cloud was something even the bitter critics of this writer and former UN spokesman did not expect. His detractors contend that Tharoor who represents Thiruvananthapuram, Kerala, had scripted his own down fall. His face off with IPL Commissioner Lalit Modi became public with Modi twitting about Sunanda Pushkar's stake in Kochi franchise.
The media dug into what was for all purposes a juicy story for the tabloids and TRP hungry TV channels. Soon it became clear that Pushkar got sweat equity of the value of Rs 70 crore; the opposition jumped into the fray demanding Tharoor's scalp.
Tharoor argued that he did not misuse his official position and contended that he did not make any pecuniary gain. But his claim had no takers in the opposition and by the week end in the Congress party also.
Sunday afternoon, Pushkar tried what may be called a rescue act for Tharoor by stating that she was surrendering her sweat equity in Kochi venture. The offer failed to get him a reprieve. The Congress chief Sonia Gandhi and her political advisors were convinced that Pushkar's offer amounted to admission of guilt.