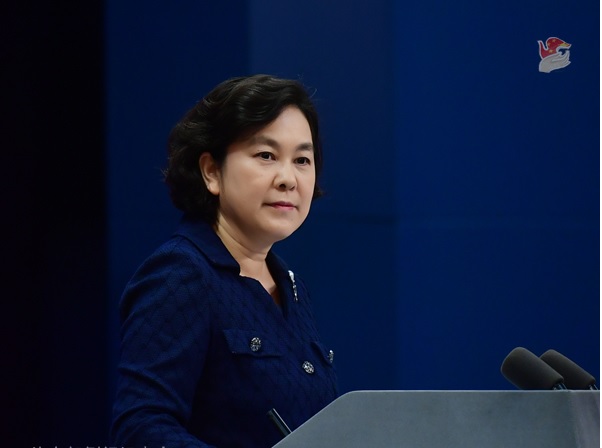 Chinese Foreign Ministry Spokesperson Hua Chunying held a press conference on August 5, 2022
EXCERPTS
CGTN: US officials like the NSC Coordinator for Strategic Communications said that "China has chosen to overreact and use the Speaker's visit as a pretext to increase provocative military activity in and around the Taiwan Strait". NATO Secretary-General also shared his view. Do you have any comment?
Hua Chunying: The current situation is entirely caused by Speaker Pelosi and other US politicians. Hearing this type of rhetoric from the US officials reminds people of the story of the Emperor's New Clothes. It is time for the US to get rid of its arrogance, selfishness, and hypocrisy and bullying practices.
The context and the events that led to the tensions in the Taiwan Strait are crystal-clear. The US is the unprovoked provocateur and creator of the crisis.?
The Taiwan question is not about democracy. It is a major issue of principle about China's sovereignty and territorial integrity. The US needs to put itself in others' shoes. If an American state were to secede from the US and declare independence, and then some other nation provided weapons and political support for that state, would the US government — or the American people — allow this to happen?
The visit of Pelosi to Taiwan is a grave provocation that upgraded substantive exchanges between the US and Taiwan. It is a serious violation of the one-China principle.
China has acted in legitimate self-defence only after the US made this egregious provocation. Our countermeasures are necessary as a warning to the provocateurs and as a step to uphold our sovereignty and security.
CCTV: The US Senate recently approved a resolution to designate Russia as "state sponsor of terrorism". In response, Russian Foreign Ministry spokesperson Maria Zakharova warned that Russia could sever diplomatic relations with the US if her country is placed on the list of state sponsors of terrorism. Do you have any comment?
Hua Chunying: The US has always been obsessed with arbitrarily pinning labels on other countries and is used to claiming itself to be a moral judge. It has been pointing fingers at other countries and using unsubstantiated charges to suppress and contain other countries. This says a lot about the hegemonic and highhanded bully that the US is.
Russia is an important force for global counterterrorism efforts and has played an active and constructive role in addressing the threat of terrorism. This will not change simply because the US has made ill-intentioned, false accusations against it.
Shenzhen TV: As we understand, the Chinese, the US and the Japanese foreign ministers had a war of words on the Taiwan question at the East Asia Summit Foreign Ministers' Meeting on August 5. Do you have more to say on that?
Hua Chunying: At the East Asia Summit Foreign Ministers' Meeting on August 5, some countries made unwarranted accusations against China's legitimate measures to uphold its rights. But the majority of countries present did not agree with those accusations and showed understanding for China's position.
Reuters: Chinese Foreign Minister Wang Yi walked out moments before the start of a gala dinner at the foreign ministers' meeting in Cambodia on Thursday. Why did he do that? And what's China's comment on this??
Hua Chunying: Although State Councilor and Foreign Minister Wang Yi had a very tight schedule yesterday, he still, in ways consistent with China's COVID protocol, went to the venue of the gala dinner held by the Cambodian side as the host of the ASEAN-plus foreign ministers' meetings, where he exchanged greetings with the Cambodian Deputy Prime Minister and Foreign Minister Prak Sokhonn and spoke to other participants there.
Associated Press of Pakistan: Today is the third anniversary of India's unilateral actions in occupied Kashmir, violating the United Nations' resolution on the disputed territory. Would you like to comment on this?
Hua Chunying: On the issue of Kashmir, China's position is clear and consistent. The Kashmir issue is an issue left over from history between India and Pakistan. This is also the shared view of the international community. We stated back then that parties concerned need to exercise restraint and prudence. In particular, parties should avoid taking actions that unilaterally change the status quo or escalate tensions. We call on both India and Pakistan to peacefully resolve?relevant disputes through dialogue and consultation.
Hubei Media Group: The US Ambassador to the United Nations Linda Thomas-Greenfield began her visit to Africa on August 3, which she said was going to focus on how the US can help Uganda, Ghana and Cape Verde deal with the food crisis that has hit the continent particularly hard — not to compete with China and Russia. She added that some African countries now face "debt traps" due to their relations with China. Do you have any comment?
Hua Chunying: As China has repeatedly stressed, supporting Africa's development is the international community's common responsibility. The US really should spend its resources, time and energy on addressing the urgent needs of development for Africa, instead of making the suppression of other countries' influence in Africa its African policy objective. Food security is a major issue for African countries. Taking this issue very seriously, China has put forward the cooperation initiative on global food security and has been helping African countries addressing food shortages. We have provided emergency food aid to Djibouti, Ethiopia, Somalia, and Eritrea, among others. Soon we will be providing new food aid to African countries in need. We welcome the US's efforts to help Africa deal with food crisis, and we also hope the US will abide by the basic norms in international relations and not cling to the Cold War mentality, slap unilateral sanctions and undermine regional stability.
Now, about debt trap, I want to quote two latest research findings. One is a recent report released by UK-based charity Debt Justice titled The Growing Debt Crisis in Lower Income Countries and Cuts in Public Spending. According to the report, African governments owe three times?more debt to Western private lenders than to China, and are charged double the interest. The accusation of a China "debt trap" is pure fabrication. The other one is a report issued by the research team from Tsinghua University titled The Trap of Financial Capital: The Impact of International Bonds on the Debt Sustainability of Developing Countries. According to this report, Western financial capital, due to its profit-driven nature, have been urging African countries to issue high-interest Eurobonds despite the economic vulnerability and weak risk resilience of developing countries. That has led to the five-fold increase in African countries' sovereign bonds over the past decade and the rising debt pressure on African countries.
CNR: Diplomats posted in China from Islamic countries have recently paid a visit to Xinjiang. Could you share more details?
Hua Chunying: From August 1 to August 4, 32 diplomatic envoys posted to China and senior diplomats from 30 Islamic countries visited Xinjiang. Party Secretary of Xinjiang Uyghur Autonomous Region Mr. Ma Xingrui met with the delegation. The delegation visited Kashgar, Aksu and Urumqi, and they visited mosques, Islamic institutes, museums, old town renovation projects, grassroot communities, sci-tech companies, green development and rural revitalization projects. What the delegation saw with their own eyes throughout their journey in Xinjiang is very different from what is reported by some Western media.?
Islamic countries have always held the just position on Xinjiang. Through this visit, the Islamic countries again spoke up in an objective and fair way.
Kyodo News: According to reports, Foreign Minister Wang Yi and his Russian counterpart walked out of a speech by Japan's foreign minister at today's East Asia Summit Foreign Ministers' Meeting. Can you give us more information? How do you comment on that?
Hua Chunying: I am not aware of what you described, but I wish to use this opportunity to remind the Japanese side that the Japanese leadership has acted egregiously on Taiwan. The Chinese people are very unhappy about that.
Reuters: Japan reported that China fired four missiles over Taipei during its drills. Is that true? If so, what's China's comment on that?
Hua Chunying: The Chinese side has released information on the military exercise. The visit by Speaker Pelosi triggered the current tensions and all China's countermeasures are justified, necessary, and proportionate. We hope the Japanese side will have the correct understanding on this. ###
https://www.mfa.gov.cn/eng/xwfw_665399/s2510_665401/202208/t20220805_10735987.html