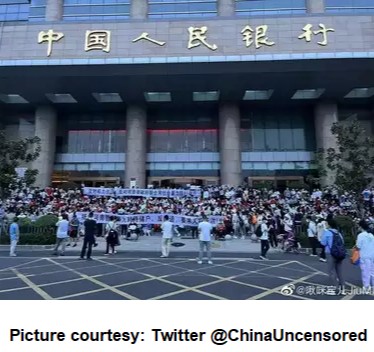 It was an unusual scene in Communist China. Bank depositors are up on arms in the city of Zhengzhou. Some three rural -based banks have frozen their deposits three months ago in April saying they were upgrading their internal systems. Nothing is heard since then forcing the depositors to hit the streets on Sunday. Police dispersed them using force.  Several protestors were injured.
Chinese media reported that the frozen deposits could be worth up to $1.5 billion. The banks include the Yuzhou Xinminsheng Village Bank and the Shangcai Huimin Country Bank. These banks are under investigation for illegal fundraising, the Global Times reported.
About 1,000 people demonstrated outside the Zhengzhou branch of China's central bank. They waved banners and threw plastic bottles at approaching police, who then roughed them up, videos and photos on social media showed.
More than 1,000 depositors from across the country had planned to gather in Zhengzhou last month to try to withdraw their money but were unable to when their COVID-19 health codes, which determine if one can travel, switched to a "no travel" status, said VOA report.
……………..