Australian lawmakers meet with Dalai Lama, government-in-exile in northern India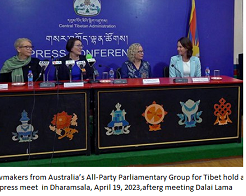 A four-member delegation from Australia's All-Party Parliamentary Group for Tibet who met with the Dalai Lama on Tuesday offered support to preserve Tibet's language and culture amid China's efforts to restrict Tibet's linguistic and cultural rights.
MP Sharon Claydon, who also serves as deputy speaker of the House of Representatives, Sen. Janet Rice, MP Sophie Scamps and MP Susan Templeman arrived in Dharamsala, India, on Monday for a four-day visit. The hillside city in the Indian state of Himachal Pradesh is home to the Dalai Lama, the spiritual leader of Tibetan Buddhists, and to the Tibetan government-in-exile.
The delegation was accompanied by Zoe Bedford, executive officer of the Australia Tibet Council and Karma Singey, the Dalai Lama's representative for Australia, New Zealand and Southeast Asia.
The bipartisan Australian All-Party Parliamentary Group for Tibet seeks to put pressure on the Australian government to encourage negotiations between Beijing and the Tibetan government-in-exile, while recognizing that Tibet is an occupied country which had independent ties with Britain.
"His Holiness told us that our concern and support for the Tibetan cause gives hope to the millions of Tibetan people and to His Holiness," Rice said after the delegation's audience with the Dalai Lama.
"We discussed China and many other things and the core message of His Holiness is that the courage of the Tibetan people is more powerful than the threat that the Chinese Communist government poses," she added.
About 2,500 Tibetans live in Australia, many of whom are former political prisoners, according to the Australia Tibet Council, an NGO that campaigns for the freedom and human rights of Tibetans.
The delegation also met with Penpa Tsering, the leader, or Sikyong, of the Central Tibetan Administration, or CTA, as the government-in-exile is called.
The Dalai Lama and the CTA have long advocated a Middle Way approach to peacefully resolve the issue of Tibet and to bring about stability and co-existence based on equality and mutual cooperation without discrimination based on one nationality being superior than the other.
There have been no formal talks between the Dalai Lama and Beijing since 2010, and Chinese officials have made unreasonable demands of the Dalai Lama as a condition for further dialogue.
Chinese communists invaded Tibet in 1949, seeing the region as important to consolidate its frontiers and address national defense concerns in the southwest.
A decade later, tens of thousands of Tibetans took to the streets of Lhasa, the regional capital, in protest against China's invasion and occupation of their homeland. But People's Liberation Army forces violently cracked down on them and surrounded the Dalai Lama's summer palace, forcing him to flee to Dharamsala.
-RFA report, Apr 19, 2023
Copyright © 1998-2020, RFA
https://www.rfa.org/english/news/tibet/australian-lawmakers-04192023170157.html
Book Shelf

Recent Top Post