China FO Presser -July 24, 2023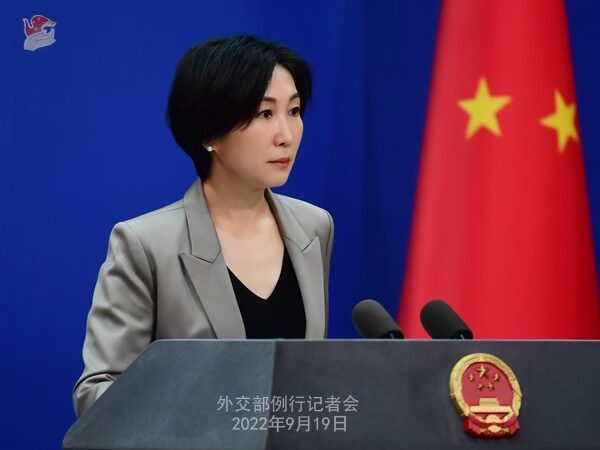 China Foreign Ministry Spokesperson Mao Ning held a Regular Press Conference on July 24, 2023
Some Excerpts
CCTV: The Cambodian People's Party has declared victory in the country's seventh national election. What's China's comment? Could you share China's expectations for the future development of China-Cambodia relations?
Mao Ning: As a good neighbor and good friend, we extend warm congratulations on the smoothly held seventh general election in Cambodia. We congratulate the Cambodian People's Party on winning the election under the leadership of its President Samdech Hun Sen and wish Cambodia success in forming a new National Assembly and government. We believe Cambodia will make even greater achievements in its national development and bring more benefits to its people.
In recent years, under the strategic guidance of Chinese and Cambodian leaders, China-Cambodia relations have enjoyed strong momentum.? Our ties are marked by a high degree of mutual trust, close cooperation and mutual support. Our two countries contribute to regional cooperation and international equity and justice. We are a fine example of friendship and mutual benefit between countries. This year marks the 65th anniversary of the establishment of diplomatic ties between our two countries and the Year of China-Cambodia Friendship. We will work with Cambodia to carry forward our long-standing friendship and accelerate efforts to build a high-quality, high-level and high-standard China-Cambodia community with a shared future for the new era to deliver more benefits to both peoples.
Yonhap News Agency: Recently, many suspicious international packages have been found across the ROK. The Taiwan authorities claim that the packages were from China's mainland and reached the ROK via Taiwan. The ROK foreign ministry said it has asked China for confirmation. Has China launched an investigation into this??
Mao Ning: We have received the ROK's request for assistance in the investigation. The matter is being looked into. We will stay in touch with the ROK.
Kyodo News: Japan's export curbs on semiconductor equipment took effect on July 23. What's China's comment?
Mao Ning: Despite China's serious concerns, Japan went ahead with its export restrictions that explicitly target China. China is deeply dissatisfied and finds Japan's action regrettable. We have made serious démarches to Japan at various levels.
In recent years, certain countries have been politicizing economic and trade issues, overstretching the concept of security and frequently resorting to administrative measures, including abusing export controls, to push for decoupling and disrupt industrial and supply chains in the high-tech sector. These practices are wrong and against the law of the market economy, the principle of free trade and international economic and trade rules. They not only hurt relevant companies but also affect the security and stability of the industrial and supply chains of semiconductors in the region and the wider world.
China urges Japan to keep in mind the larger picture of China-Japan economic and trade cooperation and Japan's long-term interests, abide by international economic and trade rules, not to abuse export controls and make sure its action does not disrupt normal semiconductor cooperation between our two countries. We will closely follow the impact of the restrictions and resolutely protect our own interests.?
Beijing Youth Daily: The Chinese embassies in Singapore and Brunei have announced that China will resume unilateral visa-free entry for Singaporean and Bruneian citizens. What's China's consideration?
Mao Ning: To facilitate the travel of Singaporean and Bruneian citizens to China, we have decided to resume the 15-day visa-free entry policy for Singaporean and Bruneian citizens holding ordinary passport who enter China for business, tourism, family visit and transit purposes starting from July 26. We hope that Singapore and Brunei will work with China to better facilitate personnel exchanges.
AFP: The diplomatic advisor of the French president said last week that China was delivering items to Russia, items that could be used as military equipment in Ukraine. Is that true?
Mao Ning: China is neither the one that created the Ukraine crisis nor a party to it. Our position has been objective and just. We are committed to facilitating talks for peace. China always handles export of military items in a prudent and responsible manner and acts in strict accordance with domestic laws and regulations and our due international obligations. This stands in sharp contrast with the acts of certain NATO countries that keep adding fuel to the fire.?
Xinhua News Agency: It is reported that Director-Generals of Asian affairs of Chinese and Japanese foreign ministries held consultations on July 22 in Tokyo. Can you give us more details?
Mao Ning: As you said, on July 22 or last Saturday, Liu Jinsong, Director-General of the Department of Asian Affairs of the Ministry of Foreign Affairs of China held the third consultation of this year in Tokyo with Takehiro Funakoshi, Director-General of Asian and Oceanian Affairs Bureau of the Ministry of Foreign Affairs of Japan. During the candid and in-depth consultation, the two sides had a sharp exchange on some issues and found common ground on others. The Chinese side stated strong position on and firm opposition to Japan's pushing for the discharge of the Fukushima nuclear-contaminated water into the ocean and urged the Japanese side not to act hastily and stubbornly. Both sides believe that we should take the 45th anniversary of the Treaty of Peace and Friendship Between China and Japan as an opportunity to maintain engagement at all levels and enhance practical cooperation and people-to-people exchanges. The two sides also exchanged views on international and regional issues of shared interest and agreed to continue this institutional consultation in the future.
Dragon TV: According to reports, on July 20, CIA Director William Burns while attending the Aspen Security Forum said that progress has been made in rebuilding the US spy networks in China and they are working hard to build a very strong human intelligence capability to complement what they can acquire through other methods. What's China's comment?
Mao Ning: We've noted the reports. This is rather concerning. The US on the one hand keeps spreading disinformation on so-called "Chinese spying and cyber attacks", and on the other hand tells the public about its large-scale intelligence activities targeting China. This in itself is quite revealing. China will take all measures necessary to safeguard national security.
RIA Novosti: The Russian Defense Ministry said earlier that Russian journalists suffered wounds on Saturday as a result of a Ukrainian cluster munitions strike against a group of reporters from the Izvestia Information Center and RIA Novosti news agency. RIA Novosti journalist Rostislav Zhuravlev died from his wounds during evacuation. Do you have any comment on this? What's the foreign ministry's position on Ukraine's use of cluster munitions?
Mao Ning: Soon after the US announced that it would send cluster munitions to Ukraine, we stated clearly that the irresponsible provision of cluster munitions could easily entail humanitarian problems. We urge relevant parties to observe international humanitarian law and protect the safety of journalists and other civilians.
China believes that dialogue and negotiations are the only viable way out for the Ukraine crisis. We hope all parties will work for a political settlement of the Ukraine crisis and jointly deescalate the situation.?
Bloomberg: Secretary of State Antony Blinken said over the weekend that the rest of the world is eager to see a responsibly-managed US-China relationship and he urged Beijing to do its part in accomplishing that. Would the foreign ministry like to respond to what Blinken said?
Mao Ning: China views and grows its relations with the US in accordance with the three principles of mutual respect, peaceful coexistence and win-win cooperation. We hope the US will work with China to bring bilateral relations back to the right track of sound and steady growth. This not only serves the interests of both peoples but is also the shared expectation of the international community.
AFP: The G7, the European Union, Australia, New Zealand and the ROK jointly appealed to China for help to stop the DPRK evading United Nations sanctions by using Chinese territorial waters. "We have concerns regarding the continuing presence of multiple oil tankers … that use your territorial waters," said the letter to China's Ambassador to the UN Zhang Jun. What's your response?
Mao Ning: When it comes to the implementation of the Security Council's resolutions, China has always earnestly fulfilled its international obligations.
Ukrainian News Agency: From July 17, after Russia's withdrawal from the Black Sea grain agreement, Russian military are attacking the Ukrainian port city of Odessa with missiles and drones every day. On Sunday night, the Russian military attacked the historic center of Odessa, protected under the World Heritage Convention, and damaged 29 historical sites. Several international organizations and countries strongly condemned Russia for such attacks. In particular, UNESCO said the intentional destruction of cultural sites may amount to a war crime, according to the United Nations Security Council Resolution 2347. China is one of the founding countries of UNESCO and calls for the preservation of world cultural heritage. What is your comment and has China contacted or plans to contact the Russian side on this matter?
Mao Ning: China's position on the Ukraine crisis is consistent and clear-cut. We hope that parties concerned will seek a political settlement of the Ukraine crisis and jointly work for deescalation.??
AFP: Director Wang Yi will attend the BRICS meeting today in South Africa. What are China's expectations for this meeting?
Mao Ning: We will release timely information on Director Wang Yi's participation in the Meeting of BRICS National Security Advisers and High Representatives on National Security. Please check back for updates.
https://www.fmprc.gov.cn/eng/xwfw_665399/s2510_665401/2511_665403/202307/t20230724_11117170.html
Book Shelf

Recent Top Post

AdSense code