China FO Presser Mar 22, 2023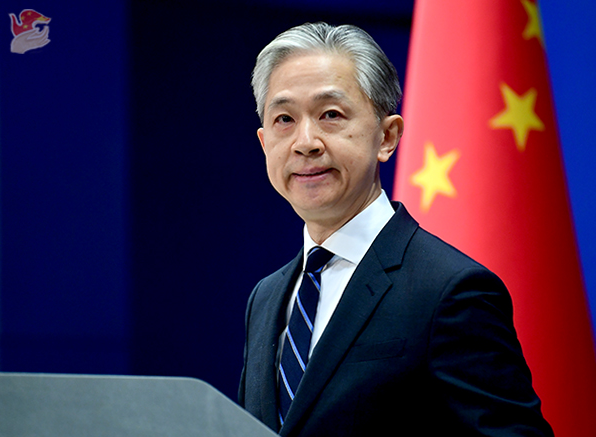 China Foreign Ministry Spokesperson Wang Wenbin held a Regular Press Conference on March 22, 2023. Some Excerpts
Reuters: Philippine President Ferdinand Marcos Jr. said today that four new military bases under the Enhanced Defence Cooperation Agreement (EDCA) with the United States would be located in various parts of the Philippines, including in a province facing the South China Sea. President Marcos also said today that the external security environment is becoming more complex and more unpredictable. So I have two questions. Can we expect that Vice Foreign Minister Sun Weidong will alleviate Philippines' concerns on its territorial security during his visit to the country? Second, does China believe that Philippines' actions aimed at alleviating its security concerns pose a security threat to China?
Wang Wenbin: We have shared information on Vice Foreign Minister Sun Weidong's bilateral consultation with the Philippines. Let me say it again that this will be the first face-to-face bilateral consultation between the foreign ministries since COVID-19 began. The two sides will compare notes on implementing our presidents' important common understandings reached during President Ferdinand Marcos Jr.'s January visit to China and on advancing cooperation in priority areas. The two sides will also have in-depth communication on properly handling maritime disputes and advancing practical maritime cooperation, and exchange views on international and regional issues of shared interest. We hope and believe that this round of consultation will help enhance mutual understanding and trust and bring about closer communication and coordination between the two sides, and galvanize joint efforts for the sound and steady growth of bilateral ties.
On your second question, it is China's consistent belief that defense and security cooperation between countries needs to be conducive to regional peace and stability and not targeted at or harmful to the interests of any third party. The US side, out of selfish interests, remains trapped in a zero-sum mentality and keeps increasing military deployment in the Asia-Pacific. This would escalate tensions and endanger peace and stability in the region. Regional countries need to remain vigilant and avoid being coerced or used by the US.
Xinhua News Agency: President Xi Jinping's state visit to Russia has drawn global attention. Could you offer some latest information?
Wang Wenbin: On March 21, President Xi Jinping held small-group and large-group talks and jointly met the press with Russian President Vladimir Putin and met with Russian Prime Minister Mikhail Mishustin in Moscow. The two heads of state reached new, important common understandings in many fields. The two sides agreed to follow the principles of good-neighborliness, friendship and win-win cooperation in advancing exchanges and cooperation in various fields and deepening the comprehensive strategic partnership of coordination for the new era.
President Xi pointed out that China and Russia are each other's biggest neighbor and consolidating and developing long-term good-neighborly relations with Russia is consistent with historical logic and a strategic choice of China. It will not be changed by any turn of events. China-Russia cooperation enjoys significant potential and space and is strategic, reliable and stable. No matter how the international landscape may change, China will stay committed to advancing China-Russia comprehensive strategic partnership of coordination for the new era. This state visit to Russia is a journey of friendship, cooperation and peace. China is ready to work with Russia to build on past achievements, enrich the comprehensive strategic partnership of coordination for the new era, bring more benefits to the two peoples and make greater contribution to human progress.?
President Putin said that Russia-China relations are developing very well. Good progress has been made in all fields of bilateral cooperation. Russia firmly supports China in upholding its legitimate interests on questions related to Taiwan, Hong Kong and Xinjiang. Russia congratulates China on helping to successfully bring about historic outcomes from the talks between Saudi Arabia and Iran in Beijing. Russia appreciates China for consistently upholding an objective and impartial position on international affairs, supports the Global Security Initiative, the Global Development Initiative, and the Global Civilization Initiative China has put forward and stands ready to further enhance international coordination with China.?
President Xi and President Putin believe the exchange between the two sides during the visit is in-depth, rich and comprehensive and has injected new impetus into the development of China-Russia comprehensive strategic partnership of coordination for the new era.?The China-Russia relationship has gone far beyond the bilateral scope and acquired critical importance for the global landscape and the future of humanity. Under the new historical circumstances, the two sides will view and handle China-Russia relations with a broad vision and a long-term perspective, in a bid to make greater contribution to human progress.?
The two heads of state agreed that the two sides need to strengthen overall design and top-level planning, boost trade in energy, resources, and electromechanical products, enhance the resilience of their industrial and supply chains, expand cooperation in such areas as information technology, the digital economy, agriculture and trade in services, promote greater complementarity and joint development of traditional trade and emerging areas of cooperation, and further facilitate cross-border logistics and transportation. The two sides should continue to cement the cornerstone of people-to-people exchanges. To be specific, efforts should be made to encourage more interactions between sister provinces/states and between sister cities, ensure the success of the Years of Sports Exchange, and facilitate the personnel movement between the two countries.?
The two heads of state noted that as permanent members of the UN Security Council, China and Russia will continue to work with the international community to firmly uphold the basic norms governing international relations based on the purposes and principles of the UN Charter. China and Russia will work more closely within multilateral frameworks including the Shanghai Cooperation Organization, BRICS and the G20, practice true multilateralism, and promote post-COVID economic recovery. The two sides will boost the constructive force for building a multi-polar world and improving the global governance system, contribute more to maintaining global food and energy security and keeping industrial and supply chains stable, and work together for a community with a shared future for mankind.
They agreed to stay in close touch through various means to jointly guide the sound and steady growth of China-Russia relations.?
After the talks, President Xi and President Putin jointly signed a Joint Statement of the People's Republic of China and the Russian Federation on Deepening the Comprehensive Strategic Partnership of Coordination for the New Era and a Joint Statement of the President of the People's Republic of China and the President of the Russian Federation on Pre-2030 Development Plan on Priorities in China-Russia Economic Cooperation, charting the course for future growth of bilateral relations and cooperation across the board.
During the visit, the two sides also signed bilateral cooperation documents in such areas as agriculture, forestry, basic scientific and technological research, market regulation, and the media.?
Yonhap News Agency: According to the proposed "guardrails" for the CHIPS Act issued by the US Commerce Department on March 21, recipient companies will have to return the entire funding reward if they engage in significant transactions involving the material expansion of semiconductor manufacturing capacity in some foreign countries including China for 10 years. What's China's comment?
Wang Wenbin: I would refer you to competent authorities for the specific questions. Let me reiterate China's principled position on this issue. The "guardrails" proposed by the US are sci-tech blockade measures and protectionist in nature. In its pursuit of primacy, the US has overstretched the concept of national security, abused export control measures, and even coerced some of its allies to block and contain China and attempt to fragment the industrial chains at the latter's expense. This gravely violates the law of the market economy and the principle of fair competition and impedes world economic recovery and development. We firmly reject this and have made serious démarches to the US side on multiple occasions. China will continue to firmly defend the legitimate and lawful rights and interests of Chinese companies.
Containment and suppression cannot hold back China's development. Instead, it will only strengthen China's resolve and capability to seek self-reliance and technological innovation. To preserve one's own hegemony at the expense of normal international economic and sci-tech cooperation will only backfire.
We hope all parties will proceed from their own long-term interests and in the interest of a fair and equitable marketplace, abide by international economic and trade rules, work with China to jointly safeguard the stability of global industrial and supply chains and defend the shared interests of all parties.?
Shenzhen TV: You just shared information about President Xi's visit to Russia. Can you tell us more about the two presidents' discussions over the Ukraine issue??
Wang Wenbin: During President Xi's visit to Russia, the two heads of state exchanged views on the Ukraine issue. President Xi stressed that, last month, China released a document titled "China's Position on the Political Settlement of the Ukraine Crisis". On the Ukraine crisis, China has all along abided by the purposes and principles of the UN Charter, followed an objective and impartial position, and actively encouraged peace talks. China has based its position on the merits of the matter per se and stood firm for peace and dialogue and on the right side of history.
The two leaders signed a joint statement, stressing the importance of resolving the Ukraine crisis through peace talks. The two sides believe that the purposes and principles of the UN Charter must be observed and international law must be respected. The Russian side speaks positively of China's objective and impartial position on the Ukraine issue. The two sides oppose the practice by any country or group of countries to seek advantages in the military, political and other areas to the detriment of the legitimate security interests of other countries. The Russian side reaffirms its commitment to the resumption of peace talks as soon as possible, which China appreciates. The Russian side welcomes China's willingness to play a positive role for the political and diplomatic settlement of the Ukraine crisis and welcomes the constructive proposals set forth in China's Position on the Political Settlement of the Ukraine Crisis. The two sides point out that to settle the Ukraine crisis, the legitimate security concerns of all countries must be respected, bloc confrontation should be prevented and fanning the flames avoided. The two sides stress that responsible dialogue is the best way for appropriate solutions. To this end, the international community should provide support to the relevant constructive efforts. The two sides call for stopping all moves that lead to tensions and the protraction of fighting to prevent the crisis from getting worse or even out of control. The two sides oppose any unilateral sanctions unauthorized by the UN Security Council.?
Kyodo News: President Xi Jinping's state visit to Russia concludes today. Going forward, will President Xi have direct talks with President Zelenskyy of Ukraine? The Ukrainian President has expressed his willingness to have direct talks with President Xi on many occasions. What's China's response?
Wang Wenbin: We have answered this question. You may refer to our previous answers.
TASS: According to US Treasury Department, President Joe Biden's nominee to lead the World Bank Ajay Banga will visit China. Do you have any details on the agenda of this visit? Does China support Ajay Banga to lead the World Bank?
Wang Wenbin: The World Bank is the most influential multilateral development institution in the world and is of systemic importance to global poverty reduction and development. As a major shareholder of the World Bank, China stands ready to work with all parties for an open, transparent and merit-based presidential selection process. We have noted the candidate nominated by the US side and are open to other potential candidates.?
As to the specific questions you raised, I would refer you to competent authorities.
The Paper: According to the Global Happiness 2023 report released recently by Ipsos, a leading global market research company, China has the highest level of happiness at 91%. What's your comment?
Wang Wenbin: People's sense of happiness is like a mirror. It tells us the values that drive the nation and the competence of its government. Over the past 10 years of the new era, China has implemented a people-centered philosophy of development. The immutable goal of our work is to meet the people's ever-growing needs for a better life and deliver a stronger sense of fulfillment, happiness, and security for our people.?
Over the past decade, much has been achieved in China's socioeconomic development. The GDP has grown to 121 trillion yuan. We have realized a medium-high rate of economic growth given our large economic aggregate and transitioned to high-quality development. We have won the largest battle against poverty in human history and finished building a moderately prosperous society in all respects as scheduled. We have brought about an all-around improvement in people's lives and ensured that people are true masters of the country. China has become more beautiful over the past decade. We have acted on the idea that green is gold, and made further efforts to keep our skies blue, waters clear, and lands clean, notably improving the ecology and environment. Facing the global pandemic, China has always put the people and their lives above all else, adapted COVID measures to the changing situation, and effectively coordinated epidemic response and socioeconomic development. By so doing, we have protected people's life and health and secured a major and decisive victory in the fight against COVID-19. Given China's population size, to successfully emerge from the pandemic amounts to a miracle in the history of human civilization.
Just as General Secretary Xi pointed out, the vision of a moderately prosperous society and of a strong country and the Chinese dream of great national renewal are all fundamentally about the dream of greater happiness for the people. We believe that going forward, the Chinese people will have a more complete and lasting sense of fulfillment, happiness, and security. We also look forward to working with people across the world to build a community with a shared future and jointly usher in a future with greater happiness.
Bloomberg: Ghana's finance minister will arrive in Beijing, I guess, today for talks on debt restructuring. Ghana owes China $1.9 billion. Does the foreign ministry have any details about this visit??
Wang Wenbin: According to our knowledge, Ghana's Finance Minister will visit China soon and meet with officials of competent departments of China on bilateral cooperation in relevant areas.
Ghana is China's important cooperation partner in Africa. In recent years, practical cooperation between the two countries has yielded fruitful outcomes and brought tangible benefits to both sides. China attaches great importance to resolving Ghana's debt issues and understands the difficulties facing Ghana at the moment. We would like to enhance communication with Ghana to work out a proper settlement through consultation. We would like to stress that official bilateral loans related to China only account for less than five percent of Ghana's external debt. Properly resolving the issues concerning Ghana's debt requires the joint efforts of Ghana and all international partners. China always believes that multilateral financial institutions and commercial lenders, who are the main creditors for developing countries, need to participate in developing countries' debt relief efforts.
Global Times: When attending a public event in Paris, an Israeli senior official presented a?so-called map of Israel that includes Jordan's territory and the occupied West Bank. He also denied the existence of nationhood of Palestinians in history. A foreign ministry spokesperson of Jordan has strongly condemned Israel for that. What's China's comment??
Wang Wenbin: China has noted relevant reports. The Israeli official's wrong remarks are irresponsible and will escalate the current tensions between Palestine and Israel. China condemns this and urges all parties, especially Israel, to act prudently, do more to calm the situation, avoid further escalation and prevent the situation from getting out of control.
China's position on the Palestinian question is consistent and clear. China supports the implementation of the two-state solution through dialogue and peace talks on the basis of relevant UN resolutions and the principle of "land for peace", and supports the establishment of an independent state of Palestine that enjoys full sovereignty on the basis of the 1967 borders and with east Jerusalem as its capital. China will continue to work hard with the international community for a comprehensive, just and lasting settlement of the Palestinian question.
Macau Monthly: Former US National Security Advisor Robert O'Brien was awarded by Tsai Ing-wen in Taiwan on March 21. Tsai said he made contributions to Taiwan-US relations. What's your comment??
Wang Wenbin: If I remember correctly, this former White House senior official recently argued that the US should destroy Taiwan's semiconductor factories including the TSMC rather than letting them fall into China's hands. Honoring such an individual shows that the DPP authorities do not mean it when they say they love Taiwan. The truth is they have been selling Taiwan away.
China Daily: We are now in the 2023 Lancang-Mekong Cooperation Week. How does China see the progress made under Lancang-Mekong Cooperation (LMC) in the past seven years since the launch of the mechanism? What's your expectation for LMC going forward??
Wang Wenbin: Lancang-Mekong Cooperation (LMC), as the first new type subregional cooperation mechanism launched by riparian countries based on wide consultation, joint contribution and shared benefits, has been growing at a high level since its inception seven years ago, becoming a golden model of success for subregional cooperation. The six countries agreed at the seventh LMC Foreign Ministers' Meeting held in Myanmar in July 2022 to jointly build an area of demonstration for high-quality Belt and Road cooperation, an area of pioneering efforts under the Global Development Initiative (GDI) and a pilot area of cooperation under the Global Security Initiative (GSI), and forge an even closer community with a shared future for Lancang-Mekong countries.
With the concerted efforts of all sides, LMC has flourished over the past year and yielded fruitful outcomes. President Xi Jinping has maintained strategic communication with leaders of the Mekong countries in flexible ways to set the course for LMC. All five Mekong countries have joined the Group of Friends of the GDI, responded positively to the GSI, and actively supported and participated in cooperation under these two initiatives. High-quality BRI cooperation has continued to make solid progress. The China-Laos Railway has seen booming passenger and freight services since it was open to traffic. Construction on the China-Thailand Railway has made steady progress. The vision of interconnected development of China, Laos and Thailand has been launched officially. In 2022, trade between China and the five Mekong countries reached $416.7 billion, up by 5% year on year. China's import of agricultural products from the five countries increased by 22%. The second Lancang-Mekong Fruit Festival was successfully held, bringing more specialties from the five countries such as durian, bird's nest, longan and coconut into the Chinese market. The Hundred, Thousand, Ten Thousand Action Plan on Lancang-Mekong Agricultural Cooperation has provided training opportunities for 1,300 agricultural technicians in the Mekong countries. Under the Plan on Lancang-Mekong Water?Resources Benefiting the People, a dozen projects have been conducted including demonstration projects for water supply in rural areas and small watershed management and safety checks for reservoirs and dams. The LMC Special Fund has supported the five countries in carrying out hundreds of livelihood projects. The production of COVID vaccines in Rangoon under China-Myanmar cooperation supported by the LMC Special Fund for Public Health has been put into operation. Especially after China adjusted its COVID response measures, Thailand, Cambodia, Laos and Vietnam became the pilot countries where group tours from China have resumed, personnel exchange between China and Mekong countries went up rapidly. In January 2023 alone, Chinese tourists made nearly 100,000 trips to Thailand and 24,000 trips to Cambodia. Laos and Vietnam are expected to receive 400,000 and four million Chinese tourists throughout the year respectively.
In the world facing a period of uncertainty and transformation and struggling to reboot the economy, China is steadfastly advancing the process of Chinese modernization, which will bring new benefits to the development of Mekong countries, add a stronger boost to Lancang-Mekong cooperation, and inject more impetus into subregional peace and development.
In this LMC Week and some time afterwards, 20 Chinese government departments and more than 10 provinces and municipalities will hold more than 50 diverse events including the exhibition about Lancang-Mekong Water resources cooperation outcomes, the roundtable dialogue of the Lancang-Mekong knowledge hub for green, low-carbon and sustainable infrastructure, the Lancang-Mekong world heritage dialogue, the day for Lancang-Mekong traditional Chinese medicine and traditional culture, and friendly exchange of China-Laos-Myanmar-Thailand joint patrol and law enforcement of the Mekong River. You are welcome to follow these events.
Bloomberg: The outgoing World Bank chief David Malpass called on China to be more active in restructuring discussions for some developing countries regarding the debt. Do you have any response to Malpass's remarks??
Wang Wenbin: China takes the debt issue of developing countries seriously and has actively contributed to alleviating developing countries' debt burden and promoting their sustainable development. China has contributed more than anyone else to implementing the G20 Debt Service Suspension Initiative (DSSI). Besides, we have played a constructive part in the treatment of individual cases under the G20 Common Framework. In the meantime, we have been working with the indebted countries through friendly consultation to help address their difficulty in debt repayment on the basis of respecting their will.?
The truth is, the Western-dominated commercial creditors and multilateral financial institutions account for the lion's share of developing countries' debt and represent the major source of stress in terms of debt repayment. Data from the World Bank shows that multilateral financial institutions and commercial creditors hold more than 80% of the sovereign debt of 121 developing countries. According to a report by UK-based charity Debt Justice, African governments owe three times?more debt to Western private lenders than to China, and are charged double the interest. Western creditors claim they need to maintain their credit rating and have thus refused to be part of the debt relief and service suspension effort. Since last year, the US has resorted to unprecedented massive interest rate hikes. The world has witnessed tightening of financial conditions. This has made the severe debt problems of certain countries even worse.
We call on all parties, especially Western commercial creditors and multilateral financial institutions, to help ease the debt burden of developing countries and foster growth drivers guided by the principle of joint actions and fair burden-sharing.
Beijing Youth Daily: It was reported that according to intelligence documents newly released by the US Department of State, for much of the 1960s, the CIA provided the Tibetan government-in-exile with $1.7 million a year for operations against China, including an annual subsidy of $180,000 for the Dalai Lama. The CIA's program encompassed support of Tibetan guerrillas in Nepal, a covert military training site in Colorado, "Tibet Houses" established to promote Tibetan causes in New York and Geneva, and education for Tibetan operatives at Cornell University. Do you have any comment on this?
Wang Wenbin: The report you mentioned shows that the US government attempted to split China by supporting armed rebels, but this malicious scheme ended in complete failure.
More recently the US has engaged in political manipulation on Tibet-related issues again under the pretext of human rights. They have appointed the so-called Special Coordinator for Tibetan Issues to spread disinformation, enact negative acts related to Tibet, openly offered a large funding to the Dalai Lama group, and establish funds through the National Endowment for Democracy to foster forces for "Tibet independence", provide platforms for "Tibet independence" activities and make up false reports. This fully shows that the US has never given up its scheme to use Tibet-related issues to interfere in China's internal affairs and contain China's development.?
The Tibet-related issues are not about ethnicity, religion or human rights, but a major issue of principle that concerns China's sovereignty and territorial integrity. We hope the international community will come to realize what the Tibet-related issues are really about and firmly oppose the US's political manipulation and support China's position of justice. The US needs to learn the lesson from the past and take concrete steps to deliver on its commitment that Tibet is part of China and that the US does not support Tibet independence. The US needs to stop using Tibet-related issues to interfere in China's internal affairs and harm China's interests and refrain from providing any form of support to the anti-China separatist Tibet independence activities. If the US continues to make provocations on Tibet-related issues, they will end in failures even bigger than 60 years ago.
Bloomberg: John Kirby, the spokesman for the US National Security Council, criticized the Chinese leader for going to Moscow, especially before speaking with Volodymyr Zelenskyy. He also said China is parroting Russian propaganda. How does the ministry respond to this??
Wang Wenbin: I have noted the remarks by Mr. Kirby you just quoted. He also claimed that China's position on the Ukraine issue cannot be seen as impartial. We would like to point out that China is neither the one that created the Ukraine crisis nor a party to the crisis; still less has China provided weaponry to any party to the conflict. Since the crisis broke out, the Chinese side has outlined the four principles, called for joint efforts in four areas, shared three observations, and released China's Position on the Political Settlement of the Ukraine Crisis, making active efforts towards resolving the crisis through dialogue and negotiation. We have no selfish agenda on the Ukraine issue. We did not stand by, nor did we add fuel to the fire, or exploit the situation for selfish gain. All that we have done boils down to supporting talks for peace.
The US says China's position cannot be seen as impartial. Does that mean pouring weapons into the conflict should be seen as impartial? Does that mean causing the crisis to escalate should be seen as impartial? Does that mean allowing the crisis to spill over to the rest of the world should be seen as impartial?
On the Ukraine issue, voices for peace and rationality are building. Most countries support easing tensions, stand for peace talks, and are against adding fuel to the fire. This is also China's position.?President Xi Jinping's visit to Russia is a journey of friendship, cooperation and peace. It has been warmly received internationally. We call on the US to reflect on its own role in the Ukraine issue, stop fueling the flames, and stop deflecting the blame on China. We will continue to stand firm on the side of peace and dialogue and on the right side of history and work together with the rest of the world to play a constructive part in facilitating a political settlement of the Ukraine issue.
Dragon TV: We have learned that Angola's President João Manuel Gonçalves Lourenço had an interview with Asahi Shimbun during his recent visit to Japan. In response to the media's concerns about China's great presence and rising influence in Africa, the President questioned the rationale for such concerns as international cooperation should welcome every country's participation rather than follow a rule of exclusivity. What's China's comment??
Wang Wenbin: China's friendly cooperation with Africa has been mutually beneficial and fruitful. Angola has become China's second largest trading partner and important investment destination in Africa. In 2022, China-Angola bilateral trade has reached US$27.34 billion, up by 16.3% year-on-year. Among that, export from China was $4.09 billion, up by 65%, and import from Angola was $23.25 billion, up by 10.6%. In recent years, Chinese companies' investment in industrial park construction, agriculture and fisheries, telecommunications, and household chemicals has seen rapid growth, playing an important role in helping Angola realize sustainable development and create jobs. The leaders and the peoples of African countries, including Angola, are in the best position to tell whether China's presence in Africa is good or not.
Africa is a continent full of hope. The vast number of African countries are striding toward development and revitalization, which calls for strong support, solidarity and cooperation from the international community. China has stressed repeatedly that Africa is a big stage for international cooperation, not an arena for major-power rivalry. All parties need to complement and interact with each other when they cooperate with Africa. China's cooperation with Africa has never been exclusionary. We will continue to follow the principles of sincerity, real results, affinity and good faith and be committed to the greater good and shared interests when we strengthen cooperation with Africa. We are also ready to work with the international community to jointly contribute to Africa's peace and development.
CCTV: According to people familiar with the matter, Russia started the silence procedure on the Security Council draft resolution it proposed on the Nord Stream pipelines. The US and some other Western countries at the Security Council broke silence, and raised an objection to the establishment of an international independent investigation commission. What's China's comment??
Wang Wenbin: The impact of the Nord Stream blast has been enormous. Most members of the international community have demanded the truth behind the incident. The draft resolution proposed by Russia is meant to call on the UN to launch an international investigation into the blast. China agrees to this approach and supports the Russian draft resolution. International investigations under the auspices of the UN, the most authoritative and representative international organization, can forge synergy with existing national inquiries and lead to the truth sooner.
China supports the Security Council in having discussions over relevant issues and plays a constructive part in the negotiations of the draft resolution. Some developing countries sitting on the Security Council have also put forward legitimate propositions and recommendations. China has noted the attitude of some Western countries at the Council. We hope they will be mindful of their responsibility for truth, abandon geopolitical and selfish interests, credibly fulfill their duty and responsibility as members of the Security Council, participate in the negotiations of the draft resolution constructively, and work for early consensus on the resolution.
https://www.fmprc.gov.cn/mfa_eng/xwfw_665399/s2510_665401/2511_665403/202303/t20230322_11047208.html
Book Shelf

Recent Top Post

AdSense code