China FO presser- Sept 22, 2023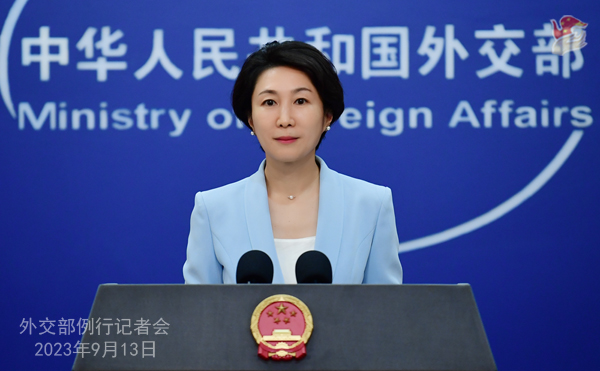 China's Foreign Ministry Spokesperson Mao Ning held a Regular Press Conference on Sept 22, 2023.
Some Excerpts
Reuters: The foreign ministry has said there have been similar cases involving Japanese citizens in recent years. Could you please elaborate or provide more information on these cases and has Japan responded or offered any explanation over such incidences?
Mao Ning: I answered a similar question yesterday. There have been actual similar cases involving Japanese citizens in recent years. I believe you can find media reports about those cases.
We have expressed concerns to Japan. We ask Japan to do more to ask its citizens not to engage in such activities.
Yonhap News Agency: The ROK deputy foreign minister said the ROK-China-Japan leaders' meeting is expected to be held within this year or early next year. What's China's position on this meeting?
Mao Ning: China, Japan and the ROK are neighbors and important cooperation partners. Enhancing the trilateral cooperation serves the common interest of the three countries. China values the cooperation between the three countries and actively supports the ROK's chairmanship of the China-Japan-ROK cooperation. There is ongoing communication among our three countries on holding high-level meetings of the trilateral cooperation.
KBS: I have two questions. The ROK media reported that President Xi Jinping and the ROK Prime Minister Han Duck-soo will hold talks tomorrow in Hangzhou. Can you provide more information? Prime Minister Han Duck-soo will be the highest-ranked official visiting China since the Yoon Suk-yeol administration took office. What does the meeting mean for China-ROK relations?
Mao Ning: China and the ROK are each other's important neighbors and cooperation partners. A sound and stable China-ROK relationship serves the common interest of both countries. China welcomes Prime Minister Han Duck-soo to attend the Opening Ceremony of the Asian Games in Hangzhou. We believe this means support from the ROK for China's hosting of the Games and shows the ROK's friendliness towards China and the importance it places on its relations with China. Regarding Prime Minister Han Duck-soo's itinerary in China, there is ongoing consultation between the two sides.
Reuters: The US Ambassador to Japan has called China's reaction to the Fukushima water release "economic coercion" and said that China is creating a ring of conflicts with its neighbors. What is your comment on this?
Mao Ning: China has made clear its position on Japan's ocean discharge of nuclear-contaminated water on multiple occasions. There is?no precedent?for such discharge?since humanity began using nuclear energy for peaceful purposes. The international community is widely concerned over this. The measures China has adopted are justified, reasonable and legitimate.?
The US, a Pacific-rim country, always claims to champion nuclear safety and security and environmental protection. The US personnel concerned needs to stop being partial and condoning Japan's irresponsible behaviour, and ask Japan to stop dumping the nuclear-contaminated water into the ocean and dispose of it in a responsible manner.
Dragon TV: It was reported that at the UN High-level Dialogue on Financing for Development held at the UN Headquarters in New York on September 20, UN Secretary-General António Guterres noted that as we mark the halfway point of the Sustainable Development Goals, only around 15 percent of SDG targets are on track, and the SDG financing gap has become a chasm, estimated at USD 3.9 trillion a year. Do you have any comment on this?
Mao Ning: China always sees the implementation of the 2030 Agenda for Sustainable Development and our own national development strategy as two highly compatible and mutually reinforcing endeavours. China's development is rooted in the prosperity and stability of the world. We help fellow developing countries achieve development with concrete efforts and contribute to global development through our own development.
Two years ago, President Xi Jinping put forward the Global Development Initiative (GDI) with the very theme of Building on 2030 SDGs for Stronger, Greener and Healthier Global Development. We have been acting on this commitment. The Global Development Project Pool now has nearly 200 practical cooperation projects, involving over 60 developing countries. China has also set up a Global Development and South-South Cooperation Fund to support the financing of relevant projects and Chinese financial institutions will launch a special fund dedicated to the implementation of the GDI.?
On the path toward development, no country or individual should be left behind. This is the vision of the GDI, as well as the goal of the UN. China will continue to carry out deeper and more substantive cooperation on the GDI with partners sharing that vision to pool efforts for the early realization of the 2030 Agenda for Sustainable Development.
AFP: Three wushu players from India were unable to join their team in Hangzhou for the Asian Games due to visa issues. The players didn't receive the visa from China to enter the mainland because they are from the "Arunachal region", which is claimed by China as part of Tibet. Do you have any comment and any reason for that?
Mao Ning: The Hangzhou Asian Games is yet another prestigious large-scale multi-sport event hosted by China since the Beijing Winter Olympics. As the host country, China welcomes athletes from all countries to the Games using legal identification. The Chinese government has never recognized so-called "Arunachal". The area of Zangnan is Chinese territory.
CCTV: We noted that the sixth China-Arab States Expo opened yesterday. Could you share more information about it?
Mao Ning: The sixth China-Arab States Expo kicked off on September 21 in Yinchuan, Ningxia. More than 10,000 guests from over 60 countries are in China for the expo. Guest Country of Honor Saudi Arabia sent an official delegation and organized a host of events.
This year marks the 10th anniversary of the Belt and Road Initiative put forward by President Xi Jinping. The China-Arab States Expo is now in its 10th year and we are in the first year of implementing the outcomes of the inaugural China-Arab States Summit. Over the past decade, more than 6,000 Chinese and foreign enterprises and over 400,000 participants attended the Expo, where more than 1,200 cooperation projects were inked. The Expo has served as a good platform for Belt and Road cooperation between China and Arab states and effectively boosted practical cooperation between the two sides.
The success of the Expo epitomizes the strong growth of China-Arab relations. We stand ready to join hands with Arab states to deliver on the outcomes of the first China-Arab States Summit, advance high-quality Belt and Road cooperation, deliver solid progress in development and cooperation and bring more benefits to our peoples with concrete actions and tangible results. https://www.fmprc.gov.cn/eng/xwfw_665399/s2510_665401/2511_665403/202309/t20230922_11148201.html
Book Shelf

Recent Top Post

AdSense code