China orders Mongolian-medium schools to switch to Mandarin by September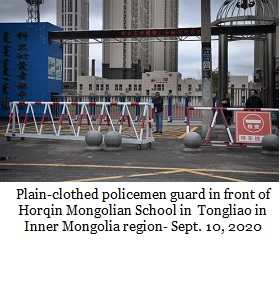 Officials in China's northern region of Inner Mongolia are ordering all schools to switch to Mandarin-medium teaching and slash Mongolian language classes by September, in what one exile group said is ongoing cultural "genocide."
The regional education bureau ordered schools at every level to implement "teaching in our national Mandarin language" and to ensure high-schoolers are proficient in the language, even if they speak Mongolian at home, in a continuation of a policy that sparked mass protests across the region in August 2020.
Schools must "build Chinese national consciousness and community, and deepen education in national unity," regional officials said at a meeting in late March.
Rights activists have warned that "national unity" programs have led to forced intermarriage between majority Han Chinese and Uyghurs and Tibetans, as well as other attempts to erase ethnic identity and autonomy.
Covert recording
Meanwhile, the New York-based Southern Mongolia Human Rights and Information Center published an audio recording of school officials telling parents at the Hohhot No. 30 High School that they must "firmly inculcate a common, Chinese national identity" into the region's six million ethnic Mongolians.
"New details leaked from a covert recording confirm … a comprehensive ban of Mongolian language instruction across the [region will] be fully effective starting September 1, 2023," the group said in a report on its website, citing a 52-minute audio recording of a recent parent-teacher meeting.
"Under a directive from the central government, all Mongolian schools across the region will use Mandarin as the language of instruction starting Sept. 1 this year," the official is heard saying, adding that the policy will be rolled out at the No. 30 High School from May 1.
All ethnic Mongolian students will soon be required to take the college entrance exams in Chinese, rather than Mongolian, starting in 2025.
"The Chinese policy of total erasure of the Mongolian language in [Inner] Mongolia has been well planned and systematic," the Southern Mongolia Human Rights and Information Center said, adding that the National People's Congress had ruled minority language-medium education was "unconstitutional" in the wake of the 2020 protests.
The ruling replaced a clause in Article 4 of the constitution, which once stated: "All ethnicities have the freedoms and rights to use and develop their own spoken and written languages and to preserve or reform their own folkways and customs." It paved the way for further purges of any historical or cultural material from classrooms linked to traditional Mongolian culture.
Parents and teachers have also been explicitly banned from organizing Mongolian-medium teaching on the side, the group said.
Engaging in cultural genocide
The group's director Enghebatu Togochog recently testified before the Congressional-Executive Commission on China that teachers could be punished just for informing students of any learning opportunities outside of school.
"From what is happening to the Uyghurs and what is happening to the Mongolians and Tibetans, it is apparent that the Chinese authorities are engaging in different forms of genocide campaigns on multiple fronts," he said.
"[The] goal is the same: to wipe out the language, culture and identity of these three peoples and [to convert them to a] 'Chinese' nationality," he said.
Japan-based ethnic Mongolian scholar Khubis said that the No. 30 Middle School in Hohhot was originally set up to deliver Mongolian-medium education to ethnically Mongolian students.
"Now the whole school is going to start teaching in standard Mandarin," he said. "The school also stated [in the audio clip] that Mandarin will be used as the medium of instruction across the entire region from Sept. 1."
"This will have a particularly big impact on Mongolians," he said.
Policy borne of 'Han chauvinism'
Germany-based activist Xi Haiming said the policy is a highly aggressive one.
"Xi Jinping is using Mandarin, that is, Chinese, to sinicize Mongolians, as well as Tibetans and Uyghurs," he told Radio Free Asia.
"This is a barbaric policy springing from Han chauvinism, which is to say Chinese nationalism," Xi said, using a term used to reference racist and colonialist policies from Beijing.
The government announced in 2021 that it would extend compulsory Mandarin teaching to preschoolers across the country, ousting minority languages like Mongolian, Tibetan, and Uyghur — as well as regional Chinese languages like Sichuanese or Cantonese — as the medium of instruction for children of all ages across the country.
The move was aimed at "enabling pre-school children in ethnic minority and rural areas and rural areas to gradually acquire the ability to communicate at a basic level in Mandarin, and to lay the foundations for the compulsory education phase," the directive said.
—-RFA report, Apr 11, 2023
Copyright © 1998-2020, RFA
https://www.rfa.org/english/news/china/mongolian-04112023135347.html
Book Shelf

Recent Top Post

AdSense code