Good-Bye Pranab Da…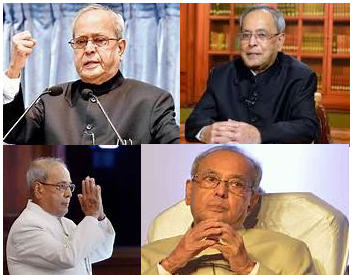 By Malladi Rama Rao
New Delhi: India's elder statesman, Pranab Mukherjee, Dada (elder brother) to people from all walks of life, died on Monday of coronavirus and septic shock due to a lung infection twenty days after a brain clot surgery at the army hospital here.
India is observing a seven-day State mourning as a mark of respect to the 84-year -old leader.
PM were his initials but the post of Prime Minister had eluded Mukherjee twice during his long political innings. He, however, had the satisfaction of winning the election to the highest elected office in the country with support from across the political spectrum thanks largely due to his image as 'Ajaatasatru'.
Mukherjee served as 13th President of India from 2012 to 2017. Two years later in 2019, he was honoured with the Bharat Ratna, India's highest civilian honour.
Pranab da, as he was affectionately was the bridge between Indira era and Modi raj – he joined the central government in the Indira years and bowed out as President in the Modi regime.
World leaders have mourned his demise.
HUMBLE ORIGINS
Rising from humble origins in the small village of Mirati in Birbhum District of West Bengal, Pranab Mukherjee was inspired by his father Kamada Kinkar Mukherjee's contribution to the national movement. After various stints as an academic, journalist and lawmaker in his home state, he moved to New Delhi in 1969 and became an inseparable part of the national scene, and of the Congress party under the mentoring of Indira Gandhi.
During her son Rajiv Gandhi's rein, however, he briefly went out of the Congress and floated his own party, Rashtriya Samajwadi Party. Mukherjee, who was gifted with phenomenal memory, and encyclopaedic knowledge of men and matters – domestic and foreign, had the distinction of heading Finance, Defence, External Affairs and Commerce ministries besides the Planning Commission of India. He was elected to Rajya Sabha five times and twice to Lok Sabha. And was adjudged as the Best Parliamentarian.
CONGRESS VETERAN
To the Congress party, presently headed by Italian born Sonia Gandhi, Mukherjee was a pillar of strength. His intellectual and political prowess and his ability to build a consensus on difficult national issues helped to steer the party after the Grand Old Party entered the coalition era. Mukherjee was a member of the Congress Working Committee, the highest policy making body of the Party for 23 years.
MODI TRIBUTES
Prime Minister Narendra Modi, who had a good equation with Mukherjee despite their conflicting backgrounds, was lavish in his praise of the late leader. He said right from his first day in office as Prime Minister, he was blessed to have the guidance, support and blessings of Pranab Mukherjee. 'I will always cherish my interactions with him'.
SONIA CONDOLENCES
In her condolence message, Sonia Gandhi said his life over the past five decades mirrored 50 years of India's history. "Pranab Da had been such an integral and prominent part of national life, the Congress party and the central government for over five decades, it is hard to imagine how we can do without his wisdom, experience, sage advice and deep understanding of so many subjects". She added that she had had learnt a lot from the Congress veteran.
RAHUL MOURNS
Her son, Rahul Gandhi, who was also a former chief of the Congress Party, said "with great sadness, the nation receives the news of the unfortunate demise of our former President Pranab Mukherjee. I join the country in paying homage to him. My deepest condolences to the bereaved family and friends".
BJP – RSS VETERANS
Lal Krishna Advani, a former BJP chief and former deputy prime minister of India, said, "To me personally, Mukherjee was more than a colleague. We've shared valuable moments both inside and outside our public lives, which extended to our families. Memories of various shared lunches will always be special in my heart".
Ruling BJP's ideological mentor, the right-wing Rashtriya Swayam Sevak Sangh (RSS), said, Pranab Mukherjee didn't believe in political untouchability and was respected by all parties. "He was like 'guide' for us", said RSS chief Mohan Bhagwat. "Mukherjee was affectionate towards the organisation and his passing away is irreparable loss to the RSS," he added in a statement he issued along with RSS general secretary Suresh Bhaiyyaji Joshi.
Mukherjee attended an RSS event at its headquarters in Nagpur in June 2018 and immediately came under severe attack from the Congress and secular formations. This was notwithstanding his warning to his audience that any attempt to define India through 'religion, hatred, dogmas and intolerance' would dilute our existence and his call to free public discourses from all forms of violence.
MORE TRIBUTES
Indian President Ramnath Kovind has hailed Mukherjee as a colossus in public life and said he had remained rooted to the ground irrespective of the exalted offices he held. Mukherjee's decision to discontinue the use of the honorific 'His Excellency' was historic. His demise is the passing of an era.
Vice President M. Venkaiah Naidu said, Pranab Mukherjee brought dignity and decorum to every post he had held during his long and distinguished public service.
WORLD LEADERS MOURN
Russian President Putin and several world leaders have expressed grief over the demise of former President Pranab Mukherjee.
Nepal Prime Minister K P Sharma Oli said, in his demise, his country has lost a great friend. "People of Nepal remember his contributions in strengthening Nepal-India relations in different capacities of his public life".
Sri Lanka Prime Minister Mahinda Rajapaksa hailed Mukherjee as a statesman par excellence, a writer and a man loved by all. "The passion with which he served his nation is unparalleled".
Book Shelf

Recent Top Post