India is carefully monitoring the developments along its border areas including the construction of infrastructure by the Chinese side in the eastern Ladakh sector, Foreign Office spokesman, Arindam Bakshi said in New Delhi on Thursday in response to remarks by US Army 's Pacific Commanding General Charles A Flynn that some defence infrastructure China is creating on the border region is "alarming".
"The government is committed to and takes all adequate and appropriate measures to safeguard territorial integrity and sovereignty as the developments in recent years have clearly demonstrated," Bagchi said at his weekly media briefing.
"As far as the current situation (in eastern Ladakh) is concerned, we have maintained continuous communication with the Chinese side both through diplomatic and military channels," Bagchi said.
Excerpts from the presser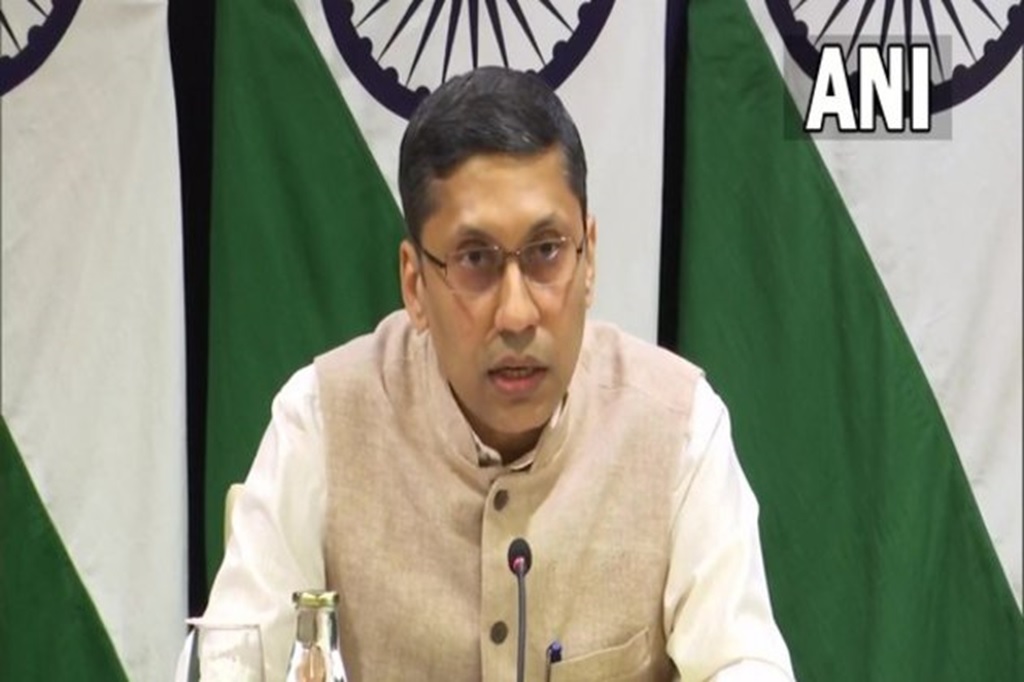 Now, while we would not like to comment on what General Flynn is reported to have said, I have seen some media reports. Let me just so make a broader statement. I would like to emphasize as we have done in the past that the Government of India carefully monitors developments along our border areas, including construction of infrastructure by the Chinese side in the western sector as well as that being undertaken further in-depth areas. Government is committed to and takes all adequate and appropriate measures to safeguard territorial integrity and sovereignty as the developments in recent years have clearly demonstrated. Government of India, has taken various measures in recent years, to develop infrastructure, along the border areas to not only meet India's strategic and security requirements, but also facilitate the economic development of these areas.

Let me also add here. As far as the, current situation is concerned. As you are aware, we have maintained continuous communication with the Chinese side, both through diplomatic and military channels. There have been 15 rounds of senior commanders' meetings, 10 rounds of the meetings of the WMCC. We have also had communication at the level of the Foreign Minister, Defence Minister, and the NSA and his counterpart. This has led to some progress as both sides have successfully disengaged in a number of areas along the LAC in eastern Ladakh. We will maintain our dialogue with the Chinese side to resolve the remaining issues. The two sides have also agreed to hold another round of senior commanders meeting, as decided in the last week's meeting of the WMCC. It's our expectation that in these talks, the Chinese side will work with the Indian side to reach a mutually acceptable solution for the remaining issues given that both sides also agreed that the prolongation of the existing situation is not in the interest of either side or overall relations. We have always maintained the restoration of normalcy will obviously require restoration of peace and tranquillity along the LAC which had been disturbed by the Chinese actions in 2020. So that's basically what I wanted to say.

On Nupur Sharma offensive remarks

Coming on to the issue of the Prophet in the controversy over those offensive remarks. I think let me just emphasize what we've been saying and I think you know by now you're pretty clear about what we've been saying. Let me just say it for the record. I think we've made it pretty clear that the tweets and comments do not reflect the views of the Government. This has been conveyed to our interlocutors. As also the fact that action has been taken by the concerned quarters, against those who made the comments and tweets. I really don't think I have anything additional to say on this. You mentioned about outreach. Let me just say, look, our ambassadors regularly brief their interlocutors on issues and concerns of the day. They are also in regular touch with headquarters. In fact, this is their job. So, I'm not sure anything further I have to say on that.

On the issue of External Affairs Minister and the Iran discussions, look, my understanding is that this issue was not raised during that conversation. As for the oil part, any case we have issued a press release on the visit. So, you would have had, you know, chance to see what was discussed. Beyond this point I don't want to comment on the details of the conversations, whether it is on oil or otherwise, but let me just draw your attention to the public remarks made by the External Affairs Minister earlier this month and last month where he has highlighted the absence of oil from Iran and Venezuela has made it more difficult for India to meet our energy security needs. So, I think that addresses most of the questions that I had.

Speaker-3: The Iranian Foreign Ministry, put out a statement sort of a brief on the meeting with National Security Advisor Ajit Doval where they had not just said that they raised the issue of the Prophet controversy, but that the National Security advisor had given assurances to the extent that those who have been punished.

Shri Arindam Bagchi, Official Spokesperson: This is about the conversation between NSA and the Iranian Foreign Minister.

Speaker-3: And it would be seen as a lesson to others. This is the quote, that they had given of the National Security advisor. There is also a tweet put out by the Iran Foreign Ministry through one of its embassies, where the Iranian Foreign Minister said that he had raised the issue and that all officials, he had spoken to had equivocally, unequivocally, condemned the comments and they also used the word satisfied in their press release. So, I just wanted to know about what is MEA reaction to that?

Shri Arindam Bagchi, Official Spokesperson: Look, I usually don't like to comment on, unless you know particular elements we would like to put out, on comments between, you know, senior dignitaries. So, certainly on the NSA and Iranian Foreign minister, I would not like to comment on what their conversation was. My understanding is that what you are referring to, in a readout, has been pulled down. But anyway, even if it is, I don't want to get into what was said or not. I don't have any comments on that. So, I'll leave it at that.

Kavita Joshi: I am Kavita Joshi from Hari Bhoomi Newspaper, I want to ask Sir this question that in the bilateral meeting that has just taken place between the foreign ministers of India and Iran, there were discussions on connectivity and development of the Chabahar Port. India is sending its humanitarian aid to Afghanistan which also contains wheat, essential medicines and a lot of other things, has there been any discussion in the meeting on sending this aid to Afghanistan through Iran instead of Pakistan?

Speaker 4: I am asking that many countries have summoned our ambassadors and protested on the issue of Prophet. So, has there been any response from the government to these countries?
Ranjana: Sir I am Ranjana from UNI. The Qatar Foreign Ministry and even the Qatar Shura council held a meeting, they discussed the Prophet remarks. And they said, that the Government of India, they demanded an apology. So, have we apologized? What has been our response?

Nandita:   I am Nandita from Bengali newspaper Samvad Pratidin. Sir there is a news that Qatar has denied permission of accommodation to an Indian, at the time of World Cup, who has got the ticket also. Can you give any update on this?
Sachin:  Sir my name is Sachin, I am from Univarta, I want to know how many countries have officially registered protest with us about this Prophet issue and what position have we taken formally?


Shalinder: Sir Shalinder from News 18, Sir the press releases that have been issued by our embassies in Qatar, Kuwait and Iran have used the term fringe elements. Please specify what do we mean by the fringe elements? Because they were official spokesperson of the ruling party. So how correct is it to say fringe element?

Sudhi Ranjan: Sudhi Ranjan again from Bloomberg. Wanted to ask you. There has been quite a backlash. Indian products have been taken off stores in some of these countries. Has the MEA taken this issue up with these countries and is there any clarity on whether these, you know, goods and merchandise are back?

Speaker-5: Release, by the Iranian side has in fact, been pulled down. I just checked. I want to know whether that means that that issue was not raised with the NSA.

Shri Arindam Bagchi, Official Spokesperson: There is a Iranian foreign ministry. I think you should ask them. Sorry. I'm not going into meaning or interpretation. I've said what I had to say on that.
Ranjana ji had asked what response was given. And there was question of how many countries. Look these are all related, let me reiterate where we stand. In terms of, what's raised in Qatar, as you remember, our Embassy had shared that the matter was discussed with Ambassador. And he conveyed our perspective. We have made this public; the embassy made this public in a statement. I don't think I have anything to add further on the issue of Qatar. Similarly other countries that have raised it, you have seen wherever it is, like Kuwait, we had put out a comment, our perspective, what we had said. As regards, how many countries, look who asked that one actually?
Sachin, you had asked about how many countries. Look the countries that have said publicly, you must have seen, I must have seen, so I will stop here. You had asked about our response? Like I said, whatever we said, we have put it out, we have given a statement, we have given a statement on behalf of our embassy, in Kuwait, also in Qatar. Some of the comments came from a group of other countries, so we have given an official statement, please follow it. What is said in the statement has been repeated. And there was a question on fringe elements. We have clearly said that these do not reflect the views of the government. We made it clear that such views are not views of our government. Our interlocutors were also told that it does not reflect the views of the government and it was also said that action has been taken against them by the concerned quarters. I don't have anything further to add to that.
You made assertion that stores have taken off things. I am not there with you on the assertion. I'm not sure there are some media reports. We will, of course, continue monitoring the situation so that you know, the Indian Community there, as otherwise, Indian interests remain protected and they are safe, but I don't have an immediate comment on that assertion, that allegation that you have put.  
Kavita ji, you asked. See, we are focussed on how we can give humanitarian assistance to the people of Afghanistan. We are sending aid through the easiest route which is through Pakistan. There is talk of using Iran's Chabahar port also. I don't know right now how much feasible it is. It will depend on the feasibility, on costing, it also depends on the route, so I will not be able to comment on it now. But we had talks on the connectivity with the Iranian foreign minister. You must have seen the press release issued by the office of the Prime Minister, in it also this was mentioned. During this visit we had a lot of discussions about improving the connectivity.

Srinjoy: Sir you said this before, including very recently about how the minorities are treated in Pakistan, including the Ahmadiyyas. Now in recent days, there has been an attack on a temple in Karachi. One person from the Temple authorities has been assaulted. What is the government's reaction? Have we said anything? Has the local, the Indian High Commission in Islamabad intervened or protested? Or have we called in someone from the Pakistani High commission here?

Arindam Bagchi, Official Spokesperson: See, I think Yashi, she mentioned it in the second question I didn't follow up. I'll come back to that. Any other questions before I close.

Suman Sharma: Sir I'm Suman Sharma from European Security and Defence. Sir recently the German foreign minister went to Islamabad and she said the UN has a role to play in ensuring human rights in Kashmir. So, what's MEA's reaction?
Rajesh Mishra: Sir, Rajesh Mishra from Nepalese Newspaper Kantipur Daily. Last week, a team of government officials from India visited Afghanistan. Can you give some details about what did that visit do?
Speaker 6: I just want to know what is on the Iranian Foreign Minister's agenda for his visit in Mumbai and Hyderabad.
Arindam Bagchi, Official Spokesperson: Okay. Thank you. I think I'll close with those few questions. Look, as I said on the Pakistan one, let me clarify. We have noted the recent incidents or incident of vandalization of a Hindu temple in Karachi. We believe this is another act in the systematic persecution of religious minorities. We have conveyed our protest to the Government of Pakistan and again urged to ensure the safety, security and well-being of its minority communities. So that would be our reaction to what you raised.

Regarding Yashi, on the visit, I don't know if there are official elements on it. So best you check with the Iranian Embassy here, they would be in a better position. We normally comment only on their official elements but yes, he has gone to Mumbai and Hyderabad and they would be in a better position to share.
Rajesh, you asked about the visit of our delegation to Afghanistan. Look. We had shared last week that a team led by Joint Secretary (Pakistan, Afghanistan, Iran) in our ministry visited Kabul to oversee the delivery operations of our humanitarian assistance to Afghanistan. The team interacted with senior members of the Taliban including Amir Khan Muttaqi and Sher Mohammad Abbas Stanikzai.
They held discussions on India's humanitarian assistance to the people of Afghanistan. They also visited various project sites and also the premises of the Indian Embassy. I think this is what I have to share for the moment for that visit. I missed one question. Oh, yes, you had asked about, do you have an immediate comment?
Look, I think our position on Jammu and Kashmir vis-à-vis the role of bilateral way to solve it and how we see the UN's role or the rather the lack of it, is pretty clear. I haven't seen the full text of it. So, I would not like to comment on that specific response. But I think suffice to say that, we believe that this is an issue that has to be bilaterally resolved and we do not see external interference in this as a helpful or, you know, way to find a solution on this. So, I think I'll leave that as a short comment on this, but I think our position has not changed on this at all.
https://www.mea.gov.in/media-briefings.htm?dtl/35406/Transcript_of_the_Weekly_Media_Briefing_by_the_Official_Spokesperson_June_09_2022