Joshua Wong Sentenced in Another Hong Kong Activism Case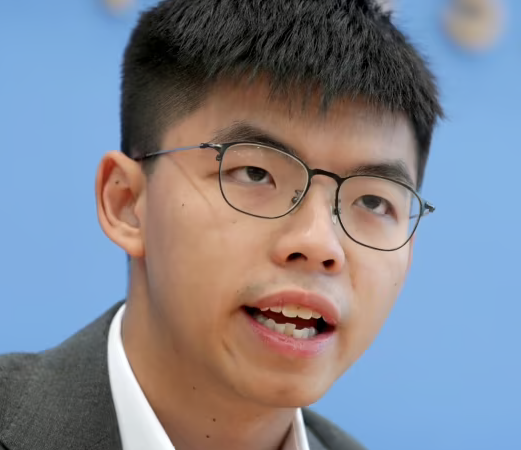 Hong Kong activist Joshua Wong was sentenced Monday to three months in prison for breaching court bans on disclosing personal information about a police officer who injured a protester during 2019 anti-government protests.
Wong rose to prominence in 2014 pro-democracy protests in the Chinese territory and was in custody after he indicated his intention to plead guilty in the city's biggest national security case, in which he faces a potential penalty of up to life in prison. Last year, he finished serving his sentences of about two years for three other cases after being convicted of multiple charges.
The former student leader of the 2014 protests was not a leader of the 2019 protests, but his continued activism and high profile made him a target of the authorities. The jailing and silencing of activists like Wong have damaged faith in the future of Hong Kong, with many young professionals responding to the shrinking freedoms and autonomy by moving abroad.
During the protests, violent clashes between police and protesters occurred, and some protesters expressed their opposition to officers' questionable tactics through "doxxing" — the practice of maliciously leaking others' personal information.
In Monday's case, Wong had been convicted of contempt of court after flouting a ban on publishing officers' details. The prosecution also alleged he breached another order that prohibited people from publishing any matters that might lead to the public identifying the police officer who shot a protester with his revolver in November 2019.
Wong was accused of reposting on Facebook a thread from an online forum that disclosed the details of the officer who fired three live rounds in the residential area of Sai Wan Ho on Hong Kong Island. One of the shots injured a protester and sparked a public outcry at the height of the protests.
Judge Russell Coleman, who handed down the sentence Monday, said he would offer the full reasoning in the next few days.
Wong, who wore a pink top, appeared calm in court. In his mitigation, his lawyer said Wong had admitted liability and would like to apologize to the police officer and his family.
Hong Kong returned to China's rule in 1997 under the promise that the former British colony could retain its own political, social, and financial institutions for 50 years. Critics say the promise is becoming increasingly threadbare in recent years after the enactment of the security law in 2020.
–Report on VOA, Apr 17, 2023
https://www.voanews.com/a/joshua-wong-sentenced-in-another-hong-kong-activism-case/7053369.html
Book Shelf

Recent Top Post

AdSense code