Li Keqiang's death fueling distrust, opposition toward Xi Jinping: experts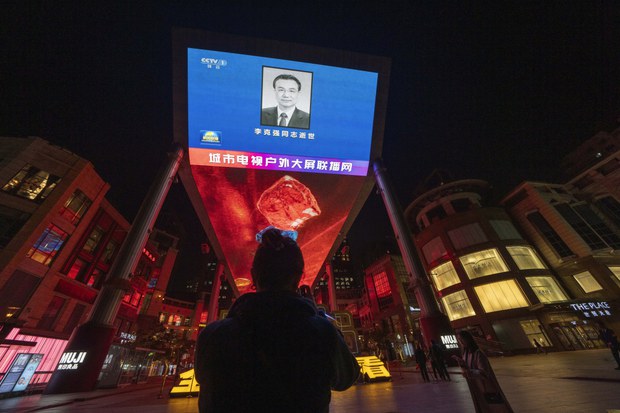 The death of former Premier Li Keqiang has reignited talk of economic reform in China, making him potentially a more threatening figure to Xi Jinping than if he were still alive, analysts told Radio Free Asia in recent commentaries and interviews.
Li died of a heart attack in Shanghai on Oct. 27 at the age of 68, shocking many in a country where members of the privileged ruling class typically live into their 80s and 90s, and prompting a number of suspicions and unconfirmed rumors around his death.
While online condolences were gradually limited by censors to a few set phrases and security was stepped up in Beijing, mourners in other parts of the country associated with Li carpeted public spaces with floral tributes, amid ongoing public dissatisfaction over Chinese leader Xi Jinping's handling of the economy.
Li was buried with due honors, but at a low-key funeral ceremony that seemed designed to prevent any public outpourings of grief that might trigger protests, as they once did for former premier Hu Yaobang in 1989.
While Li's political contribution to contemporary China was sidelined by his far more powerful boss, his death is widely regarded as a symbol of the end of an era of relative openness and economic growth in China, according to Zhang Lun, professor at the University of Cergy-Paris in France.
"[It was] a farewell to the era of reform and opening up in China — the complete end of that era," Zhang told Radio Free Asia's Asia Wants to Talk political chat show.
End of openness to reforms
Old Dominion University professor Li Shaomin, whose father Li Honglin was once a prominent theorist of the economic reform era begun by late supreme leader Deng Xiaoping, said it marked an end of any expectation that economic openness will eventually drive China in the direction of "free speech, the rule of law, democracy and free markets."
"Li Keqiang's greatest contribution was that his death woke a lot of people up from their dreams," he told the show, adding that while the ruling Communist Party still likes to promise "reforms," the word no longer means anything in Chinese politics.
"The term reform has been overused by the Chinese Communist Party, and has completely changed its meaning," Li said. "When the economy improves, they suppress private enterprise, but they raise the banner of reform when it's failing, put on a smile, and start trying to stabilize the relationship with the United States."
It's the symbolic associations with Li's death that make him perhaps more dangerous to Xi's rule in death than he ever was in life, according to Cultural Revolution expert and California State University professor Song Yongyi.
"Xi Jinping certainly regards Li Keqiang as a hidden danger to his rule, but if Li Keqiang were alive, he wouldn't pose a greater threat to Xi than he does dead," Song said, adding that Li's death had led more people to question Xi's rule.
'Potential threat'
Former 1989 student leader and U.S.-based political commentator Wang Dan said that the conspiracy theories around Li's death are "of great political significance," even if they turn out not to be true.
"These doubts … are likely to have a major impact on the future development of Chinese politics," Wang wrote in a Nov. 6 commentary for RFA Mandarin. "[They] show a further deepening of the general public distrust of, and opposition to, Xi Jinping."
"It has set up this idea of Xi Jinping as a public enemy, which is spreading … as we see from the spontaneous commemorative activities for Li Keqiang among ordinary people," he said, drawing parallels with mass, spontaneous public mourning for beloved former premiers Zhou Enlai in 1976 and Hu Yaobang in 1989.
"Those two mourning events weren't just about mourning — they were about political resistance," Wang said. "[Public] dissatisfaction will of course be suppressed, but it won't disappear, just keep fermenting and accumulating."
"That accumulation is a potential threat to Xi Jinping."
Wang said the public suspicions that Xi was in some way linked to Li's death may not be true, but they point to a growing sense that Xi is becoming "more and more like Stalin."
"The question 'who's next?' will be occupying the minds of many people," he wrote.
Dissatisfied
U.S.-based liberal economist He Qinglian said middle-class millennials in today's China are among the most dissatisfied with the current leadership.
"This generation was born in the most economically prosperous era of China's recent history, but have encountered economic bottlenecks in adulthood," she wrote in a Nov. 6 commentary for RFA Mandarin. "Universities are no longer places to cultivate the middle classes — many young people have yet to begin their lives and can only lie flat."
"Under the strict monitoring of the authorities' surveillance dragnet, China's young generation is unlikely to stage a revolution — they can only seize this opportunity to vent their dissatisfaction," He said.
"A lot of young people don't even know what Li Keqiang's main policies were … but that doesn't stop them copying and pasting phrases like 'the people's premier' and joining in this floral revolution."
She cited a Weibo post from Lao Dongyan, a professor at Tsinghua University School of Law, who said the floral tributes "were a lament for the gradual dying of an era."
"Buried deep inside were many people's youthful years, their longings for the future," Lao posted. "The systems and cultures that were painstakingly established during that era have been destroyed like rotten wood."
Reversing gains
While He noted that there was plenty of dissatisfaction with the rampant corruption that went along with Deng Xiaoping's 'get rich' policies, she said Xi is now seen as a leader who has reversed all of the gains of that era, despite his ongoing anti-corruption campaigns.
"Some people miss their good old days, while others are extremely dissatisfied with Xi Jinping," she said. "We're mourning reforms and opening up … as much as we're mourning Li Keqiang."
Political commentator Chen Pokong said the huge floral displays and online tributes must have had the Xi administration "in a cold sweat."
"The general suspicion is that Li was murdered or died an unnatural death, and that there was a major political conspiracy behind it," Chen said.
"Li's image as a moderate and enlightened reformer had really taken root in people's minds, so they lamented his death as they had once lamented his sudden departure from politics."
"Nearly everyone in China can see themselves in this down-to-earth premier," Chen wrote in a Nov. 8 commentary for RFA Mandarin, adding that many had been impressed by his outspoken comment that 600 million in China still live in poverty, undermining Xi's later claim to have eradicated it.
Yet Chen also pointed to wider political themes from Li Keqiang's death, which "also symbolizes the end of the era of reform and opening up."
"People instinctively feel that a darker era is coming, and that the future is dangerous," he wrote.
RFA report, Nov 10, 2023
https://www.rfa.org/english/news/china/china-likeqiang-opposition-xi-11102023143403.html
Book Shelf

Recent Top Post

AdSense code