Pak Urdu Digest, May 2, 2022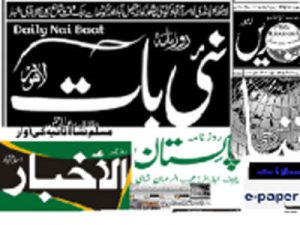 A random selection of today's news/views from Pakistan's Urdu dailies
NEWS
1. A blast took place at Customs Intelligence office on the Airport Road in Quetta. A man was injured while the building caught fire after the blast. Police said the nature of the blast was being ascertained. Security forces and bomb disposal squad personnel quickly arrived at the scene and launched an investigation. A security guard at the customs office told police that three armed men entered the office and took the staff hostage. The gunmen tied the staff's hands and threatened of serious consequences. As soon as the gunmen left, an explosion ripped through the customs office. (Jasarat)
2. Leader of Jamiat Ulema e Islam, Maulana Hafiz Hamdullah, has condemned the killing of five people of a family in Quetta. The persons who slaughtered the women and children are neither humans nor Muslims. They don't deserve any leniency. He demanded the quick arrest of the killers. (Intekhab Daily)
3. National Party President Dr. Abdul Malik Baloch said that resolving problems of Balochistan by force would have negative impact. No one is serious about understanding the core of Balochistan issues, he said and added that the resources rich Balochistan is currently facing serious political and economic issues. Abdul Malik, who is a former chief minister, lamented that resources and the coast of Balochistan are not safe from exploitation. Doors of education for Baloch students have also been closed, he remarked. (Qudrat, Intekhab)
4. Iran's parliamentary speaker has called for the formation of a broad-based government in Afghanistan saying this is essential for ensuring for lasting peace and security in the blood-soaked country. Mohammad Baqir Qalibaf, addressing the general session of the parliament on Sunday, alleged that these days the United States was trying to spread unrest in Afghanistan through ISIS. (Jasarat).
COLUMNS
1. Mansoor Afaq in Ibrat, 30 April
The recent suicide blast targeting the Chinese nationals is a message that works on CPEC should go slow and that there is no need to expedite them, according to some experts. The foreign media says Balochistan Liberation Army believes that once CPEC is completed Balochs will lose their autonomy, and that their resources would be usurped by the likes of China. The 23-year-old suicide bomber was a science teacher. She had taken admission only recently for M. Phil in the Karachi University. She was also mother of two children, aged 4 and 5 years. I don't think that a mother of two kids could give her life in pursuit of some mission. Maybe she was a victim of some mental disorder or some militant group might have used her for their pursuits. Some people also say some of her family members were abducted and were missing since long time and this might have led her to radicalisation. But police investigations do not show any such abduction in her family. Her last tweet was from some western country, internet IP address was not Pakistani; it means her twitter account was always operated from abroad. (Ibrat, Mansoor Afaq, April 30)
2. Ali Hassan in Pahenji Akhbar, 01 May
All the family members of Karachi suicide bomber, Shari Baloch, are educated. They have been at good government posts too. If all this is true, then how come she carried out suicide bombing? Can any mother of two kids agree to undertake such a radical job? Apparently, it looks whatever she has done is more out of show of sympathy with abducted / missing Balochs. Otherwise too, there is widespread sympathy in Balochistan with families whose near and dear ones have been abducted. There is a lot on social media showing Baloch women speak about their abducted family members. Sindh High Court, Islamabad High Court and even the country's apex court have directed on several occasions that these abducted persons be located, but all this to no avail till day. Islamabad High Court has set up one commission too. This Commission should look into cases of abducted and missing persons of Sindh too. The missing or abducted persons' issue in Balochistan has become a big wound to people in Balochistan. What will happen if a solution is not found out? New PM says he would talk to those who are powerful enough, that is the establishment, who are powerful enough to do something in this connection; but is the PM not powerful enough to do this? These abducted persons may be mis-guided persons, but they are part of Pakistan. They must be produced in courts. If this problem is not resolved soon, it can make Balochistan a weak part of Pakistan that can be always exploited by country's enemies. (Pahenji Akhbar, Ali Hassan, May 1)
3. Mujahid Brelvi in Ibrat
Attack by a woman bomber is a turning point in the seven decades old protests/campaign in Balochistan. Until now, women were kept in the background. In the seventies the rebels used to go atop mountains to fight the system. After Akbar Bugti's assassination in 2006 during Musharraf regime, the Baloch protests got a new lease. The more noteworthy part is the protesters came together; Muree-Mengal-Bugti and youth connected with BSO jointly gave a message that they see their future more as independence instead of raising slogans. Dr. Malik Baloch government in Balochistan tried to woo rebels in 2013. In a recent interview, Dr. Malik Baloch said that the establishment had a different stand on this issue. Amongst attacks (Islamabad Marriot Hotel, the Karachi Chinese consulate, Karachi Stock Exchange) the latest suicide bombing by a woman is the most serious. Those sitting in Islamabad either do not want to understand all that is happening or they are simply unaware of the seriousness of situation. (Mujahid Brelvi in Ibrat)
4. Mujahid Bareilwy in Intekhab Daily
The suicidal attack of Shari Baloch on the Chinese at Karachi University is an indication of a horrible trend in the politics of Balochistan. A married and educated woman has committed this hideous act. this is something to be worried about. It is not a common crime. It is the first attack by a woman suicide bomber. It proves that our so-called national and provincial leaders are unable to read the pulse of the people of Balochistan. And they are still looking at the unrest as a law and order problem, while in reality the situation is far more serious. (Mujahid Bareilwy-Intekhab Daily)
5. Prof. Mohamad S Anaar in Pahenji Akhbar, 30 April
Imran Khan and his coterie are impatient to be back in power before November. In this connection, they want to trigger the worst kind of anarchy and lawlessness so that no institution is able to function and the new rulers are compelled to go for early polls. Imran Khan and his men also do not want a new government to be formed in Punjab. They want to add to the crisis by tendering resignations in other provincial assemblies. All this is also aimed at putting big pressure on the Election Commission to delay the hearings and verdict in PTI's foreign funding case. Imran Khan's claim of mobilizing 20 lakh people in Islamabad Long March looks only like a Utopian idea. But intolerance and rioting mindset can usher in only a darker future for democratic civil society. The level of public discourse has reached such lows that the PTI and its leaders do not hesitate to misbehave even at places like Masjid Nabvi. What else to call it if not mindlessness? Let us see how State and society tackle such challenges. (Prof. Mohamad S Anaar in Pahenji Akhbar, April 30)
6. Khaldil M in Kawish, 01 May
Imran Khan keeps giving threats after threats to the government and institutions. His latest one is that he would mobilize 20 lakh people for a sit- in protest in Islamabad. This is no more than wishful thinking. Imran Khan will do to remember that 2022 is not 2018. In the changed times, he should thank his stars even if one lakh supporters attend the proposed sit-in. His political journey from 2018 to 2022 has done immense harm not only to the country but to his own party, PTI. It is time PTI reorients itself now instead of indulging in agitational politics. Let next polls be held and results will tell the PTI leaders as to where they stand now; next polls will also be a test of PTI and particularly Imran Khan's popularity. (Khaldil M. in Kawish, 01 May)
7. Allah Bux Rathod in Sindh Express
Major reason for Imran Khan wanting early polls is the appointment of a new chief of a key institution that is the new army chief in November. This appointment can have a big impact on the coming polls. The rulers of the day want to a new army chief who can ensure a better future for current rulers. Moreover, the current dispensation will have to make administrative and policy changes that lower Imran's image. It is likely that as a part of this sweep, bodies like NAB will get a new push. All this rejig is possible only when current rulers complete their term. This way they can come up to establishment's expectations. (Allah Bux Rathod in Sindh Express)
EDITORIALS
1. One M. Phil student was arrested and a laptop and foreign literature were seized from him in connection with the Karachi university terror attack. According to sources, suicide bomber and this M. Phil student used to be in touch through social media. (Sindh Express, May 1)
2. Hooliganism and shouting inside the Prophet's Mosque by some Pakistanis during Prime Minister Shehbaz Sharif's visit to the Shrine is highly deplorable. Such fanaticism is not good for Pakistan and it will destroy us completely. (Edits in Asas, Dunya)
3. Some people of Faisalabad have filed a case in connection with the Madina incident of shouting slogans during Prime Minister Shehbaz visit. PTI Chairman, Imran Khan, leader of Awami Muslim League Shaikh Rasheed Ahmed, his nephew Shaikh Raashid Shafiq and 150 other persons are named in the case. Shaikh Rasheed has since been arrested at the Islamabad airport on his return from Saudi Arabia. More arrests are expected. Both Imran and Shaikh Rasheed held separate press conferences to denounce the charges levelled against them. We are staunch Muslims and are not involved in this incident, they contended even as law experts asked: How an FIR can be registered in Pakistan for an incident that had happened in audi Arabia. The religious sentiments of people should not be used for political gains. The result may be disastrous for the nation as we had seen in the past. (Edit-Intekhab Daily)
4.Both the Governor of Punjab and the President have acted contrary to the parliamentary traditions in the context of election of new chief minister. Both did not respect the directions of the judiciary. Hence the strange spectacle of the Speaker of the National Assembly administering oath to Hamza Shahbaz on the orders of the Lahore High Court. It is not the end of the controversy either since the Governor had rejected the resignation of Chief Minister Buzadar. Now there are two chief ministers. Well, the court will decide their fate but the fact remains that our politics have become murkier over the past one month. It is time now to undertake sweeping electoral reforms to end the politics of electables. (Edit Jasarat)
5.Funds earmarked for schools are mostly unspent in the Sindh. As a result, neither repair works are undertaken nor any facilities are being provided at schools. The schools also lack security cover. This is clear from the theft of solar panels, fans and other items from the Juhi Government Primary School. (Sindh Express Edit)
6. Mufti Noor Wali Mehsud, head of the banned Tehreek-e-Taliban Pakistan (TTP), has declared Eid ceasefire "in a spirit of goodwill towards Pakistan". The TTP is Afghan based and uses Afghan territory to carry out attacks on the Pakistani border. The Afghan Taliban government tried to mediate between Pakistan and TTP. The mediation came to a naught due to the unexceptionable demands like the release of 100plus TTP militants held in Pak jails. In recent days TTP has stepped up attacks across the border. leading to heightened tension between Kabul and Islamabad. Pakistan sank into the swamp of terrorism by giving excessive concessions in the "Afghan Jihad". For some time now, after the bloody incidents of terrorism in Balochistan, Khyber Pakhtunkhwa and now Karachi, it has been decided to reactivate the National Action Plan (NAP) to check terrorism. Though the TTP has declared a ceasefire, it is not a single monolithic formation. So much so, the Army and the other security agencies should remain alert and be ready to thwart any designs of the terrorists. (Edit Jang)
………….