Pak Urdu Media Digest, July 13,2022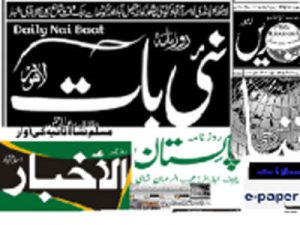 (There were no editions of Pak Urdu dailies on July 12 on account of Eid holidays)
News:
Rallies taken in Sindh protesting the killing of a youth, Balal Kaka by the Pathans at a hotel in the Qasimabad area of Hyderabad. Hundreds of people from Kaka tTribe staged a dharna on both sides of national highway bringing vehicular traffic to standstill for hours. Dharna was also held in Hyderabad, Thatta and Udasi town by Jiye Sindh Mahaz and others. Protests were also held at Mathi, Mirpur Bathoro and at Gambat by Naujawan Itihad and others. Police investigating Balal Kaka death, have sealed the hotel and constituted a team for further probe. Kaka family said they came to know about the murder from a phone call from Kaka's friend, Leaders of Sindh Taraqui Pasand, Awami Tehreek and other nationalist organisations have lashed at the PPP government saying outsiders are made strong by regularizing their illegal stay in Sindh. Leaders from Jiye Sindh Quami Mahaz and other groups said Sindhi youth are being systematically eliminated. (Sindh Express)
Pakistan's nationalist journalist Sardar Asif Asharf has sent a letter to JUI-F Chief Maulana Fazlur Rahman just prior to the Wahdat- e- Kashmir Conference. The letter claimed that AJK Rivers are producing 4000 MW of electricity now and will start producing 12000 MW soon but AJK is not getting even 400 MW electricity. On the contrary fuel tax is imposed on electricity produced from AJK's water besides other taxes. Gilgit-Baltistan is getting one sack of flour for Rs.600 and AJK is getting the same for Rs.2400. AJK representatives never demanded their rights. Maulana Fazlur Rahman had discussion with Allama Saeed Yousuf on this letter. Speaking at the Wahdat-e-Kashmir Conference the Maulana said some elements want Kashmir as a free state, but India and Pakistan both are not ready for this solution of Kashmir dispute. He also asserted that though Pakistan Army is one of the best in the world, Pakistan's economy is very weak and hence Pak Army cannot fight the war of Kashmir Freedom. No one therefore should expect or hope Pakistan to achieve freedom for Kashmiris, Rahman added.  Earlier Hasan Ibrahim from AJK said Kashmiris are Pakistanis before the inception of Pakistan as his grandfather had decided to make Kashmir a part of Pakistan. Rejecting his views, Maulana Fazlur Rahman said agreements on Kashmir were only on administrative lines and not demographical. "Such statements have created furor in Pakistan and Kashmir politics and new political chaos has come up", Maulana Fazlur Rahman said and added that Kashmiris should forget the past and will have to decide their future on their own. (Siasat)
Sindh Provincial Minister Manzoor Wasan of Pakistan People's Party has predicted that President Arif Alvi will be removed before the general elections. After Ali's removal, whoever becomes the new President of Pakistan, will be from PPP. (Daily Pakistan)
Leader of MQM and former Mayor of Karachi Waseem Akhtar has said that city of Karachi has been destroyed by Asif Zardari and Bilawal Bhutto. There was no proper planning to run the city though resources are available.  He said Karachi has literally drowned in the downpour and asked 'where is Provincial Disaster Management Authority'.    People are asking where their tax money is going. The city lacks proper infrastructure and what little it has   stands destroyed in the rains now. A worst governance than this is not possible.   (Ausaf Daily)
 PML-N senior Ishaq Dar has denied reports of a rift in the party. Such reports are baseless and fabricated. PML-N is working unitedly under the leadership of Nawaz Sharif and Shahbaz Sharif. Blaming the PTI government for the present economic mess, he said Imran Khan had destroyed all the achievements of Nawaz Sharif. In the past, we had taken the country out of difficult times. We will do it again. (Intekhab Daily)
Leader of the National Party and former Chief Minister Abdul Malik asked:  How people can enjoy Eid when getting two meals a day is a problem for them. Eid is the name of happiness but when your children don't have new clothes, or enough food and when your family members are missing and you don't know anything about them, how can you enjoy Eid?    (Intekhab Daily)
Chairman of Pak Sarzameen Party Sayed Mustafa Kamal has said Prime Minister, Army Chief, Chief Justice and the Federal government have left the people of Sindh at the mercy of the PPP. Speaking at a press conference in Karachi he said that all are cutting the same branch (Karachi) on which Pakistan is sitting. If Karachi sinks then the entire country sinks. It is a fact that a country can't progress without the progress of its cities. But our short-sighted rulers are destroying a business center like Karachi. In the last 75 years, we have not developed even a single city which can compete with Karachi in business.  (Dunya Daily)
Ameer of Jamaat-e-Islami (North District, Karachi) Muhammad Yousuf has said that the receiving of a large number of animal hides on Eid-ul-Adha is an expression of public confidence in Jamaat-e-Islami. Let the people also trust the Jamaat, in the coming elections. (Jasarat)
Chairman Sindh United Party, and Convener Sindh Action Committee, Syed Jalal Mehmood Shah has said that the law-and-order problems in Sindh are increasing because of the Afghans living in Sindh and others coming to Sindh from elsewhere. He blamed Afghan Pathans for the death of Bilawal Kaka, a young man from Qasimabad area of Hyderabad. In a statement, Jalal said that Afghans living in Sindh are terrorists. (Jasarat)
FIA Corporate Crime Circle Karachi has registered a case against Pakistan Petroleum Limited for alleged corruption of crores of rupees and arrested two top officials of the company. (Jang)
Former Interior Minister Sheikh Rashid has said that the next 45 days are very important in the country's politics. Despite rains, Imran Khan's historic rallies in different cities of Punjab have proved that the people are with the PTI. If the 'institution' does not become a party on July 17, the victory will be for the Captain. (Jang)
Pakistan's stance on the Russia-Ukraine conflict will not affect its decision to join the GSP Plus for the next ten years, according to the European Union. "We are not going to punish any country based on its position on the Russia-Ukraine issue," a western diplomat said on condition of anonymity.   He said the EU decision would be based on Pakistan's progress in implementing 27 international conventions. These conventions relate to human rights, labor rights, the environment, climate change, and good governance. (Ummat, Daily Express)
The BBC has revealed that more than 54 prisoners and unarmed people were killed by British troops in Afghanistan. BBC reviewed documents relating to Special Air Service (SAS) operations in Afghanistan and presented a report in its Panorama program. The SAS is a British elite unit. Several people serving with SAS Squadron confessed that they saw SAS operatives killing unarmed people during night raids. According to the ex-servicemen's statement, the killing of one person was justified by placing an AK-47 assault rifle at the scene and some members of the force were competing with each other to count as many human lives as possible. The report also said that internal emails revealed that high-ranking Special Forces officers were aware of illegal killings but failed to report them to the military police. (Nawai Waqt, Daily Express, Ummat, Daily Jinnah)
EDITORIALS
The killing of a Sindhi youth by an Afghan migrant over a petty issue in a hotel at Qasimabad, Hyderabad sparked a dharna by family and other members of civil society demanding arrest of killers. When Afghan youth was firing on Sindhi youth, area police van was parked outside the hotel but no policeman mustered courage to intervene. How long Sindhi youth will be killed by outsiders? If the Sindh government is unable to check the influx of outsiders, it can at least undertake operations against illegally acquired weapons. Outsiders seem to be having illegal weapons in large numbers and they do not hesitate to use the weapons over petty issues too. Sindh government must act for protecting locals and ensure that the guilty in incidents like the at a Qasimabad hotel are given deterring punishment so that none dares against Sindhis in future". (Ibrat Edit)
Relations with the United States were established the very next year after the establishment of Pakistan. Although there have been ups and downs, these relations have never been severed. During the tenure of Prime Minister Imran Khan, the element of coldness prevailed in Pak-US relations and thus a stalemate was created. However, when a no-confidence motion was filed against Imran Khan by the opposition parties and the success of the no-confidence motion forced him to resign, he blamed Washington for his troubles, saying it was the result of a US conspiracy. The Imran allegation created a bit of bitterness in Pak-US relations. Now, under the present government, the ice has begun to melt. Recently, Pakistan's Ambassador to the United States Masood Khan met President Joe Biden. Bilateral relations were discussed during the meeting. On this occasion, the two countries reaffirmed their commitment to strengthen ties. Pakistan has always been a friend of the United States despite adverse circumstances. The United States, as its longtime ally, must move forward in view of Pakistan's services and positive attitude and play a role in re-establishing strong ties. (Edit Nawa-i-Waqt)
COLUMNS
Taiba Gul's revelations against earlier PTI government and how former NAB chairman Justice (Retd) Javed Iqbal used to blackmail her, need to be looked into thoroughly, no matter, even if the probe calls for the arrest of anyone. Taiba must get justice. There is a lot in air that Javed Iqbal might be arrested but others too should also be included in investigations. None is above law. Justice Javed Iqbal is also a chairman of the commission looking into cases of missing persons. The language used by Javed Iqbal, when Taiba Gul reached his office with an application seeking release of her husband, is highly objectionable when he told her on face 'you are so beautiful, why do you need a husband'. Can anyone imagine using such a filthy language from a person, who is a former Judge and aged 77 and having daughters and daughters-in-law? Very sad state of affairs indeed. (Ibrat, Pir Makram Al Haque)
The threat from illegally staying outsiders in Sindh is on the rise. The illegally staying Afghans do a lot of irregularities in the name of their business activities like running hotels and other commercial activities here in Sindh. They are also dealing in narcotics; they lend money at exorbitant rate of interest. These days, they have also taken to killing Sindhi youth too as is clear from the killing of Irshad Ranjhani in Karachi some time ago, and of Balal Kaka a day after Eid at a hotel in Hyderabad bye-pass. Balal was killed when he objected to his inflated bill. Sadly, police authorities and others in law enforcement agencies do not act against such elements. Sindh government will have to be serious on this issue so that peace-loving Sindhis can move about freely in their own Sindh. (Ibrat, Masooro Gohar)
MQM claims ownership over Karachi. But it has done maximum harm to the city. That does not mean PPP has done a lot of good work here. If PPP's resentment is that they do not get support from Urdu-speaking in Karachi, then PPP must ask themselves as to what they have done for Karachi despite being in power since long. They have done no such thing to win the hearts of Karachi people. The party has only given big slogans and indulged in big corruption breaking all records in irregularities. Sadly, there is none to take care of Karachi. Anyone doing anything here is only in pursuit of personal interests. Whatever chaos and inconveniences we are witnessing in Karachi today it is on account of political forces and their misdeeds. (Sindh Express, Omar Qazi)
Basic principles should be laid down before entering the stage of decisive negotiations with the TTP. For example, in the current situation it should be decided that the negotiations will be within the ambit of the Constitution of Pakistan and each party will abide by the statute. The authority of the government must be recognized within the borders of the country. Whether it is the TTP or someone else, if they want to be a part of the political process, they have the right to do so within the ambit of the Constitution like other political parties. It should be kept in mind that Afghans are great negotiators; they are not in a hurry and do not give the impression that they are under pressure; so, the Pakistani negotiating team has to be vigilant, tolerant, and enthusiastic. Also, before entering into negotiations, the national security agencies and the political leadership must decide what space we have to accommodate the opposition so that it is not the turn to blame each other later. Our security agencies must also understand that the 'classes' that we use to our advantage as our assets, will be a burden to us later. Moreover, Pak negotiators must remember that the US was not been able to prove its superiority over the Taliban in political dialogue. The negotiations with the TTP should include diplomats with the security agencies and those having expertise in matters jirga according to Pashtun traditions. It would be very useful to bring other deviant and rebellious sections inside Pakistan, such as the Baloch Liberation Army to the negotiating table. (Jasarat, Mufti Munibur Rahman)
There is good news. During the three days of Eid-ul-Adha, the weather remained hot but the electricity supply company showed great kindness and ensured an uninterrupted power supply, thus doubling the joy of Eid. The second good news is that Prime Minister Mian Shahbaz Sharif has sought a summary from the Ministries of Petroleum and Finance on reduction in the prices of petroleum products. The Prime Minister has made this summary after the fall in oil prices in the world market. British crude oil Brent fell below 100 dollars a barrel. It is true that if oil prices are falling in the world market, then the common man in Pakistan must also get the full benefit of it, but remember that this cannot be a permanent facility. Fluctuations in global oil prices are normal. Prices are declining today. Fifteen days later, if prices rise, then the prices of petroleum products will rise. We need to find alternative sources of energy to get out of this plight. A national policy will have to be formulated to reduce the import bill. Turning to weather fury, rains have wreaked havoc in Karachi; there is no drinking water, there are protest. If MQM, PPP, PTI, Jamaat-e-Islami, and the ruling PML-N party have any feelings for Karachi, they should go beyond rhetoric. This situation is a matter of concern, especially for the MQM. (Akram Choudhary – Nawai Waqt)
………………..