Pak Urdu Media Digest Sept 15, 2022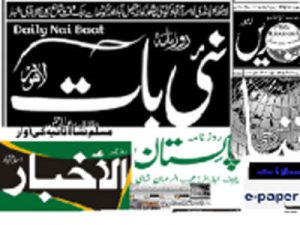 EDITORIALS:
Terrorists killed three soldiers of the Pakistan Army in Kharlachi area of Kurram district. They entered Pakistan from across the border. According to the spokesman of the Pakistan Army, terrorists suddenly fired indiscriminately. In another border area, Swat, five persons including a member of the peace committee Idris Khan, were martyred in a bomb attack yesterday. According to police sources, the blast was triggered by remote control. It is a very sad and tragic situation for us that for the sake of peace and security of Afghanistan, we sacrificed the lives of more than 80 thousand of our citizens, including security personnel, while playing the role of the American frontline ally in the last two decades. This also caused loss of billions to the national economy. We have to prioritize the protection and defense of our country in our national interest. Instead of a mere formal protest with Kabul, this matter should be raised in the United Nations in the context of the security of the country and the region. A policy should be framed to strictly stop the hands of Afghanistan as well. Otherwise Kabul may also pose serious threats to our security and sovereignty. (Edit Nawai Waqt)
Talks with the TTP with the facilitation of the Afghan Taliban had raised hopes of ending terrorism in tribal areas but the talks made little progress because of the unjust conditions of the TTP leadership. Although talks are still ongoing, attacks have resumed across the border. On Tuesday, terrorists suddenly started firing and killed three soldiers in Kurram from the Afghan side. Another terror strike took place in Tehsil Kabal of Swat, where a remote-control bomb blast killed Peace Committee member Idris Khan, two policemen and two laborers. TTP had announced to continue terrorist attacks if there is no progress in peace talks. It seems that these attacks are a link in the same chain. It is possible that another subversive group was involved in the latest incident. (Edit Jang)
The biggest symptom of the failure of our system of governance is the problem of missing persons. "Missing persons" means that the police, law enforcement agencies, investigative agencies, or intelligence agencies arrest a person extra-judicially but do not disclose the arrest. This problem started after 9/11 as part of the so-called US war on terrorism. State institutions have been given unaccountable powers in the name of counter-terrorism. The seriousness of the problem has been highlighted in a case before the Islamabad High Court. A citizen approached the court after his son was abducted on 22 August. He tried to file a police complaint but the police refused saying that his son was not with them but with the agencies. The father then approached the High Court which immediately summoned the IG Islamabad. The court warned that if the citizen was not recovered, they would summon everyone MI, ISI, IB and take action against all of them. As a result of the warning, the missing youth returned home. When the High Court asked the boy where he was taken, he replied that he was taken blindfolded. An ordinary citizen cannot resist the state and the government, so his father withdrew his plea saying, 'my son has returned. My problem is solved'. But can we say that the problem of missing persons has been solved? From time to time, this issue comes up in one or the other court like it did in the Sindh high court the other day. Dr. Aafia Siddiqui case highlights the gravity of the issue. She was kidnapped from Karachi, and was later handed over to the Americans. (Edit Jasarat)
Imran Khan and his government had always tried to give the impression that they were free from corruption and scandals. But the fact remains that not only his government indulged in corrupt practices but also broke earlier records in corruption. The misdeeds of the PTI government are now coming out in the open. One scandal that is talk of the town these days is the 10 billion Tree tsunami project. The auditor general has said there is corruption of more than Rs.3 billion plus in this flagship project of Imran Khan Government. People should be told as to on whose insistence or on whose orders, this project was not completed and why it was left midway. The environmental changes have already affected Pakistan adversely and PTI government only added to Pakistan's concerns on this front by abandoning this project midway. Anyone found corrupt in this project must be taken to task as per laws of the land (Sindh Express Edit)
There is only one teacher at the primary school in Kundal Shahi for more than a year. As many as 160 children are enrolled in the school. Many representations were made to the government for more teachers but the government remained unmoved. Now, locals have decided to stage protests and block roads till their demand is met. This has become a trend that unless there are protests and violence the government takes no action. At least on the issue of education the authorities should not remain deaf. (Siasat Edit)
Carrying bodies to cremation grounds and shifting sick people to hospitals for treatment have become a big hardship, thanks to Daddu civic body's maladministration. Body of Irbab Korai was lying under the scorching sun for long because of the non-availability of a boat to carry the body to cremation grounds at village Allah Bux Korai. In another village, Sadiq Joyo, Liaqat Joyo was suffering from high fever after getting stranded in water for long time. He was running high fever. Locals ferried Joyo to hospital on a make-shift boat of drums, while they themselves waded through four feet water. According to locals, there are no government boats across the Daddu district adding to the woes of thousands of villages inundated in flood waters. (Sindh Express, Sept.14)
Prime Minister Shahbaz Sharif said that people know who is doing politics on flood and who is doing service. They are silent but there is anger, sorrow and pain. When the time comes, the people will take account this record of politicians. He expressed these views at a cabinet meeting. This year the intensity of flood is high and more area has been affected than at the time of 2010 floods. A lot of money will therefore be required for relief and rehabilitation. It is the duty of all parties to ensure political stability at this juncture. In many areas, people trapped in flood waters have nothing left to eat. Surrounded by dirty water, people do not even have clean water to quench their thirst; malaria, dengue, skin disease and several other aliments are spreading. The standing cotton crop has been completely destroyed. If the sugarcane crop remains submerged for another 10 to 15 days, it will also get damaged. Wheat is sown in the month of November. If water is not drained from farm lands by October, wheat sowings will be affected which would mean famine next year as well. Nobody is paying much attention to small towns and rural areas submerged in floods. It is very sad that even in this critical time, our politicians are at odds with each other. Imran Khan is currently at the peak of his popularity and has the most extensive experience in raising money from around the world, but he has done nothing but running down political rivals. This is not for politics, but for rehabilitation of flood victims. Politicians should live up to the expectations of the nation. (Edit Daily Express)
Muhammad Idris, president of the Karachi Chamber of Commerce and Industry, has said that industries, especially pharmaceuticals are facing shortage of raw materials for the past four months as the State Bank is not allowing LCs for imports. The State Bank has however said there is no restriction on import of raw materials for any industry including export-oriented industries. Banks are only instructed to take permission before the transaction takes place for import of certain types of machinery. This indicates that conditions for commercial and industrial activities have worsened in the last four months. Inflation and price hikes have also affected industry, commerce and trade. It will have negative effects on the people as sources of employment are reduced. (Edit Jasarat)
Federal Minister of Energy Khurram Dastgir has said that people can't afford electricity produced by costly fuel. The government will set up, therefore, power plants that run on local resources. It is a good announcement but our past experience tells us that these announcements are never acted upon. Every government had announced something like this. No doubt the country can produce electricity by using local resources. And we can produce enough electricity for our needs. If the government acts on its announcement, we can get cheap electricity. (Edit-Dunya Daily)
NEWS
The spokesperson of the Foreign Office has said that Pakistan has implemented 38 of the 40 recommendations of FATF. In a statement, the FO said the technical team of the FATF visited Pakistan recently. The team held detailed discussions on all points. From our point of view, the FATF team's visit to Pakistan was successful. The purpose of the visit was to conduct an on-the-ground review of Pakistan's FATF commitment and performance All meetings of FATF members were held in a positive and constructive atmosphere. Pakistan has implemented both comprehensive plans with tireless efforts in the last four years and will continue its efforts in this regard in the future as well. (Jasarat)
Jamaat-e-Islami Amir Siraj-ul-Haq has said the doors of corruption will open in the name of rehabilitation of the flood victims. He demanded that independent committees be formed at the tehsil level for transparent distribution of government aid. Winter is approaching in the northern regions, Malakand division, and other areas. If the flood victims are not provided shelter, the crisis will intensify. The federal and provincial governments should show seriousness in the rehabilitation works. PTI has been in power for 10 years in Khyber Pakhtunkhwa. Instead of so-called change, there has been destruction in every sector. People's Party has been in power in Sindh for 14 years and PML-N in Punjab since 1985. The same parties have been in power in Balochistan, and their governments have been in power in Azad Kashmir and Gilgit-Baltistan. Deceiving people and telling lies is the habit of rulers. The whole world is witnessing how Jamaat-e-Islami and Al-Khidmat Foundation set examples of national service during the flood. (Jasarat, Dunya Daily)
Dengue cases are on rise in Karachi. Everyday 100 to 150 cases are being reported and so far, there are nine casualties from dengue infection. With bed shortage in government and private hospitals, many patients of dengue are now being treated at their homes. (Sindh Express).
Chairman Hayatabad Imran Khan Salar Zai has written a letter to President Arif Alvi complaining that presence of Afghan migrants in Peshawar is creating problems. The Afghan migrants are involved in social crimes. Strict action should be taken to stop their misdeeds as their acts are defaming Pakistan. (Aeen)
Aman Tarraqui Party Chairman Faiq Shah has condemned terrorist violence in Swat and Kohat. He demanded that a joint monitoring system with the Afghan government should be formed to stop terrorism in the area. (Qudrat)
China has planned to establish a cement factory in Dera Bugti. Chinese companies in Balochistan are actively participating in supporting flood affected people. (Qudrat)
The National Transmission and Dispatch Company (NTDC) restored the 220-kW line after repairs to ten transmission towers in Bibi Nani area. This helped to restore power supply to Balochistan. (Daily Express, Daily Jinnah, Ummat)
As bodies of missing MQM persons were found, Interior Minister Rana Sanaullah and Federal Minister for Economic Affairs Sardar Ayaz Sadiq met MQM leaders Federal Minister Aminul Haq and Khalid Maqbool Siddiqui. And promised an investigation, and strict action against the guilty. (Nawai Waqt, Daily Express, Daily Jinnah, Ummat)
Under Jamaat-e-Islami protests were held at 14 places across Karachi on Wednesday against the deteriorating law and order situation in the city, increasing armed robberies and the loss of precious lives of citizens, and the complete failure of the Sindh government and police department. (Jasarat)
One official was martyred and another injured as a result of firing by unknown persons at the check post of Frontier Constabulary in Khyber district of Khyber Pakhtunkhwa. The incident took place in Godar area of Tehsil Jamrud. (Jang)
Former Foreign Minister Shah Mehmood Qureshi has said that Imran Khan is holding telethons for helping the flood-affected people and not for politics. People donated because they have faith in him. Speaking to the media, Qureshi said that people and overseas Pakistanis donated to Imran Khan's bank account and not the Prime Minister's bank account. He said that the government should not have closed the channels for broadcasting Imran Khan's telethons. He said that the incompetency of the federal government has created the crisis of flour and wheat. There is no chance of growing the next wheat crop and the government is still sleeping. (Dunya Daily)
The Chief of Jamiat Ulema e Islam Maulana Fazal Ur Rahman condemned the attacks on JUI leaders in Swat and Tank and said that the targeted killing of their leaders is a matter of grave concern. He said that the anti-national elements have once again started targeting the leaders of JUI. Our passion for peace should not be considered our weakness. Law enforcement agencies should show their responsibility. We should not be forced to take the law into our hands. In his media statement, he said that our leaders are regularly attacked but not a single person is arrested so far. Incidents of this kind will destroy the peace of the country. (Dunya Daily)
The Islamabad police has said that Imran Khan can be sentenced to a minimum of five years and a maximum of life imprisonment in the case registered under section 7 of the anti-terrorism act. Under this act threatening a government employee or stopping him from doing his duty is a serious crime and punishable. According to police, the term terrorism applies to acts, speeches and writings. Imran Khan had threatened a judge and police officers during an illegal rally in Islamabad when section 144 was imposed in the city. (Islam Daily)
President of the Awami National party Asfandyar Wali Khan has said that the reports of Pakistan supplying weapons to Ukraine are very alarming. If the reports are true then the consequences will be very frightening and will affect the entire nation. In his statement issued from Peshawar, he said that collaborating in other people's wars always brings grave consequences. We are repeating the same mistake which we had done 50 years back when we entered the war of other countries and still suffering for it. Those wrong decisions are responsible for the bloodshed of Pakhtuns on large scale. Pakistan has to learn from its mistakes. (Intekhab Daily, Aeen)
COLUMNS:
Despite colossal losses in floods of 2010 and earlier periods, our State and federal governments did not heed the warnings from global agencies that two seasonal patterns at work simultaneously could bring drought at times and heavy rainfall and floods. Instead, ruling sections were busy amassing big money from irregularities. Leaders like Tahir Al Qadri and Imran Khan were busy holding dharnas for months in Islamabad, not to save politics but to save and promote the interests of a few individuals and forces! Our rulers were worried about people dying in Afghanistan; our rulers were also keen on bringing the Taliban back to power there, but they had no time to save our own people facing threats from seasonal fluctuations. In fact, the country had no resources to avert such eventualities. Our high-level delegations were sent to America, China, Russia, UK and other countries to discuss how power could be transferred to Taliban again in Afghanistan. Several global conferences too were held in this connection. But not a single conference was organized at a global level on how to save our people from droughts and floods. Following the 2010 floods, the national disaster management authority recommended setting up of district level disaster management authorities but no action was taken on this recommendation. Such bodies at district level would have helped in the current conditions. We had three to four disaster management experts but they had to leave the country because of controversial decisions of the governments. No one in ruling sections owns up any responsibility for the big floods around; none of them admits they had not taken any lessons from the past floods. They all were busy fighting for power and pelf without caring a damn for peoples' future. Will government institutions or parties like PPP, PML-N and PTI who ruled the country tender an apology for exposing our people to the ravages of nature. Our political class has no moral courage. They have hundreds of excuses for doing no good to the common man; our State and its agencies know how to get Nawaz Sharif disqualified and bring Imran Khan in power. But people are to fend for themselves when it comes to saving their lives in a country where disasters are waiting to happen, as is evident from warnings from UN and other global bodies. Our ruling party leaders are busy these days with aerial surveys to take stock of flood conditions. A big round of applause for their service to the suffering countrymen! (Pahenji Akhbar, Idrees Lagari, Sept.14)
It is rightly said that free judiciary, free media, people friendly political leadership and good education are four basics needed for intellectual awareness and progress of any nation and its people. These four basics are conspicuous for their absence in our country from the very beginning. Corruption has devoured all our institutions and moral values are on steep decline with everyone having become self-centered. All this paints a dark picture of our country for our generations to come. The notorious and corrupt political elements are out on bail and are ruling the country in nexus with powerful forces like the establishment. What we get to see all around is: anti-people rule. How can our coming generations ever dream of a heaving sigh of relief? (Sindh Express, Dastgir Bhati)
From the way Imran Khan keeps saying that he would not allow deferring polls to next March and the way he keeps saying that conspiracies are being hatched against Punjab government, it is clear that major crux of Imran Khan's problems are general elections and survival of provincial Punjab government. From what we get to read in media these days, it looks army chief is getting extension and, in that case, establishment will have nothing to lose even if polls are held before time. The only losers will be politics and parliamentary democracy. (Sindh Express, Assar Imam)
Former Prime Minister Imran Khan is on the streets against the current government. Good turnout is seen at his meetings; whatever he is saying is influencing the listeners. He is definitely giving air to extremism. Imran Khan is not only talking against the opposition political parties; he is also speaking very aggressively and inappropriately about the state institutions. He needs to change this attitude. What is the compulsion that a statement is necessary every day and a rebuttal or explanation the next day? Now Khan wants the current army chief to serve until the new general elections and the establishment of a new government. When media asked him a question as to whether extension should be given until the election? He replied "I haven't thought about it in detail yet". Such statements are just hateful. Every soldier, every officer of this army is Pakistan and from a young man to a general, everyone has the same passion to serve, defend and sacrifice for the country. Army seems to be at the forefront during every difficulty and the recent floods are a prime example. In these situations, love for our army increases in the hearts of the people. Unfortunately, instead of dealing with this situation, we are politically engaged in the business of division and hatred. Imran Khan and the like should always focus on actual work instead of saying army, army or army chief. (Akram Choudhary, Nawai Waqt) ###
Book Shelf

Recent Top Post