Pak Urdu News Digest – Apr 27, 2022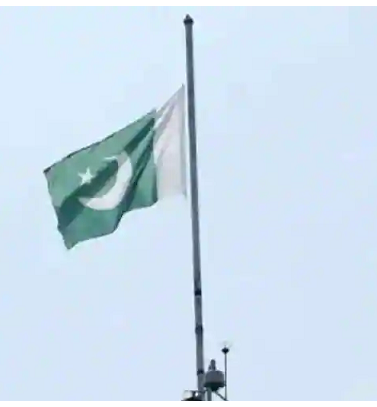 This is a random selection from Today – Apr 27, 2022 Urdu dailies of Pakistan
NEWS
1) Dr. Muhammad Zubair, Security Advisor, University of Karachi, wrote a letter on March 31 to the director of Confucius Institute, expressing concern over the movement of Chinese nationals outside the hostels and the University without security. The letter stated that the Chinese teachers come out of Karachi University's guest house and institute without the security of Rangers and police and if anything happened Karachi University would not be responsible, he stated categorically. In his reply Institute Director Dr. Muhammad Nasir said that security and safety of Chinese Institute teachers is our top priority. And told Zubair that instead of a shooting letter, he should better make a standard operating procedure (SOP) that should be shared with the relevant security agencies including Chinese teachers and students. (Jasarat)
2) The Majeed Brigade of the banned Baloch Liberation Army has claimed responsibility for the suicide attack on the Confucius Institute of Chinese Language in Karachi University. The Majeed Brigade, formed in 2011, came to light in February this year after attacks on FC camps at Noshki and Panjgur in Balochistan. But this extremist group is not new but has intensified its activities in the last few years, mostly targeting Chinese personnel and installations operating in Pakistan. The BLA also claimed responsibility for the November 22, 2018 attack on the Chinese Consulate in Karachi in which seven people, including three attackers, were killed. In June 2020, the BLA claimed responsibility for the attack on the Pakistan Stock Exchange. (Jasarat)
3) Jamaat-e-Islami Balochistan, Vice Amir Bashir Ahmad Mandai said that leaders of political parties ruling the country are not sincere and honest in merging Balochistan with the mainstream. He alleged that resources of Balochistan are being looted and instead of giving rights to people of Balochistan, false promises are being made. Balochistan is still facing gas scarcity. The youth have no jobs. Mandai urged people to raise their voice for the rights of Balochistan. Otherwise, the future would be disastrous. (Qudrat)
COLUMN
Ishaq M in Sindh Exp
• While the new Premier has many challenges to meet, the PPP rulers in Sindh too will have no smooth sailing especially as they have to take MQM onboard apart from factoring in the PTI dissidents who have been assured of tickets in next civic polls. The Sindh government is already under big stress. It is accused of poor governance and is facing corruption charges; recent fire accidents in the interior Sindh have only added to the PPP miseries. The short point is tough days are ahead for PPP too in Sindh.
Mohamad Khan Aabroo in Kawish, April 26
• I have been repeatedly writing in my columns and telling PPP leadership that Sindhis have no soft corner for MQM, and that the PPP should ensure that Sindh interests are not affected directly or indirectly while taking MQM as a ruling alliance partner. I also urge the Sindh nationalists to be realistic enough instead of trying to woo Sindhis with big speeches or just PPP bashing. I have been telling these nationalists to go and mix up with the masses. Recent developments speak for the fact that he who has been sincere and true to Sindhis has the masses by his side.
EDITORIALS
1) The terrorist attack on the Chinese teaching staff in Karachi University is the most deplorable act. The attack was carried out by elements who don't like Chinese investment in the development projects of Pakistan. The CCTV footage proved that it was a suicidal attack. It is the first time that a suicidal attack is made on Chinese citizens. We have to find out flaws in our security arrangements and root out the terrorists as early as possible. (Edit in Dunya Daily)
2) After APS (Army Public School) terror attack, civilian and army leadership had sat together and agreed on all-out operations to flush out these terror elements from country. It had led to operations at several places from Waziristan to Karachi and this had also yielded good results because terror attacks were controlled to a large extent. But it seems some terror elements are still around as evident from attacks taking place these days at Waziristan, Quetta, Peshawar and now in Karachi. These elements have external support, such elements want terror attacks with larger aim of triggering law and order situation in country. That is the reason, after a lull in these terror attacks, they are taking place once again; some of these attacks have been owned by certain terror outfits including by Balochistan Liberation Army and others. (Ibrat, Edit)
3) The PTI government was ousted through constitutional means, no-trust motion, but PTI has now started protests calling its ouster as part of some foreign conspiracy against it. This has led to state of uncertainties. In the current situation, we would like to remind political parties, be they in the opposition or on the ruling side, that while countries in the world have been marching ahead and making progress we have been lagging behind since two-three decades. Conditions are so pitiable that we have to keep raising loans after loans to look after government affairs. The loans being raised have very strict terms and conditions attached to them which ultimately affect common man's day to day life. If political parties continue doing their politics with vested interests, then it would only mean challenges keep rising instead of getting addressed and this will keep making peoples' life more miserable and all this can mean: Declining trust between people and politicians. (Edit in Kawish, April 26)
4) The OIC seems to have a unity of opinion, but the organization could not be used for the common interest of the Muslim Ummah in the economic sphere. Palestine and Jammu and Kashmir are two issues that have plagued the Muslim Ummah for decades. Despite being the world's second largest organization after the United Nations, the OIC has not been able to address these issues. (Edit in Daily Pakistan & Jehan Pakistan)
……………………
Book Shelf

Recent Top Post

AdSense code