By Malladi Rama Rao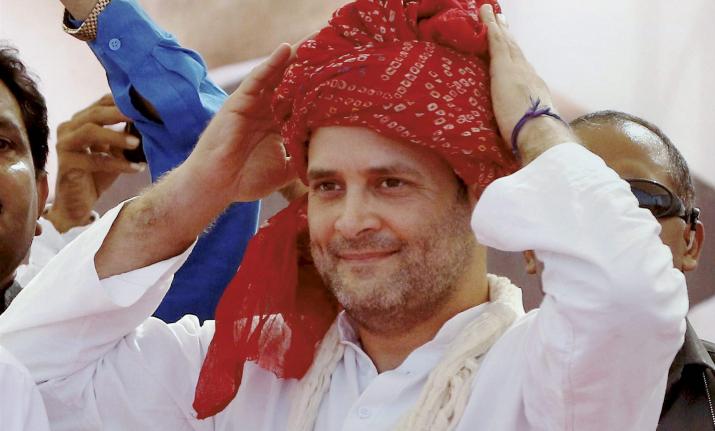 Whether you like him or not and whether he succeeds or not, you cannot deny, the reluctant crown prince has won the perception war to herald the Rahul era in the Congress as 2017 was drawing to a close. This is no mean achievement for one who relished the image of an angry outsider while the world outside 10 Janpath and 24 Akbar Road saw him as the Pappu. He has no Amethi Model to show case but has managed to pour scorn on the Modi Model from Gujarat by smartly tapping into public anger over acche din's failure to materialise even after a three-year wait.
What next? Will Rahul Gandhi sustain the spring in his Berkeley stride? There are no clear answers as yet. What is clear, however, is that he has no challenger to stymie his stride – well, in the Congress. Shehzad Poonawalla was a non-starter despite all the promise he had held out with his critique of the dynasty and its 'rigged' election. In fact, what prompted him to say what he had said in the public remains a Sudoku? The first impression was that the Secretary of the Maharashtra Congress, who appears on television for the party, was fighting someone else's war. Who is that someone else? One needle of suspicion pointed at a member of the First Family of the Congress itself; because he is known as Gandhi family relative in political circles; his brother, Tehseen, also a Congress leader, is married to Robert Vadhera's cousin, Monika. Both Tehseen and Monika have quickly disowned Shehzad to the great relief of some, and to the utter disbelief of some others.
The other suspect in the Poonawalla show is the BJP. Look at the way the party's mascot had jumped on the Poonawalla bandwagon with glee. The saffaronites gave up on him once he himself gave up his headline quest. Well, as long as the focus remained on him, Shehzad Poonawalla raised questions. And the Congress ducked for cover.
Organizational elections in Indian political parties are a big farce except in the two mainline Communist parties. The BJP regularly holds elections right from the booth level but as anyone on the party beat knows, elections for the state and national level posts are 'fixed' by consensus amongst the seniors and the pracharak- supervisors on loan from the saffron fountainhead in Nagpur. Congress is not known for holding elections unless it is compelled to save its registration with the Election Commission of India (ECI). The Rahul –election is one such compulsion for the party that has gifted high command culture to Indian politics.
There are no satraps who could pose a threat to the high command. Indira Gandhi and her daughter-in-law pampered loyalists and entertained courtiers as their recipe for a complete grip over the party. Indira had split the party when she faced a threat to her position; Sonia adopted a different strategy to achieve the same goal when the going became tough in the early nineties. Tiwaris, Natwars, and Arjun Singhs staged the strange spectacle of splitting the party only to be accommodated in positions of favour once the dust settled down.
Like Indira during her time, Sonia during her unchallenged 19-year-long reign was the glue that the Congress needed to stick together as a party without roots. Today elections in India have become a two-party (with allies in tow, of course) race for power. Foot-soldiers at the booth-level are a must for victory. The days of 'hawa' politics are passé as the BJP's surge under Narendra Modi shows. Amit Shah, the BJP president, began his innings as a booth level worker.
So, in a sense, Rahul Gandhi, the reluctant crown prince of yesterday, has become a general without an army. Loyalists, whom Shehzad Poonawalla has attacked as "handpicked," may help to transport crowds for rallies but cannot help in converting the crowd into votes. Anyhow barring a few honorable exceptions, the loyalists are not vote-getters. It is tempting to compare Rahul army to his great grandfather's Army that faced the Chinese in the Northeast. This comparison is patently unfair; indeed, may be uncalled for but it helps to drive home the enormity of the task that awaits the Cambridge and Harvard educated Nehru-Gandhi scion.
Shehzad Poonawalla likes to term the process of elevation of Rahul Gandhi as "coronation" because that fits into his narrative on dynastic politics. Congressmen and women see it differently. For them, Rahul represents the time tested dynasty and therefore a sure ticket to return to the theatre of power politics.
From Delhi and Haryana to Uttar Pradesh, and from Bihar to Bengal, the Congress organization has become weak. It has leaders no doubt but the many of the cadres have migrated to the local power centers for their survival. The situation is no different in other states too – from Madhya Pradesh to Chhattisgarh and Rajasthan and Orissa. In Andhra Pradesh, the Congress that matters today is the YSR Congress floated by the son of late satrap, YS Rajshekhar Reddy.
From the North to North-east and the South, the survival of the Congress depends as much on the vision of Rahul Gandhi and his ability to shed deadwood as his willingness to co-opt local players and share power with them. The choices before him in poll bound MP, Chhattisgarh and Rajasthan are limited. These states are waiting to see the Congress to put its act together, and it can do so only if it sheds the soft Hindutva brand.
Secularism does not stand for appeasement of minorities, particularly Muslims. And, Congress has very little to show case that pleases the Muslims. No surprise Narenedra Modi is able to get away repeating his "atkana-latkana-bhatkana" jibe for the Congress, and accusing the party of only offering "lollipops" to Muslims for years. "Every election, you (Congress) lied to Muslims and promised them reservation. My Muslim brothers here should tell me, didn't they 'maaro gappa' about reservations," he told an appreciative audience near Surat during his Gujarat poll campaign.
India is a country that will never wish away religion and yet Indian ethos will continue to give respect and place for all religions. Gandhiism is a living example of this Indian spirit. Both in his public speeches and writing, Gandhiji always used religious symbols, and harped on Ram Rajya, the land of happiness and bliss for all. This he did not because he was "a clever bania", as Amit Shah wants the world to believe but because of two factors. One religious symbolism was a way to reach out to his audience; two despite abundance of religious rituals, and multiple religions, catholicity is all pervading in India. India needs to reinvent the Gandhian wheel of religious tolerance and Nehruvian model of secularism in these days of love jihad, cow vigilantism, and blatant communalism – all tailor-made to power politics.
The coming days will test Rahul Gandhi's mettle, undoubtedly. The Gujarat campaign presented him as a temple -hopping, sacred- thread wearing Shiv Bhakt. The number of temples he had visited was an election-time record for a member of the Nehru-Gandhi family.
"Whenever I went to a temple I just prayed for a 'Sunehra Bhavishya' (golden future) for the people of Gujarat, a better development here. Is it wrong to go to a temple?" he asked a questioner at a press briefing after visiting the Jagannath temple in Ahmedabad. "Jahan mauka milta hai vahan mandir jaata hoon, Kedarnath bhi gaya tha, vo kya Gujarat mein hai?" This Rahul-speak may be misplaced sarcasm. It can be utterly butterly naivety too. Well it can be both of a 47-year-old, who has failed to nurse the family pocket borough, Amethi despite being its darling for fifteen years.
Rahul has recovered some ground by his quick punishment to garrulous Mani Shankar Aiyar for his "neech kism ka aadmi" barb targeted at Modi. This one act has made him stand apart from his arch rival, who shows scant respect to the established rules of the political discourse. This act also has showed that he has travelled quite a distance from the theatrics he used to stage against his very own party- led government to the dismay of the accidental Prime Minister of the day.
Admittedly, Rahul has come a long way over the past four-four years. When in January 2013, he was named Congress vice president in Jaipur, he stood before a receptive audience and said his mother told him that "power is like poison". Now he is taking over the reins of the century-old party as the President – the sixth from the Gandhi-Nehru 'dynasty' to do so, continuing a chain beginning with Motilal Nehru. Whether he likes or not, politics is in his blood.
From what was on display in recent months, the BJP is taking him seriously as Rahul moves around with his sleeves rolled up and his social media spruced up. The giveaway was fielding of a host of ministers to counter his charge against demonetization, and critique of GST as Gabbar Singh Tax. And Modi did one up on them in his Gujarat rallies, speaking for 60-70 percent of the time belittling him and lampooning him. What a compliment Sirji for a "clueless" politician –bachelor saddled with a party in "hopeless and pitiable condition".
(*This article appeared in the January 2018 issue of Power Politics)