Selling PSUs not tantamount to selling family silver: New Book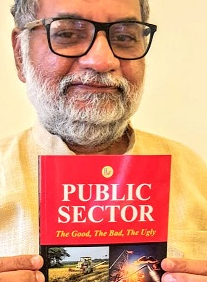 By Malladi Rama Rao
A new book in the market sees merit in Modi's disinvestment plans which in essence are plans to privatize the white elephants in the government stable.
The author is K Sudhaman, a veteran economics journalist. He begins his case by debunking the argument that sale of public enterprises is like selling family silver to pay grocers' bill. And declares that Prime Minister Narendra Modi has taken the "bull by the horn" since many public sector undertakings have outlived their utility.
Brought out by Har-Anand publications, the book tells the reader at the very outset that big -ticket public-sector reform is a pending agenda since the liberalization of the economy in 1991.
Manmohan Singh had failed to push ahead with the task as Prime Minister though he did wonders as Finance Minister in the minority government of Narasimha Rao.
His UPA -1 in 2005 decided to disinvest 10 per cent in Bharat Heavy Electricals Limited (BHEL). But the plan was rolled back after protests from ally, the Left parties. Another attempt was made to divest during UPA- 2 but this time BHEL withdrew its draft red herring prospectus.
Family silver is meant not for safekeeping in a vault, argues the author and underscores the need to unlock their value for family benefit. The value of public enterprises is estimated at Rs 10-12 lakh crore. Imagine the benefits if this money is with the public exchequer. "It will leapfrog economic development".
Analyzing good, bad and ugly aspects of public enterprises -both central and state governments, the book tells why public enterprises should get out of non-core business as also from core business selectively to 'inject competition, efficiency and garner resources for developmental activities."
Air India was formed by taking over private airlines in the 1950s as the world over airlines were in public sector because of security considerations of the day and the huge investment involved for running an airline. But when open sky policy was adopted globally, India did not take the cue; result – a perpetually loss-making Maharaja that has few takers today.
Lavish spending was institutionalized in Air India and it has led to its downfall, says the book. The national carrier has accumulated a loss of over Rs 70,000 crore.
According to PSU insider, R C Dutt (former Chairman and Managing Director of National Coal Development Corporation), a common practice in Air India was to invite VIPs to inaugural flights and treat them lavishly. This not only resulted in spending scarce foreign exchange but also set an unhealthy pattern of lavish lifestyle.
During the Indira regime, Mohan Kumaramangalam, who was on Air India board, received the invitation to join the inaugural flight to United Kingdom. He wrote back, saying, "Much as I would like to revisit Britain, which I had not visited since my school and university days there, and where I had many friends, I would strongly condemn the practice of taking round a few privileged persons on such luxury flights". Needless to say, he rejected the invitation but there were few to follow his example – then or now.
If a private airline can have more passenger flying miles than Air India with the same number of aircraft, staff, buildings and managers, then there is something wrong with this public enterprise as "this is one way of measuring productivity."
The sale of Centaur Hotel during NDA-l when Arun Shourie was the disinvestment minister was guided by this logic. Instead of putting money year after year into a loss-making public-sector hotel, the government was better off if the hotel was removed from its balance sheet. This applies to a company like Air India as well.
The book also draws attention to the abuse of government owned five-star hotels by directors and top bureaucrats. There was a time when Indian dignitaries used to get offended if entertained in company guest houses when five-star ITDC hotels were available in that area.
There is no denying that many public enterprises were set up in the early days of our tryst with development since private enterprise was not interested to look beyond its nose. Modern Breads is a case in point. It was set up in an era of food shortages but when India became surplus in food grains and private bakeries started mushrooming all over the country, it should have made an honourable exit. It did not. And was sold for a song when it became patently unviable.
NTC is a case of misplaced goodwill. Sick private textile mills were nationalized in the 1970s to protect jobs in this labour-intensive industry at a time when jobs were scarce. But when industry started booming after economic liberalization, government had painful experience in exiting as there was no exit policy. Also vested interests in trade unions exploited the situation hurting the economy, says the book.
Expectedly Sudhaman hails Modi's May decision to privatize all public enterprises in non-strategic sectors. The move will do "more good than harm", he assures and opines that the step will help revive the economy with the phased lifting of corona virus lock down in the coming months.
The decision to limit public enterprises to just four in strategic sectors will unleash a wave of consolidation, mergers, divestment and privatization as economic revival gathers steam post lockdown.
This is for the first time an outright push for big ticket privatization of public enterprises is being attempted by any government, observes K R Sudhaman. And adds this is probably a visible attempt to give thrust to "Modi's idea of minimum government and maximum governance"
If Rao – Singh combine is remembered for 1991 economic reforms, Modi will be remembered for big ticket privatization if it goes through before the 2024 elections. So hopes the author!
Book Shelf

Recent Top Post

AdSense code