Tsunami' of protests greet Prez Xi in San Francisco
Chinese President Xi Jinping, who met with President Biden at the APEC leaders' summit on Wednesday, has been dogged by protests throughout his short trip to San Francisco despite the bid to shore up bilateral ties.
Many protesters were Chinese pro-democracy and human rights activists in exile, with a younger generation that is increasingly braving the threat of repercussions back home to speak out against the Chinese Communist Party from the streets of overseas cities.
Others were exiled activists from Hong Kong, Uyghurs and Tibetans, while supporters of the lesser-known Cantonese autonomy movement also joined the crowds in San Francisco this week.
Some complained of clashes, some resulting in minor injuries, with pro-Beijing supporters who turned up to sing patriotic songs and welcome Xi to the United States, while tight security around the APEC venue led some to point out that they may not have actually been heard or their banners read by Xi Jinping himself.
Radio Free Asia's reporters on the ground have been asking the protesters why they turned out, and what they wanted to say during Xi's trip.
"We are here today in the face of transnational repression and intimidation," exiled Hong Kong activist Anna Kwok, who has been subjected to torrents of online abuse from Beijing's supporters, much of it highly misogynistic in tone.
"That won't stop us speaking out – we will keep going to ensure that the international community knows the true nature of Xi Jinping," she said. "I hope everyone will join us in opposing Xi Jinping and the totalitarian rule of the Chinese Communist Party."
U.S.-based Tibetan protester Phurbu said he had turned out to protest "genocide" perpetrated by the Chinese Communist Party.
"[I'm here] because Xi Jinping is here, because Tibetans have no human rights. There's too much genocide, and no freedom at all," he told Radio Free Asia.
At one rally, Tibetans sang "Gyallu," the national anthem of the Tibetan government-in-exile, while Hong Kong protesters played the protest anthem "Glory to Hong Kong," which has been banned by authorities in their home city under a draconian security law.
Flags, posters and sculptures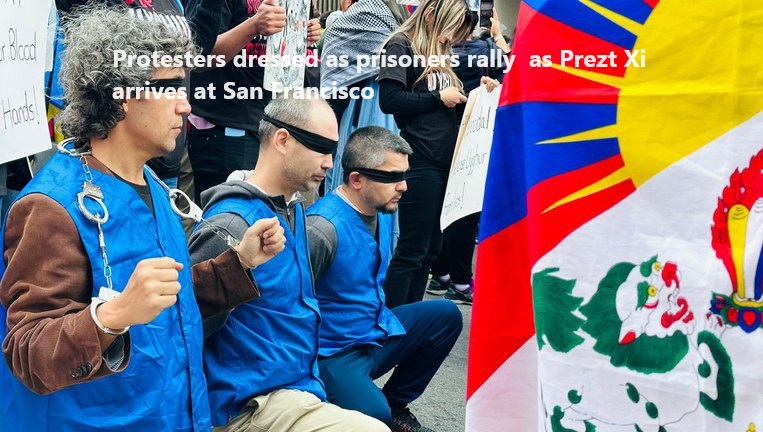 Nearby, a group of Uyghurs wore chains and blindfolds, symbolizing the genocide of their people, a description that has been officially applied to China's policies in Xinjiang by Washington.
Some held posters of the now-dismantled "Pillar of Shame" sculpture commemorating the victims of the 1989 Tiananmen massacre by Danish artist Jens Galschiot, while others held banners similar to those hung by Peng Lifa, the lone "Bridge Man" protester of October 2022, calling for Xi's resignation.
"Xi Jinping may believe that the Chinese people support him, but actually a lot of people in the world are against him," U.S.-based protester Tsang Wing Wa told Radio Free Asia.
Some of Xi's supporters did show up, waving the Chinese national flag and red hats, facing off with protesters at times, while holding up placards with the words "Welcome President Xi."
Some played out the Chinese national anthem and other patriotic songs on loudspeakers in a bid to drown out the sounds of the protest marchers.
Many declined to be interviewed when approached by Radio Free Asia, however.
However, Yang Xueyuan, a member of the California-based Chinese Men's Choir said he was there along with around 20 fellow choir members to welcome Xi because he hoped for friendlier relations between Beijing and Washington.
"The main purpose is that we care about our country and our society," Yang told Radio Free Asia.
At a rally outside the venue where Biden met with Xi, some pro-Beijing demonstrators also faced off with anti-Xi protesters. The two groups shouted insults at each other, grabbed each other's flags, shoving and prodding each other with flagpoles from time to time.
Injuries in clashes
At least one protester sustained an injury amid clashes with pro-Beijing demonstrators, according to a post on Anna Kwok's X account.
Police intervened in one clash in which China Democracy Party activist Wang Fengge wrested a Chinese flag away from a Xi supporter, who had been yelling slogans in the face of veteran democracy activist Wang Juntao with a megaphone.
"Say what you want, but you shouldn't be yelling at others using a megaphone," Wang Fengge told the man.
One Xi supporter told RFA Mandarin that he was "happy" that Xi was visiting.
"How could I not be happy that the Chairman is here?" the man said. "He is a credit to the Chinese people."
The Xi supporters, identified by their Chinese flags and trademark red baseball caps, left the event on several hired buses.
The stand-off continued well into the evening outside the SOMA Hyatt Hotel in downtown San Francisco where Xi Jinping had dinner with local business people.
Sounds of "Free Tibet!" and "Go China!" echoed down the street, as more clashes involving flags and umbrellas broke out.
Protester Yang Ruohui, a former president of the overseas-based Assembly of Citizens activist group, said he had turned out to oppose Xi, who he described as "an unjust ruler who brings disaster to his people," who had traveled thousands of miles at a time of "great turbulence" back home.
Uyghur protester Azat Erken said he was demonstrating for freedom and justice.
"If one person suffers, all of humanity suffers," Erken said at a protest on Nov. 15. "So, we're here to show how we feel about justice, freedom and justice."
Geng Guanjun, the Los Angeles chairman of the banned China Democracy Party said he was there to fight back against "the Chinese Communist Party's lies."
"Those resounding shouts of 'long live' [Xi Jinping] that he hears in China are all fake, but this tsunami of protest he is hearing here is real," Geng said.
—–RFA report, Nov 16, 2023
https://www.rfa.org/english/news/china/usa-xi-protests-11162023113106.html
Book Shelf

Recent Top Post

AdSense code