'Meher Baba- Bhala Manush, Dev Manush'
By Malladi Rama Rao
Meherabad (Ahmednagar), Oct 29: Day Two of 'Discovering the Avataric Legacy' has held out a real surprise. And it belongs to the realm of 'Ripley's Believe it or not'. In fact, for the devout Meher Baba lover and follower, what unfolded went beyond Ripley's.
Mehernath Kalchuri, a Trustee, unfolded the surprise. He presented four persons from Pimpalagaon, the village, which the Avatar of the Age made His home for years. 'All the four served Baba with love and devotion,' he said introducing them to the audience at the Meher Pilgrim Centre today.
Asaram, for instance, physically carried Baba every day in His chair from the Bed Room to the Mandali Hall. Not for one day or two days but for close to twenty years. Madhav Kamble worked with Baba from the time of the 1956 accident. For another, whose name one could not catch clearly, serving Baba was a family tradition. His father worked as a mason on Upper Meherabad for about a decade in the 1920s. Amongst the four is a Muslim, who joined Meherazad as a 10-year-old helper to the Men Mandali. His sister also served there for a while.
There are many Asarams in Pimpalagaon who knew Baba and worked for Baba at the house and in Baba garden, Mehernath said, adding that he keeps meeting them regularly at his office or in the village. One such person entered Baba's life as a young boy and travelled with Him across India. That boy was pampered to the hilt by Baba, and Krishna Nair, the night watchman for long years, faced humiliation at the hands of the boy while attending on him. He is now a grown up and settled in a big Indian city.
The narrative increased curiosity of the audience. Every one wanted to know their stories of love and service for Baba. Since these villagers are comfortable only in their native Marathi, Mehernath became their voice.
'We are very poor living in our huts, not very far from the big bungalow. Baba gave us good food. He did not punish us for any mistake. He pardoned our mistakes with a big heart. He did not hurt us. He did not allow others to hurt us'.
'Yes, we worked for Him. Honestly. Sincerely. He gave us money.  Daily wages. Also food. He looked after us well.
'Do you know Meher Baba? Yes, we do know Him. We know Him very well. A kind hearted man he was. He was the patriarch of a big Parsi family. Probably they all came to our village after His retirement to lead a comfortable, peaceful life. We did not disturb Him. He lived a good, decent life. Great Man (Bhala Manush). Saintly Person (Dev manush). He passed away. May god rest his soul in peace!'
It took a while for the audience, which has swelled in numbers by now, to grasp what Asarams and Kambles were telling.  They had gathered to discover the legacy of an Avatar, who had lived in flesh and blood amongst these villagers. The narrative came as a stunner to the uninitiated in particular.
Mehernath broke the silence as Meher Pilgrim Centre burst into laughter.
'These villagers are simple people. They have no ego hassles. In fact, they don't have any ego. They are innocent. Baba likes simplicity, innocence. These people served Baba without bothering to know whether He is a God or not. For them serving Him was a call of duty; this they did with all sincerity. The story of these people is the perfect example of service and simplicity. God rewards who serve Him without any expectations…..'
There are around 1500 people in Pimpalagaon, which is a short distance from Meherazad. All of them had occasions to meet Meher Baba, work for Him and receive His Blessings. 'For them, He is still a great royal, a generous and kind hearted soul, who helped the needy always. But till now, they don't know Meher Baba is God. They are all living examples of Mastery in Servitude', according to Mehernath, who was literally brought up in Meher Baba's lap.
Baba himself celebrated Mehernath's birth day with much pomp year after year till He dropped His body in 1969.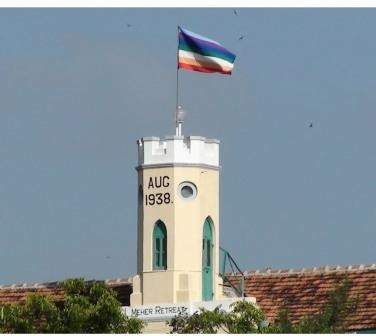 Other speakers of the day were Rose Reed from the US (Reinterpretation of the world religions), Baba Jacob, a mathematics teacher from Thailand, (Scientific Approach to understand Consciousness), M. Zilpilwar (Reincarnation Concept), Prof Surinder Bhatnagar (Science vs. Theme of Creation, Views about Evolution), Irwin Luck, (poet, who discovered the Avataric legacy through his poems) and the ever jovial Sardar of Meherabad, Hardeep Hanspal, who takes good ( food) care of the pilgrims ( Evolution of Dinning Facilities in Meherabad Hostels). They had held out a mirror to Baba's love-treasure.
The invitation to the 'Second Annual Programme: Discovering the Avataric Legacy' had critics roll their sleeves in a combative mood dubbing the programme as an intellectual exercise in arrogance coupled with ignorance.
However, as the curtains came down, it became clear that every incident in Meher Baba's life and every effort at remembering the event serve to highlight the shortcomings of the lover, provide answers to haunting questions, and help to refocus the mind and heart on Him, not in a small measure but substantially. To know, to learn, to live and to re-live Mastery in Servitude.
There were shortcomings in the Second Annual Programme. These were very glaring to be ignored and cannot be ironed out easily unless all put their heads together.  Instead of leaving the whole thing to the husband-wife duo, Gokarans, who have pioneered the 'discovering the Avataric legacy' meets.
Book Shelf

Recent Top Post