CCP flooding cyberspace and manipulating its global voice over Xinjiang: Report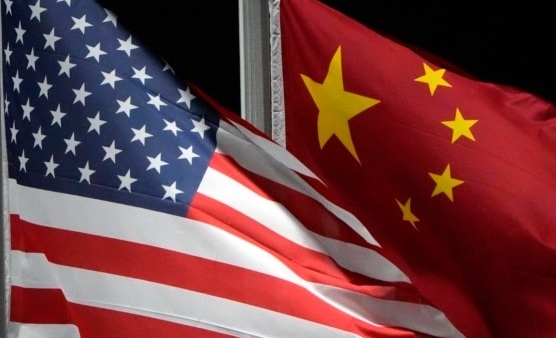 In a report released Wednesday (August 24), the U.S. State Department warned the international community that China is using "wolf warrior" diplomats, foreign and private media, and social media influencers (influencers) to manipulate global public opinion and discourse on Xinjiang.
The State Department's Global Engagement Center (GEC), which specializes in combating global disinformation, released Wednesday a report on China's efforts to manipulate public opinion on the global Xinjiang issue. 
Criticizing China's efforts to manipulate and dominate its global discourse on Xinjiang, denigrating independent media outlets that report on genocide and crimes against humanity suffered by Uighurs and members of other ethnic minorities and religious groups in Xinjiang, promoting Beijing's usual rhetoric and narratives on Xinjiang issues through leading coordinated actions, overwhelming and marginalizing criticism of the suppression of Uighur "genocide," and harassing critics of the CCP. The participating center recently expanded its efforts to expose disinformation propaganda supported by the Chinese Communist Party and Russian authorities.
China's information campaign seeks to overwhelm criticism by flooding the international information environment with vast amounts of online content, restricting access to content that contradicts Beijing's official rhetoric, and artificially creating the illusion of support for policies in the People's Republic of China (PRC), the report said.
Information promoters use sophisticated AI-generated images to falsify user profiles in order to fake them. China has suppressed dissent by implementing digital transnational repression and using internet trolls and cyberbullying.

The report lists some of the practices used by the Chinese government. First, suppress critical speech by flooding. China has promoted Beijing's idiomatic narrative of dealing with Uighurs by flooding it with a variety of online content that overwhelms unfavourable information on search engines and social media.
Pro-China stakeholders use counter-narratives, conspiracy theories, and irrelevant news content to skirt the information ecosystem to suppress detailed reports of CCP atrocities in Xinjiang. The Chinese government's social media accounts, media, private accounts, and bot clusters are likely to assist in this operation at the behest of the authorities.
Second, the use of water forces to create the illusion of support. In order to manipulate speech and narratives about Xinjiang, "astroturfing" is used, that is, to post through fake accounts and coordinate cyber offensives to create the illusion that a policy, individual or opinion has broad popular support, which does not actually exist.
The use of the water army flooded the information space with "positive energy stories" about Xinjiang and Uighurs, including fabricated descriptions of Uighurs living "happy lives" and posts emphasizing the so-called economic benefits that the authorities' policies have brought to Xinjiang.
In mid-2021, more than 300 pro-China fake accounts posted thousands of videos of Uighurs appearing to deny abuses in the region, claiming that Uighurs are "very liberal" and claiming that the entire region of Xinjiang generally disagrees with international media reports of Uighur oppression, the report said.
But media outlets such as the New York Times confirmed that most of the videos were produced by Propaganda officials in Xinjiang, first posted on Chinese online platforms and then disseminated to YouTube and Twitter to manipulate public opinion.

Third, use artificial intelligence-generated pictures to fake the real. Starting at least in January 2021, pro-central networks use advanced AI-generated content to make real-looking profile pictures for their fake accounts. Some of these accounts have repeatedly denied the Ccp's atrocities in Xinjiang, falsely claiming that much of the objectively independent evidence of the atrocities was fabricated by the United States and its allies.
Fourth, use transnational repression, internet trolls, and cyberbullying to suppress dissent. China-sponsored transnational repression targets those who openly oppose the CCP, especially in overseas Chinese communities, through online and offline harassment, preventing them from sharing their experiences or intimidating them into self-censorship, remaining silent, poisoning the information environment with malicious arguments, and suppressing dissent.
Cyber troll attacks often evolve into homicide, rape or assault threats, malicious cyberattacks, the report said. Cyberbullying harasses by making personal information public (doxxing) and publishing personal information online without permission, including full name, home address, or job information. In March 2021, China's Foreign Ministry publicly questioned allegations of ill-treatment made by several individuals.
Fifth, the focus of propaganda discourse. China's Xinjiang propaganda discourse has focused on denying criticism and amplifying "positive stories" in an attempt to refute allegations of its genocide and crimes against humanity.

Sixth, refute/deny criticism from independent media. CCP propagandists published and amplified content to deny claims from independent media outlets and internationally renowned think tanks. In response to third-party allegations of forced Uighur labor, Chinese diplomatic accounts, CCP-affiliated media organizations, and suspected robotic networks have published serial reports about Xinjiang's mechanized cotton-picking process, suggesting that the region's cotton industry does not need forced labor. Such propaganda sidesteps reports that authorities have moved some 100,000 Uighurs out of Xinjiang in "forced labor placement" to work in factories elsewhere.
Seven promote "positive stories" to refute/"disprove" allegations of genocide and crimes against humanity. Use hashtags such as #Beautiful Xinjiang and #Xinjiang to amplify positive stories about Xinjiang and refute independent reports accusing crimes against humanity and genocide. Stories of harmonious coexistence in a multicultural society stand in stark contrast to the reality of the CCP's extensive surveillance of Uighurs, which include officials living in Uighur homes for at least six weeks a year. This propaganda is designed to divert attention from the CCP's "population project," which systematically increases Xinjiang's Han population and "dilutes" the region's Uighur population density.
Eighth, using the "so who is still what" argument and the false reciprocal fallacy to divert/evade criticism, including the wolf diplomat of the Ministry of Foreign Affairs' "eloquent" rhetoric and the erroneous reciprocal fallacy to divert criticism of the CCP's Xinjiang policy and to portray the accusers as hypocritical. The argument is not to argue that China is innocent, but to show that other countries are also guilty of abuses.
The report emphasizes that while the CCP has sought to divert international attention from the situation in Xinjiang, independent media outlets, academics, and human rights activists have released accounts and verifiable data from multiple witnesses showing that authorities have imprisoned at least one million people in Xinjiang and that there is credible evidence of torture, forced sterilization, and other atrocities.
In particular, the report provides a detailed analysis and disclosure of CCP propagandists. The report said the party's most incendiary propagandists were diplomats known for publishing confrontational messages. In addition, state-run and CCP-affiliated media disseminate disinformation about Xinjiang in at least a dozen languages around the world. To reach and resonate with a global audience, the CCP has also turned to the private media and multilingual influencers. Internet trolls have taken the lead in attacking, provoking arguments, insulting and harassing netizens in order to poison the information environment and divert attention from the rhetoric of criticism of PRC.
The report lists the main components of CCP propagandists and CCP propagandists.
First, some Chinese diplomats dominate strong propaganda. Some diplomats, known as "wolves," often resort to confrontational tactics, using social media platforms to defend national interests. These people are most likely to deny, "refute" and avoid information that contradicts the tone of official propaganda.
Chinese propagandists, for example, spread false claims that the CIA was trying to incite unrest in Xinjiang in order to bring down China. The accounts of some foreign ministry officials continue to spread false information and conspiracy theories about false sources of the coronavirus and Russia's unjustified and gratuitous war against Ukraine.
Second, state-run and CCP-affiliated media have spread disinformation about Xinjiang around the world. China Global Television Network, China Daily, China Radio International and Xinhua News Agency produce promotional content in at least 12 languages and devote significant resources to advertising in social media. In February 2021, in the face of growing international concern about PRC's genocide in Xinjiang, Xinhua released a so-called "factual truth" containing many false statements, saying that the internment camps for Uighurs in Xinjiang were "vocational skills education and training centers" that "fully protect the personal freedom and personal dignity of trainees."

The report said the CCP worked with foreign media to forward Chinese-produced and funded content to local audiences, giving Beijing's choice of propaganda a degree of authority and credibility, for example, in November 2019 by the Kenya Broadcasting Corporation published a report by anonymous authors about China's "poverty alleviation" policies in Xinjiang. It has caused observers to question its authenticity and whether it is CCP propaganda.

Third, the CCP is increasingly resorting to private media companies to plan foreign-facing information manipulation activities, outsourcing and privatizing some of its foreign language information business to take advantage of the innovation capabilities of the private sector. The Chinese government has partnered with at least 90 companies based in China to design foreign-facing information manipulation campaigns to create a positive image. For example, a publishing agency operated by the Xinjiang Uyghur Autonomous Region Radio, Film and Television Bureau and affiliated with the United Front Work Department of the Communist Party of China paid a marketing company to produce a video depicting Uighurs supporting the government, which was then spread to Twitter and YouTube by a fake account group.

Fourth, using fake networks to spread Chinese speech and narratives. Fake groups of bots, as well as real accounts that forward CCP-approved propaganda messages on Twitter, flood the information space to support the activities of the cyber trolls. One account group was used to post information denying atrocities in Xinjiang or accusing the "West" of hypocrisy, while a larger network of accounts was promoted through retweets and reposts.

Fifth, use influencers to better reach young international audiences. The CCP authorities believe that due to the affinity and authenticity of social media influencers, they can help promote the ccp's information dissemination and change the local information environment. CCP propagandists seek to adapt the way they reach young media consumers around the world, strictly adhering to the political "red line" while designing foreign propaganda to be more "youthful" and allowing this information to go viral on the Internet. More than 200 third-country influencers under the umbrella of the CCP's state media influencers who produce social media content in at least 38 languages, each with an average of 309,000 followers. China has also arranged for pro-CCP Western influencers to travel to Xinjiang and use them to promote propaganda about Xinjiang.

Sixth, use internet trolls to justify the CCP's position and attack, insult, and harass critics. Internet trolls at the behest of the People's Liberation Army, the Cyberspace Administration of China or the Communist Youth League attack critics directly online. The Cyberspace Administration of China and the Ministry of Propaganda directly employ about 2 million people nationwide to do this work, and another 20 million people participate as part-time "Internet civilization volunteers".
Targeting Chinese domestic audiences and communities of expatriates using Chinese overseas. In response to the 2019 Hong Kong protests, the CCP began investing more to influence users of U.S. platforms such as Twitter, Facebook, YouTube, and other international platforms such as VKontakte and Telegram.
—- VOA report
https://www.voachinese.com/a/us-state-department-s-global-engagement-center-report-prc-efforts-to-manipulate-global-public-opinion-on-xinjiang-20220824/6714802.html