China FO Presser on July 12, 2022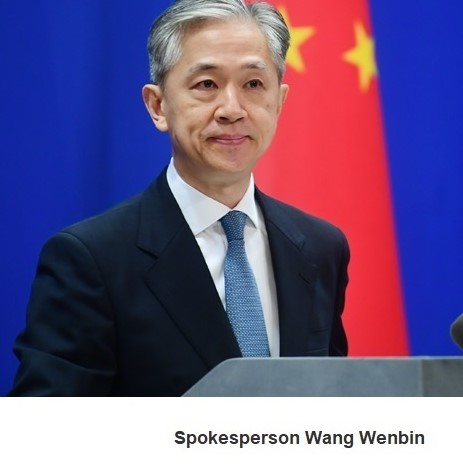 China Foreign Ministry spokesperson, Wang Wenbin held a regular press conference on July 12, 2022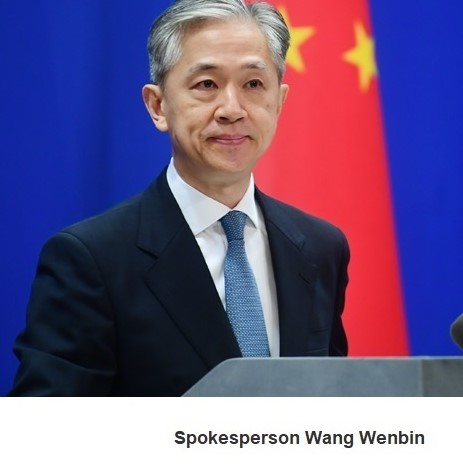 Excerpts
CCTV: On July 11, State Councilor and Foreign Minister Wang Yi delivered a speech at the ASEAN Secretariat, calling for upholding peace, independence, development and inclusiveness, and resolutely practicing open regionalism. Can you share some details on that?
Wang Wenbin: Yesterday, State Councilor and Foreign Minister Wang Yi visited the ASEAN Secretariat and delivered a speech on China's propositions and suggestions on deepening China-ASEAN relations and promoting regional peace and prosperity, which was warmly received by officials of the ASEAN Secretariat and participants of the event.?
State Councilor and Foreign Minister Wang Yi reviewed the extraordinary development path traversed by China and ASEAN since the establishment of dialogue relations 30 years ago, especially the most encouraging, touching, heartening and gratifying cooperation outcomes and highlights in China-ASEAN relations over the past 10 years thanks to the strategic guidance and personal commitment of President Xi Jinping and leaders of ASEAN countries. Between China and ASEAN, relations have stayed ahead in many areas. China and ASEAN have been standing together in solidarity to fight COVID-19. The economic cooperation and trade have thrived. Security cooperation has been making steady progress. Wang Yi noted that with this year being the first year for building the China-ASEAN comprehensive strategic partnership, China will continue to support ASEAN Centrality, call for settling differences in the Asian way, pursue firmly its open strategy for development, resolutely advance cooperation in science, technology and?innovation and carry forward Asian values, so as to write a new chapter of regional cooperation and Asian vitalization.
Bloomberg: A question regarding William Lai, the Taiwan "Vice President", who has visited Japan to attend the funeral of former Japanese Prime Minister Shinzo Abe. This represents the highest-level official to visit Japan from Taiwan in decades. Does the Chinese foreign ministry have a comment on this visit?
Wang Wenbin: I need to correct you first. Taiwan is part of China. There is no so-called "Taiwan Vice President". After the sudden and unfortunate passing of former Prime Minister Shinzo Abe, the Taiwan authorities have sought to engage in political manipulation and benefit politically by taking advantage of the incident. Their political calculations will not succeed. The Chinese side has lodged stern representations to the Japanese side both in Beijing and Tokyo and has made our position absolutely clear.?
Xinhua News Agency: Vice-Premier Han Zheng and Frans Timmermans, Executive Vice-President of the European Commission, recently held the third High-Level Environment and Climate Dialogue between China and the European Union. Could you offer more information on the dialogue? What are China's specific plans for cooperation with the EU in such areas as climate response?and green and low-carbon energy transition?
Wang Wenbin: In September 2020, President Xi Jinping held a virtual meeting with the leaders of Germany and the EU. The leaders decided to establish a China-EU High-Level Environment and Climate Dialogue (HECD) and to forge a China-EU green partnership. To act on the leaders' common understandings and work for solid and substantive progress in the China-EU green partnership, Vice-Premier Han Zheng and Executive Vice-President Frans Timmermans held the first HECD in February 2021 and the second in September 2021, after which they released a joint press communiqué. During the third HECD held earlier this?month, the two sides held in-depth exchange of views on green and low-carbon development policies, the current cooperation between the two sides on environment and climate and outlook on future cooperation, jointly advancing the multilateral process, and issues of common concern. The two sides agreed to enhance dialogue and cooperation and foster new cooperation highlights in such fields as energy security, green energy industry, energy technology innovation, carbon market, biodiversity protection, chemicals management, green transportation, green financing, green buildings, and zero-waste cities.
Later this year, there will be two major international events, namely the 27th session of the Conference of the Parties to the United Nations Framework Convention on Climate Change, and the second phase of the 15th meeting of the Conference of the Parties to the UN Convention on Biological Diversity. China and the EU will strengthen cooperation and work together for the success of the two events.
Beijing Daily: On July 11, Hanscom Smith, US Consul General to Hong Kong, criticized Hong Kong's National Security Law in his farewell remarks, saying that, "By constraining political and social freedoms, the PRC will inevitably compromise the attributes that have allowed Hong Kong to develop as a global services hub"; "diplomats have even been threatened with the National Security Law". The US does not support Hong Kong independence, but hopes that China will give Hong Kong the autonomy China promised. What's China's comment?
Wang Wenbin: The Hong Kong SAR government has made a solemn response to this. We deplore and reject the groundless and hyperbolic remarks by the US consular official in Hong Kong who mischaracterized China's Hong Kong policy and misrepresented Hong Kong's political and economic landscape.
I want to stress that China has been providing necessary facilitation and support to foreign consulates in Hong Kong for them to fulfill their duties in accordance with law. In the meantime, foreign consulates and consular personnel are expected to respect and observe laws in Hong Kong including the national security law, and international laws and basic norms in international relations including the Vienna Convention on Consular Relations. Any act or activity that interferes in Hong Kong affairs and other internal affairs of China, endangers China's national security and undermines Hong Kong's prosperity and stability will not be allowed or succeed.?
Bloomberg: An economic adviser to the Sri Lankan government said in an interview with Bloomberg TV that Sri Lanka is in discussions with Japan and possibly with China on the issue of bridge finance or bridging finance. Can the foreign ministry give an update on the talks between China and Sri Lanka over financial help or debt relief to Sri Lanka?
Wang Wenbin: As we have stated on several occasions, China feels deeply for the difficulties and challenges Sri Lanka faces. We have provided emergency humanitarian assistance including food and medicine to Sri Lanka. Through government-to-government and subnational channels and through friendly organizations, China has provided multiple batches of various types of assistance to people across the sectors of Sri Lanka to improve their livelihood. China will continue to do its utmost to help Sri Lanka's socioeconomic development, support its economic recovery and improve people's lives.
As for Sri Lanka's China-related debts, China supports relevant financial institutions in discussing with Sri Lanka and properly resolving them. We also stand ready to work with relevant countries and international financial institutions to continue to play an active role in Sri Lanka's overcoming current difficulties, easing debt burden and realizing sustainable development.
AFP: The Japanese foreign minister said William Lai was participating in relevant activities in a private capacity and that Japan's basic policy toward Taiwan remains unchanged. What's China's comment?
Wang Wenbin: I have made clear China's position.
https://www.mfa.gov.cn/eng/xwfw_665399/s2510_665401/202207/t20220712_10718946.html