Gotabaya Rajapaksa: The Man who would be President
By a Special Correspondent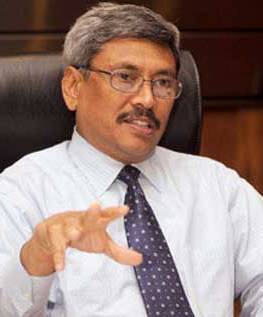 New Delhi is expected to have an interesting visitor soon from Colombo. And he is non-other than Gotabaya Rajapaksa, a former army man, who had made a substantial contribution to decimating the LTTE Tigers and who has been publicly critical of India for the civil war in his country and the 13th Amendment thrust on an unwilling Sinhala majority.
The Colombo Telegraph reports that the Lankan Defence Secretary is coming to Delhi to discuss bilateral security matters and the Tamil Nadu fishermen issue.
Notwithstanding the criticism of India, the former Army Lt. Col. has often noted that friendly ties between India and Sri Lanka are the need of the hour. While his actions may seem otherwise, it is posited that Gotabaya Rajapaksa is a leader, politician and intelligence chief who believes in military order. Therefore, it is for both sides to construct a new relationship.
Gotabaya made some significant remarks at a seminar in Colombo that would have a bearing on India-Sri Lanka relations. India and Sri Lanka should retain "meaningful and close" bilateral ties despite occasional hiccups, including the issue of fishermen, he said at the seminar on "Post-conflict Sri Lanka Challenges and Regional Stability,' held in Colombo on September 3.
"India is very sensitive to events in Sri Lanka, because of the large Tamil population in Tamil Nadu", the Defence Secretary noted and went on to say that it was critical for both countries to retain a meaningful and close relationship despite the issues that crop up from time to time to put strain on the age old ties. Spurt in illegal fishing by Tamil Nadu fishermen in Sri Lankan waters is one such issue, he said, and added that the shadow of Sri Lanka looms large on Indian scene during election times.
Gotabaya, who is President Mahinda Rajapaksa's younger brother, also commented on the growing China-Sri Lanka relations, saying that misperceptions about the nature of China's influence in Sri Lanka has made the cordial relationship an issue for other countries. China's involvement in Sri Lanka is purely diplomatic and economic, he asserted. Calling for a proper understanding of Beijing-Colombo ties in the correct perspective, he went on to say that China is one of Sri Lanka's foremost development partners and contributed richly to many of its key projects. This engagement, according to Gotabaya, has been misinterpreted to suggest that China has undue influence over his island nation.
On immediate security challenges for Sri Lanka, the defence secretary said attempts by the extremist elements to promote Muslim extremism is a cause for concern. "It has been observed that there are some foreign groups that wish to encourage Sri Lankan Muslims to identify themselves more with the global Muslim community, thereby reducing their integration with the rest of the population."
Rajapaksa said threat of re-emergence of terrorism is still real in Sri Lanka. Several overseas based LTTE-linked groups are being coordinated by the Global Tamils Forum. "Their intention is the division of Sri Lanka and the establishment of a separate state for Tamil Eelam. There are several strategies through which they will try to achieve their objective." He said the visit of UN Human Rights High Commissioner Navi Pillay to Sri Lanka was another instance of the LTTE's attracting of international attention to their cause. After a week-long visit Pillay slammed Sri Lanka as a state which was increasingly heading towards authoritarianism.
Some five months ago, in July to be precise, Gotabaya Rajapaksa stated that Sri Lanka would not listen to India over the 13th Amendment. "It is a national issue for Sri Lanka. Only Sri Lankans should address it and resolve it", he said. He did slip in a caveat though. While Sri Lanka would not listen to India on the 13 A, it did not mean that Colombo should lose the relationship with India, said Gotabaya. And stressed that the national question should have a home-grown solution and the debate about the 13th Amendment should not affect the relations between the two countries.
Interestingly, Gotabaya Rajapaksa highlighted the fact that he didn't believe that areas should be demarcated according to ethnicity, religion, caste or creed. He stated that Sri Lanka belonged to all Sri Lankans adding that his Government had to think in those terms.
Well, the fact of the matter is Gotabaya is today the most powerful man in Sri Lanka. Some consider him to be more powerful than President Mahinda Rajapaksa even. To this extent, realism demands that New Delhi deal more closely with this man. Like in the context of US-Pakistan relations, in the context of India-Sri Lanka relations too, Friends, not Masters needs to be the tagline. And this is the message that India needs to convey to Sri Lanka, and nurture friendly spirit though question marks still appear over Prime Minister Dr. Manmohan Singh's presence at CHOGM due to what Gotabaya may like to refer as the TN factor.