Imran Khan plays his political innings poorly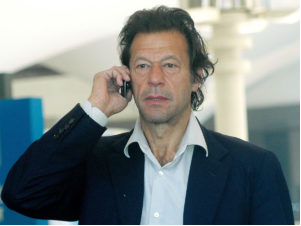 Hari jai Singh*
Going, going, gone? Pakistan's Prime Minister Imran Khan has only himself to blame for the current crisis. AS Prime Minister, he was ruthless in tackling opposition leaders Asif Ali Zardari, Mian Muhammad Shehbaz Sharif and Fazal-ur-Rehman. He had often threatened to send them to jail. Such behaviour is akin to that of a dictator and not expected of a leader who has to be subtle and courteous in treating opposition leaders.
The problem with Imran Khan has been his inflated arrogance and attitude of indifference. Such attitude towards opposition leaders was unwarranted, especially when there were clear signs of withdrawal of army support. He apparently overlooked the fact that he got the Prime Ministerial position with the support of Army Chief Qamar Javed Bajwa.
The warmth between Imran Khan and the Army Chief started to get diluted when Imran Khan began to assert his independence. For instance, when the Army Chief wanted the removal of the Inter-Services Intelligence (ISI) Directorate Chief Lt. General Faiz Hameed in October 2021. Imran Khan simply ignored his plea and tried to have his way. He even went to the extent of "interviewing" three candidates for the ISI Chief's post.. Obviously, he overstepped his limit in conducting sensitive matters of governance in Pakistan and failed to keep in mind that it was General Bajwa who had helped him win the 2008 general elections.
It is clear that Imran Khan had been riding high and had totally delinked himself from ground realities. No wonder, he faced with the biggest political crisis of his 5-year tenure as Prime Minister. Several of his party legislators also turned against him and opposition parties got together under the banner of the Pakistan Democratic Movement (PDM). Imran Khan referred to them as a "group of crooked opposition leaders" and told a large rally of the people in Islamabad that he would continue his fight against "white collar corruption".¹
Corruption in Pakistan is a matter of degree and assessing relative levels of corruption is difficult to corroborate. However, power corrupts all and this holds good especially for Pakistan's political leaders. Imran Khan however, had put himself on a high moral ground and said:
"Come what may, I will not forgive them (opposition leaders) even if my government goes or even if I lose my life."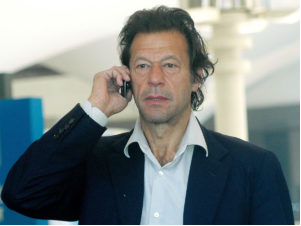 Imran Khan surely was a good cricketer and record showed his class. There is also no doubt that he is a good orator. This was evident at his rally as he was able to sway people by his rhetoric.
However, politics is an intricate art of managing survival in the face of formidable opposition strength. In fact, politics is not the game of sixers and bouncers. It is the complex art of tackling issues and non-issues in a subtle manner. It often demands the art of going silent and going deep to achieve desired objectives and defeat opponents. Imran Khan has shown a scarcity of such qualities, and the fighting talk hardly helped him.
Political failures apart, the main issue before the Imran Khan government was a grave economic crisis the country has been faced with. The country's current account deficit has been increasing on account of high oil import costs. The Imran Khan government had been banking on the International Monetary Fund (IMF) to release the tranche of a USD 6 billion rescue package to boost the country's dwindling foreign currency reserves.
According to economist Atif Mian, although Imran Khan had inherited a currency crisis when he became the Prime Minister, he has left the economy in a worse state. There has been no increase in the average income of Pakistan and the Imran Khan government went for usual shortcuts instead of enacting new policies to ensure that the country gets on a sustainable growth path. The writing on the wall has been clear. As Prime Minister Imran Khan has failed to serve his country.
It is a different matter that no elected government in Pakistan has ever been removed through a no-confidence vote. Be that as it may, Pakistan, right now, is faced with serious political instability, and an unstable Pakistan is not in India's interest.
The writer is a veteran journalist