Pak Urdu Digest, Apr 29, 2022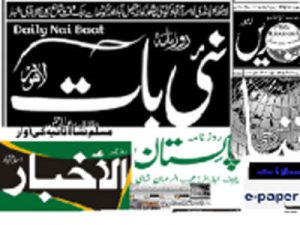 A random selection from Today – Apr 28 Urdu dailies of Pakistan
NEWS
1. Analysts aver that he US wants to increase the pressure on Pakistan as the Chinese government has expressed great happiness over the election of Shahbaz Sharif as the Prime Minister. The Chinese media headlined the news of Mian Shahbaz Sharif becoming the PM. Similarly, the Chinese Ambassador to Pakistan also hoped that the CPEC projects would now be expedited. Since the US has a clear policy on CPEC and does not want CPEC to succeed, perhaps that is why the US has used the tactic of putting pressure on the Shahbaz Sharif government through the diplomatic front. (Jasarat)
2. Federal Law Minister Senator Azam Nazir Tarar has said while talking on a private TV program on Thursday that the Election Commission can take action against Imran Khan for contempt of court. Khan can be sentenced to 6 months imprisonment, fine, and disqualification. (Jasarat)
3. Jamaat-e-Islami (Karachi) Deputy Amir Osama bin Razi while addressing a gathering at Masjid Tayyaba Zaman Town Korangi said that raising voice against idolatry is a practical jihad. The only justice system of Islam can bring this country out of the crisis. (Jasarat)
4. PTI rebel Ramesh Kumar said that those who talk about democracy should first implement democracy inside the party. (Asas)
5. Islamabad High Court has decided to form an investigating commission to probe Racial Profiling and Missing Baloch students. The court has advised the Home Secretary to make a mechanism for addressing the complaints of Baloch students. The Chief Justice said that the judiciary could not close its eyes unto human rights violations and such complaints would not be tolerated. (Asas, Daily Jinnah, Ummat, Daily Express)
6. The Election Commission took note of the statements of Chairman Pakistan Tehreek-e-Insaf (PTI) Imran Khan. The Election Commission has asked PEMRA for the video record of his address to the Peshawar Workers Convention. In his speech delivered two days ago, Imran Khan demanded the resignation of the Chief Election Commissioner dubbing the CEC as an agent of PML-N. "The CEC decisions are against PTI", he alleged. (Urdu Point, Nawaiwaqt, Daily Express)
COLUMNS
Muhammad Anwar in Jasarat
• According to Prof. Muhammad Zubair, security advisor to VC, Karachi University, not one-woman police was deployed for search duty though 75 per cent of the students are women. The people of Balochistan have been complaining for a long time that their rights are not being given to them by the federal government. Despite the formation of a new government, no comprehensive plan has been announced to address the grievances of the Balochis. As a result, the angry Balochs, express their grief and anger whenever they get a chance through extremist acts. The university, according to Prof Zubair, has its own security system of about 150 guards but they do not have any weapons. The students say the Rangers deployed at the university have no lady officer for conducting physical search. The terrorists may have planned this terrorist attack keeping in view this flip side. If this assumption is accepted, it shows the negligence of the security agencies.
Aijaz Mungi in Sindh Exp
• It is now emerges that more than Zardari's role, it was the strained relations with the establishment that had played a decisive role in the collapse of the PTI government. Though so far nothing concrete appeared in the media on the subject, PTI leadership admits that these ties had gone downhill. Maybe it was because Imran Khan's was trying to poke his nose in establishment's affairs. Whatever be the reasons, there is certainly no Zardari factor behind the collapse of the PTI government. Zardari had eye on entering the President House again, but his dreams have not materialized. Now, the question is: Is Bilawal becoming foreign minister a victory for PPP? Some sections within in PPP consider it below Bilawal's dignity to be part of Shahbaz Sharif's cabinet. Most PPP leaders are of the view that it was humiliating for Bilawal to be foreign minister in the Shahbaz-led government. Bilawal agreed to take this post only when he was convinced that his grandfather, Zulfikar Bhutto, too had started his political career as foreign minister. Right now, neither PPP nor PML (N) is in the guise of BLA and other extremists powerful enough to checkmate the rising PTI tide. Imran Khan is marching ahead with all his might and prowess. In the current scenario, the only party that can give little fight to PTI is: PML (N). Earlier, there used to be rumors that PPP and PTI might come closer at some time. Such a possibility is now ruled out since PPP and PML (N) have closed their ranks. All that PPP has done, it does not look likely that it has done out of its own free will. Surely, there was someone or some pressure making PPP do what it has done. PPP leadership will do well to remember that whatever assurances it had received in the runup to Imran fall, can turn out to be empty promises tomorrow. Promises and assurances have no meaning in the world of politics. They are like cheques which can bounce. Right now, PPP might be repenting but it is in such a pitiable condition, that it cannot even speak out its heart-burn.
Dr. S. Sahito in Kawish, April 28)
• Pakistan is left high and dry in the aftermath of the American exit from Afghanistan. Government of the time under Imran Khan along with establishment might have celebrated the exit or they might have called it a victory of Taliban, believing that Pakistan would have say in the formation of Kabul government. They hardly realized that the Taliban government would turn out to be a big headache. Pakistan is often led by the belief that a weak Afghanistan is good for Pakistan. But, time and again it is proved that this is a wrong understanding and equally wrong strategy. Soon after the Taliban government took over in Kabul, the state of security kept getting grim at the Durand Line. Pakistan often accuses that Afghanistan land is being used against Pakistan. So much so, there could be more tensions; it can even open up a war front for Pakistan. Militant attacks are also on rise on Pakistani forces at Afghan-Pakistan border areas. The Baloch separatists too have stepped up their activities within the country. Taken together, all these developments paint picture of disturbing scenario ahead.
M B Soomro in Pahenji, April 28
• The real reason for ouster of the PTI government is not foreign conspiracy but something domestic; In a giveaway, Fawad Chaudhary in an interview said: "If the PTI government's relations with the establishment were not strained, PTI would have continued in power longer" But Imran Khan is not telling this reason in his high decibel rhetoric since his ouster. Like-wise, the new rulers are not telling the nation real reasons that had compelled them to step into the hot seat just when conditions were far from ideal for the takeover. The political parties must realize that people are fast losing faith in democratic set-up because of political parties' inefficiency and their rampant opportunism. Today democratic system has lost its sheen. Whatever feeble democracy is left in the country, that too will get weaker if pro-democracy forces delay setting conditions right in the country.
EDITORIALS
1. Political observers are seeing new polarization and an increase in emotional politics. It seems that even the fresh elections will not end the political crisis, because there are doubts about the electoral process. Ameer of Jamaat-e-Islami Siraj-ul-Haq has correctly analyzed that the politics of "electables" has destroyed the country. Some families have taken politics and democracy hostage. Therefore, in order to get rid of 'family politics', it is necessary to introduce a system of "proportional representation". (Edit Jasarat)
2. Karachi University terror attack is not the first attack on Chinese interests or CPEC in Pakistan, but the style and target of this suicide attack was different from the past; a woman carried out a suicide attack. This attack has once again proved that the Pakistani security agencies need to take extraordinary steps to make the security of foreign nationals foolproof. The banned militant group BLA (Majid Brigade) claimed responsibility for the attack on the Chinese consulate in November 2018, after which, though Pakistani security forces responded immediately, the group could not be eliminated. The same organization is also involved in this attack. (Edit Jang)
3. Federal Sharai Court has directed the federal government to establish an interest- free Islamic Banking system in Pakistan in the next five years. Now it is the responsibility of the government to take it seriously and start making laws on priority basis. There should be no hesitation because Pakistan is an Islamic country and was founded on the basis of religion and hence it should be governed by the Sharia laws. (Edit in Daily K2)
4. It is not a good notion for democracy that Imran Khan is openly blaming national departments and challenging their credibility. This attitude is unfortunate as PTI is clearly violating laws after being ousted from power. (Edit in Asas)
5. Everyone has the right to protest but that does not mean one can malign a country's key institutions in pursuit of vested interests. One might have differences with decisions of institutions, but we should show respect unto them and this is expected at least from those who have remained on key posts in the country and enjoy immense popularity amongst the masses. If such individuals stop showing respect to constitution, it can lead to widespread anarchy in country which would do no one any good. (Pahenji, Edit, April 28)
6. If new rulers do not set things right in the limited time and if they fail to give much needed relief to people, the electorate would get disenchanted. The economic scenario can get better can better only with help from friendly countries and hence too many hopes are being attached to PM Shahbaz Sharif's visit to Saudi". (Edit in Ibrat)
7. Bilawal Bhutto Zardari has become the youngest foreign minister of Pakistan. He can play a role in bridging the long-standing deadlock between Pakistan and India, as well as in resolving the recent misunderstandings with the United States and the European Union. Good and strong diplomacy is needed by the country at this time. (Edit in Daily Pakistan)
………………………
Book Shelf

Recent Top Post