Pak Urdu Media Digest, May 6, 2022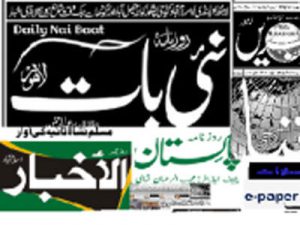 A random selection of news, commentaries and editorial comments in Pak Urdu dailies today (May 6)
NEWS
Water shortage is the front-page news in the Sindh newspapers. "Water shortage goes upto 60 percent in Sindh"- read one headline. Another headline read: "Sindh is getting only 32,000 cusecs, down from 80,000 cusecs". The situation may get better only after May 10, according to yet another headline.
1.Hundreds of people have hit the national highway in Thatta protesting water shortages. Water protests are also reported from Sunn, Maqsood Rind and several other places across the province. Awami Tehreek, a nationalist group in Sindh, said Sindhis are being deprived of drinking water. The Sindh government has asked the Centre to allocate water to the province under the provisions of the 1991 Treaty on Water Distribution. (Reports in Sindh Express, Ibrat, Daily Islam)
2. Punjab Jamaat-e-Islami Chief Dr. Tariq Saleem said there is no difference between the Imran Khan and Shahbaz Governments. Both are under the influence of the IMF which is keeping a tab on every Pakistani department. He added that the current rulers have no power take decisions on burning economic issues. (Report in Asas)
3. Central Secretary General of Jamiat Ulema-e-Islam and Senator Maulana Abdul Ghafoor Haideri has said that they have been saying from day one that Imran Khan himself is an agent of Israel and facilitator of Qadianis. Whatever, they said is proving to be true now. (Jasarat)
4. Ameer of Jamaat-e-Islami, Siraj-ul-Haq, has said his party is going to launch a full-fledged movement to liberate Pakistani people from the slavery of imperialism. Noting that the Federal Shariah Court has rejected the interest-based economic system, he said it is the responsibility of the federal government to provide a roadmap for Islamic Banking and for ending the interest-based system. The only path that can lead Pakistan towards progress and prosperity is the system of Allah Almighty which teaches us mutual respect, love, and brotherhood. (Report in Jasarat, Daily Express, Ummat)
5. The Afghan Taliban have banned driving licenses to women. According to AFP, it is common for women to drive in Herat. "We are verbally barred from issuing licenses to female drivers", said Jan Agha Achakzai, Head, Traffic Management Institute, which supervises Herat's driving schools. He however added that so far, no instructions have been given to stop women already driving in the city. "We are also told not to give driving lessons". (Jang)
6. Cricketer Danish Kaneria, who was convicted in the spot-fixing case, has alleged that former captain Shahid Afridi had kept pressuring him to convert to Islam. He said this while speaking on an Indian TV. (Jang)
EDITORIALS
Now, water shortage in the Sindh has assumed a very critical form. Even if we assume that water shortage is being felt across the country, it is Sindh that is always made to bear the brunt of country-wide water shortage. This is taking a huge toll on the agriculture –related economy in Sindh. IRSA is not prepared to distribute water judiciously. It keeps cutting Sindh's water share but never makes no cut in Punjab share even during days of water shortage. Right now, there is no district in Sindh free from water shortage. Of all places, Badeen and Thatta are worst hit. Compared to other provinces, Sindh is worst- hit by water shortage. Hence, Sindh must get its share of water. (Edit in Sindh Express)
2. Inflation has dampened Eid enthusiasm. It touched 13.37% last month with 29.57% in edible items. There was a clear failure of the government and local administration to check price rise and thus provide relief to people on Eid. Shahbaz Sharif Government will have to address the issue on a war footing. Otherwise, people would vote them out in the next elections. Political uncertainty and economic slowdown are the two big challenges before Pakistan. Time alone will tell whether the Government of Shahbaz Sharif would come to grips with the issue and save Pakistan from further trouble. (Edits in Aeen, Asas, Aaj)
3. Our politicians have always tried to convince the people that the important decisions concerning the country are not taken in Islamabad. Recently at a public meeting, Imran Khan had waved a letter saying conspiracy to remove him was hatched in Washington. A long time ago Prime Minister Zulfikar Ali Bhutto had waved a letter in a public meeting claiming that America had warned of dire consequences if Pakistan made an atom bomb. Bhutto went on to say that we, Pakistanis would make the atom bomb even "if we have to eat grass". It is said that Bhutto was hanged at the behest of America. His daughter, Benazir Bhutto was also allegedly killed by American policymakers with the help of local facilitators. Now, Shaikh Rasheed has warned that the same fate is awaiting Imran Khan. He is also warning of a civil war if elections are not conducted immediately. (Edit in Intekhab)
4. If the latest official speak on CPEC is true, then it is very worrying. According to Federal Minister for Planning, Ahsan Iqbal, China did not spend a single dollar on CPEC during PTI's four -year – rule. It is a well-known fact that Pakistan's future lies with CPEC; it is a game changer project, which will not only benefit Pakistan economically but also place us in a better position in terms of defense. This is the reason why not only the US has talked of offering Pakistan an alternative to this project but also Israel has become a supporter of India and is involved in subversive activities in blocking this project. The CPEC Authority should end the Pak-China misunderstandings and expedite work this project with the support of Pakistani forces. (Edit in Jang)
COLUMNS
by Naseem Bukhari in Ibrat
When the Imran Government was on its last leg, both the establishment and the judiciary had ample opportunities to intervene. None could have stopped the judiciary had it set up a neutral government for some six months or if the courts said the judiciary had no trust in the Imran government or even in current rulers. None could have stopped the judiciary if it had held transparent polls through the interim cabinet. Also, if the army had come forward to check the situation, the Generals could have so without facing any opposition. But both missed the opportunities and tolerated criticism against them. Now, if anything happens, blame will be put at their door step for the continuing uncertainties and unabated price-rise, amongst other issues. Hence, politicians instead of pulling each other's legs should not do anything that can trigger possibilities of derailment of democracy in country. (Naseem Bukhari in Ibrat)

………….