Pointers from the churning in Maharashtra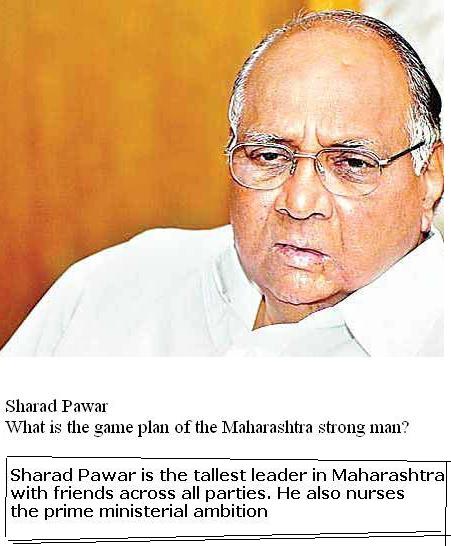 By Malladi Rama Rao
As the nation is engrossed in the 3M plus 1N equation, interesting developments are taking place in the political landscape of Maharashtra, which may have a bearing on the Delhi scene. Their message is loud and clear. It is that when it comes to power politics, there is no political untouchability.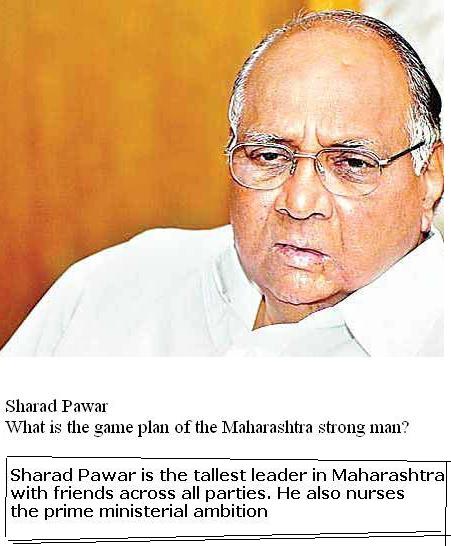 Who took the initiative for a likely realignment is not material at least at the outset. What is important is the fact that parties of the Right and Left of Centre deemed it fair and proper to float the realignment balloon when the state is reeling under unprecedented drought. It speaks volumes about the survival instincts of our political class.
Sharad Pawar is the tallest leader in Maharashtra with friends across all parties. He also nurses the prime ministerial ambition. A couple of weeks ago, Pawar again made his ambitions known when he said there is not much of a difference between the Congress led UPA and the BJP led NDA and both follow the same reformist agenda. This 'uniformity' has much to do with a Telugu bidda who had stolen the BJP's economic thunder. But that is not the issue here. The issue is the probability of Sharad Pawar doing business with the saffron camp. In politics anything is possible, and you cannot rule out Pawar at 10 Race Course Road, even if that avatar is to be a Chandrasekhar re-incarnation.
Consider this remark of Pawar which the Mumbai based media interpreted as a snub to his nephew Ajit dada Pawar's ambitions. In an interview early March, Ajit, deputy chief minister in the Cong-NCP government, said it was a mistake to have offered the CM's post to the Congress after the 2004 election. He was a contender for the post then. And he had reasons to be bitter because the NCP had won more seats than the Congress.
The Maratha strongman knows his nephew's goal post. He also knows that there is a rivalry between Supriya Sule, his daughter, and Ajit. He had clearly demarcated each other's turf – daughter's in Delhi and nephew's in Mumbai and decreed that they would compliment each other's interests.
So, you cannot deem Pawar's critique as a response to Ajit's comments on the CM's post. It has to be seen as a warning to the Grand Old Party that it cannot afford to take him lightly just because he has not been a troublesome ally. He has always been a long term player. That was why he had traded the CM post for key portfolios and more cabinet berths. The deal helped the NCP supremo to preside over a regime that has doled out favours to bring smile to the faithful. Pawar also managed to protect his turf and even expanded it despite the Congress party's efforts to stymie his stride.
This phase of Pawar politics has coincided with efforts to achieve rapprochement between the two Thackeray's – Raj of Maharashtra Navniraman Sena (MNS) and Uddhav of Shiv Sena (SS), and between Nitin Gadkari and Gopinath Munde in the BJP.
This churning has not yielded much thus far. All because Raj has no liking for Eknath Khadse, the BJP face in the Mahrashtra assembly. It is said that Khadse raises corruption charges on the floor of the assembly for 'pecuniary benefits'. The BJP leader denies the allegation; he is willing to face an inquiry by a panel of Congress- NCP and MNS law makers. But the offer has no takers from the MNS, since its plan is to push the Congress to a corner and not allow its government to escape unscathed. This is what suits the BJP and its ally Shiv Sena notwithstanding Raj-Khadse spat. Put differently both the MNS and the BJP are on the same page in so far the big picture is concerned.
Raj is often seen as a person, who doesn't hesitate to roll back his decisions or promises of favour. If he remains true to this image, as many in SS-BJP combine hope, the Hindutva camp may put its best foot forward in the next battle of ballot. This hope stems from the fact that Raj did not allow his bad blood with Uddhav to come in the way of support Shiv Sena in the Thane Municipal Corporation to keep the Congress at bay.
There is the Narendara Modi – Raj equation. Both are cut in the same demagogue mould and are good friends. BJP hopes to use Modi card to tilt the scales when needed and create the new alliance. There is no gain saying that between Raj and Uddhav, the latter is keen to patch up; he is not pink of health and his second –in- command, Aaditya is no more than a regent.
Now cut to Pawar again. His moves depend very much on the Congress, which is in a mood to commit self-goals as the CBI raids on the homes of Muthuvel Karunanidhi's heir to the DMK throne, M K Stalin and his family members across Tamilnadu on Thursday showed. The charge that they had 17 luxury cars on which import duties were not paid is old hat. It has been hanging fire since November 2011. From Sonia Gandhi to Manmohan Singh and from Palaniappan Chidambaram to V. Narayanasamy everyone who matters in UPA has proclaimed: "We did not order".
Their economy on truth brings to mind one of the stories in Paravastu Chinnayasuri's Neeti Chandrika that a person blinded by arrogance and power cannot see Arunadhati in the sky and cannot smell the smoke from a flame that has been just put out.
It will, needless to say, force the likes of Pawar and Mulayam to avoid pre-poll alliance and thus keep their hopes alive to the dismay of Sonia Congress which is groping for a Plan-B with luck on short-supply, if not on long casual leave, and to the BJP which is in a wait and watch mode taking a sulking Nitish Kumar and a roaring Narendra Modi in its stride.
(This comment first appeared in The Hans India, a daily from Hyderabad on Mar 23)
Book Shelf

Recent Top Post

AdSense code