Uzra Zeya meets Tibetan leaders in Dharamsala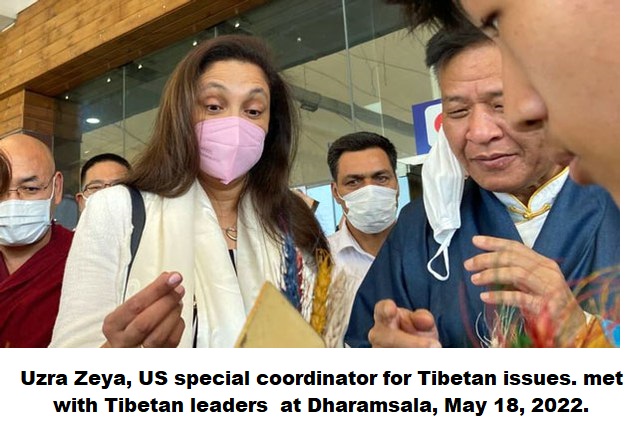 A top U. S. official on Tibet has visited Dharamsala and met Tibetan leaders.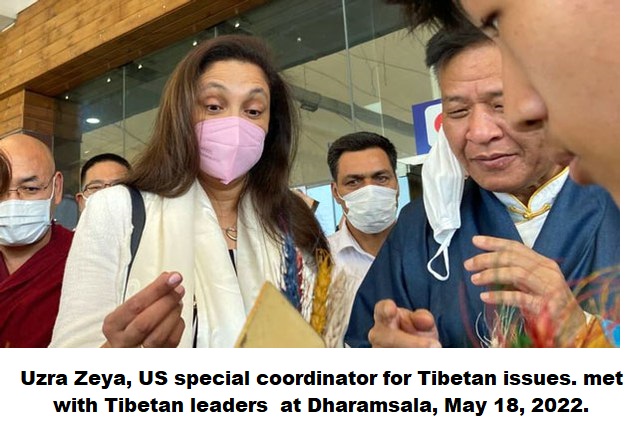 Uzra Zeya, who was appointed as the State Department's special coordinator for Tibetan issues in December 2021, arrived with her delegation at the seat of the Central Tibetan Administration (CTA) on Wednesday in what is the first high-level contact between the U. S. and the Tibetan leadership during the Biden administration. 
The visit came at a time when the Chinese government is stepping up repressive measures on minority Tibetans and Uyghurs.
Zeya is working to 'promote a substantive dialogue without preconditions between Beijing and the Dalai Lama and his representatives, or with democratically elected Tibetan leaders', the State Department said on the eve of her visit to India and Nepal. She is also working to protect Tibetans' linguistic, cultural and religious heritage.

"The Biden administration's immediate appointment of the special coordinator after taking office is itself is a huge honour, and during her visit here in the Dharamsala she will be briefed on different management and the overall Tibetan administration, where she will also meet with the Dalai Lama," CTA spokesman Tenzin Lekshey said on the eve of the Zeya visit. "So, this visit will facilitate the U. S. government to understand and further strengthen support for Tibet."

Bhuchung Tsering, interim president of International Campaign for Tibet, an advocacy group that promotes democratic freedoms for Tibetans, told RFA that Zeya's meeting with CTA leaders is significant in two respects.

"First, China has been under scrutiny lately with regard to various concerns, and Tibet is one of the most crucial, so we believe that this meeting with our Tibetan leaders is crucial for the Tibetan issue globally," he said.

Second, while campaigning in September 2020, President Biden and his administration promised to take a strong stand against China's human rights abuses in Tibet and to support Tibetans' cultural and religious rights, he said.

"The special coordinator's visit signifies his promise and his administration's initiative to draw support for Tibet," Tsering said.

In January 2000, Julia Taft, the late former U. S. assistant secretary of state for population, refugees, and migration, became the first special coordinator for Tibetan issues to visit Dharamsala. Sarah Sewell, former undersecretary for civilian security, democracy and human rights, visited the city in 2014 and 2016 when she held the special coordinator position.

At the time of Zeya's appointment to the role in December 2021, Secretary of State Antony Blinken said her designation demonstrated the Biden administration's "commitment to advance the human rights of Tibetans, help preserve their distinct heritage, address their humanitarian needs, and meet environmental and water resource challenges of the Tibetan plateau." (Copy Right/courtesy: RFA)