What Made Musharraf Pull Down A Portion Of His Farm HOuse…?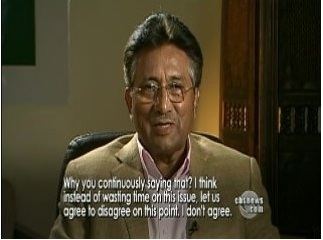 By M RAMA RAO
It is difficult to resist the comment that former President of Pakistan Pervez Musharraf has not lost the jest to pull off a surprise though  he  had bowed out of the country  in 2007 under a deal brokered by the Saudis, Americans, and the army chief Kayani. But for the deal he had negotiated for abdicating first the post of army chief and later on of the head of the country, he would have been another faceless NRP – non-resident Pakistani.
Today he is able to live in real comfort either in own house or houses arranged by the old loyalists in Washington, London and Dubai.  And his old friend, the US of A, queered the pitch, though unwittingly probably, for him as the voice of Pakistan for the western media and think-tanks alike.  So much so why he has asked his henchmen back home in Islamabad to pull down an extra structure on his sprawling farm house in a tony area on the outskirts of the Pakistan capital.
Dawn, the Karachi daily, which broke the story on its front page on Nov 12, said it was an entirely unanticipated move.
Musharraf, along with some 490 nouveau riche, has been hauled up by the Supreme Court for building their houses exceeding the permitted limit for covered area under the master plan for Islamabad. Musharraf's five-acre farm sports a built up area of 12,500 sq ft.  Of this, 764 sq ft area was ordered to be demolished more than a year ago. Five notices were issued. He did not yield. But now, suddenly he did. The question is why
It is possible that the one-time strongman of Pakistan wanted to appear law abiding though his entire career that culminated in his taking over the reins of the country was a saga of twisting the law of the land to suit his ends.  There is a fresh non-bailable warrant for his role in the killing of a Bugti clan chief when he was the garrulous President. But it is not something that he has to worry since the foreign office and interior ministry have categorically stated that Musharraf is beyond the reach of the long arm of Pakistani law.
Being the commando at heart, he could be taking advance action to avoid booby traps as the count down for a mid-term poll has begun.  He will not like the Chief Justice of Pakistan Iftikhar Muhammad Chaudhry to haul him up for a petty offence like an extra shed on his farm house when he would be getting ready to face the electorate.
Secondly, and more importantly, the phenomenon of Imran Khan must have unnerved him, like it did his bête noire, Nawaz Sharif, who is determined to complete his unfinished term as Prime Minister of Pakistan. . Yesteryears playboy- cricketer is the new find of the army for leading democratic Pakistan just as Nawaz Sharif was once and Benazir Bhutto was in her first stint as Prime Minister. Political leaders pump primed by the GHQ have short shelf life in Pakistan. But when the going is good they put paid to the dreams of the likes of Musharraf. Well that is the Pakistani tradition.
Yet another important factor that propels him into a law abiding citizen is the feeling that his enterprise 'self-anointed Army drum beater' is reaching the stage of bankruptcy.  Washington and Rawalpindi have had their way with each other and they don't need 'Brand Musharraf' any much longer. Put differently, Musharraf will have to be on his own and find a suitable turf space in the public domain to prolong his shelf life. What better way is there than to falling in-line with the directions of his nemesis of sorts, Chief Justice Chaudhry, and collect some brownie points along the way, which someday could be the IOUs.
Any how the demolished area, as Barrister Saif, the spokesman for the former president, told Dawn, is hardly 20 feet wide. It houses a cowshed. Pulling it down is not a big sacrifice when his main dream home  with five huge bedrooms, several lobbies and a swimming pool stands intact. Barrister Saif also stated that Musharraf's personal staff had paid the fine of Pakistani Rupees 1.25 million slapped on him.
As if he is seeking a good conduct certificate, pictures of demolition of the farmhouse`s excess construction were submitted to the Capital Development Authority.
In politics, perceptions matter the most. And this is what Musharraf is targeting to achieve just in time for his second innings in public life.
The demolition gives him the privilege to say 'Mai is mauqe pe Pakistan ki awam se muazrath khwa hoon'- (On this occasion, I seek forgiveness from the people of Pakistan)."
Any doubt?