Who killed journalist Syed Saleem Shahzad ..?
By SAAD SARFRAZ SHEIKH*

(Syndicate Features): Pakistan continues to make headlines under the masthead of being the world's deadliest country for journalists. Statistically, 16 journalists have been killed in Pakistan the past 14 months; some of the worst excesses occurred in the restive Balochistan province.
"These journalists work under extremely dangerous circumstances", says noted Pakistani journalist Najam Sethi. The Friday Times Editor-in-Chief said that journalists are both "part of the problem and solution," walking a fine line between reporting the public's sentiments on Pakistan's ongoing turmoil and reinforcing them. Sadly, what is being revealed by human rights groups (here) is that it isn't just the terrorists and their activities that make Pakistan dangerous for journalists. In addition to anti-state elements (militants), state elements top the list for "abducting, beating, detaining, disappearing, threatening, torturing and murdering journalists, who dare to question their intervention and authority".
40- year- old Syed Saleem Shahzad, Asia Times Online's Pakistan bureau chief, is the latest victim of the dangerous quest for honesty and truth. According to news reports, he was "picked up" in broad daylight in Islamabad on 29th May, as he was on his way to a television interview.
Fears grew for his safety after he was missing for more than 2 days, and the Human Rights Watch (HRW) believed him to be in the custody of the Inter-Services Intelligence (ISI). The HRW declared that Syed Saleem Shahzad could also be subjected to mistreatment and torture during "custody". As ill-fate would have had it, police found his body in Mandi Bahauddin on Tuesday, May 31, about 150 kilometres southeast of Islamabad, days after he published an article that could have upset the powerful people at the centre of Pakistan's war on terror.
"This killing bears all the hallmarks of previous killings perpetrated by Pakistani intelligence agencies," said Ali Dayan Hasan, a senior researcher for Human Rights Watch in South Asia. He has called for a "transparent investigation and court proceedings".
The following quote from Shahzad's final article gives an idea of just how embarrassing his latest revelations might have been to several powerful parties.
'Al-Qaeda carried out the brazen attack on PNS Mehran naval air station in Karachi on May 22 after talks failed between the navy and al-Qaeda over the release of naval officials arrested on suspicion of al-Qaeda links, an Asia Times Online investigation reveals. At least 10 people were killed and two United States-made P3-C Orion surveillance and anti-submarine aircraft worth US$36 million each were destroyed before some of the attackers escaped through a cordon of thousands of armed forces. The naval base assault was a humiliation for the Pakistani army, which battled for 17 hours against at least four heavily armed men, who blew up two surveillance planes and killed 10 soldiers'.
In a follow-up to this despatch, Shahzad had planned to explain the recruitment and training of militants. Sadly, that never happened.
As we dig into the archives of Shahzad's bold reportage, an experience that brought him dangerously close to the dark world of Al Qaeda, Taliban and extremists' links to Pakistani politics and security – where he often took great personal risks to deliver his unique insights, we realize the immense research and information Saleem Shehzad possessed. An expert on the Al-Qaeda, Taliban, ISI, Pakistan Army, Jaish-e-Mohammad, Harkatul Islam and Lashkar-e-Taiba, his prolific journey as a reporter is as deeply rooted as the problems he focussed on.
It is pretty obvious that he ruffled many a feathers and his honest reporting made many uncomfortable. Brief detention by the Taliban in 2006 allowed him to interview their big fish, which included Taliban commanders Sirajuddin Haqqani, Qari Ziaur Rahman, Baitullah Mehsud and Ilyas Kashmiri, who leads Al-Qaeda's operational arm through his 313 Brigade and is suspected to be the mastermind behind the 2008 terrorist rampage that left more than 160 dead in Mumbai.
Saleem found his true calling while reporting on the symbiosis of the ISI and Taliban factions on both sides of the Afghanistan-Pakistan border. Recently, he focused on militant loyalists within the armed forces of Pakistan, mentioning their human resource operations and changes. His reportage has brought ISI's former strategic asset Ilyas Kashmiri into focus, as he is now seen as the operational in-charge responsible for establishing Al-Qaeda-Taliban "terror cells".
Saleem Shehzad may not have been targeted by the ISI, but he was surely being monitored as a potential threat by all the stakeholders. Fellow journalists reacted angrily to his death, which is not merely the murder of a journalist; but the murder of truth itself.
People are now directly accusing the ISI on television and social media forums. "Any journalist here (Pakistan) who doesn't believe that it's our intelligence agencies?" tweeted Mohammed Hanif, a bestselling author.
The sad thing is that Saleem isn't the first, nor will he be the last Pakistani journalist to face such dangers to life. Last September, Umar Cheema, an investigative reporter for The News International , was kidnapped, blindfolded, stripped naked, had his head and eyebrows shaved, beaten up, filmed in humiliating positions and dumped on the side of the road six hours later.
"If you can't avoid rape", one of his interrogators jeered during the ordeal, "enjoy it". The perpetrators were never found, but when asked about his suspicions, Cheema told the New York Times: 'I have suspicions and every journalist has suspicions that all fingers point to the ISI'.
Cheema is more concerned than ever for his own safety. 'Obviously I feel really vulnerable' he says. 'We need an independent commission to look into [Shahzad's death]'.
One of the primary reasons as to why people majorly suspect the ISI is that the kind of operation in which Syed Saleem Shahzad lost his life, doesn't seem to be the work of militant groups known for spot killings or abductions that end up in Waziristan, but of the intelligence agencies.
Shahzad was known to have sources both within the Pakistan's intelligence community and among Taliban and Al Qaeda militants. Last October, the journalist had been called for a meeting at the ISI headquarters after he had written an article that claimed the Pakistani authorities had released from custody Afghan Taliban military commander Mullah Baradar to negotiate with the Pakistan army.
Shahzad said the mood at the meeting, at which he was asked for but declined to reveal the sources for his article, was polite but that at the end one of the senior officers had said to him: "I must give you a favour. We have recently arrested a terrorist and have recovered a lot of data, dairies and other material during the interrogation. The terrorist had a hit list with him. If I find your name in the list, I will certainly let you know."
Ali Dayan Hasan of the Human Rights Watch (HRW) said the journalist had taken these words as a threat. "He told me he was being followed and that he was getting threatening telephone calls and that he was under intelligence surveillance," Hasan told Reuters. "We can't say for sure who has killed Saleem Shahzad. But what we can say for sure is that Saleem Shahzad was under serious threat from the ISI and [we have] every reason to believe that that threat was credible."
One of the ISI's media wing officials who attended the meeting and questioned Shahzad was Rear Admiral Adnan Nazir, a naval officer.
On Monday, May 30, Pakistani intelligence officials told journalists that they had picked up Kamran Ahmed Malik, a former navy commando, in Lahore on May 27, Friday. Malik and his brother have been detained in connection with the investigation. While Malik has not been formally charged, it is widely reported that he is being held for questioning about his links to both the terrorists and former colleagues inside the navy.
When contacted on Thursday June 2 night, Rear Admiral Adnan Nazir declined to comment on the raid or the death of Shahzad, saying "I don't speak to anyone."
Many say that if the ISI isn't involved in the murder, then it should at least help in identifying and capturing the killers. Why? Because, it has to. And it alone can.
Amid chants of 'Yay jo deshatgardi hay, iskay peechay wardi hay (Militancy is backed by the military) ringing around the Lahore Press Club, Pakistani journalists find themselves in a concatenation of cross fires. There is a new fear, and the government is in no mood to protect the journalists. The only official reaction is Interior Minister Rehman Malik's suggestion that journalists should be allowed to carry small firearms for their self-defence.
As public outrage intensifies, the ISI, in a rare clarification, has felt that it needs to make its voice heard. On June 2, a senior ISI official told the government news agency, Associated Press, that allegations of the agency's involvement were absurd. He said allegations that its operatives were behind the abduction and killing of Syed Saleem Shahzad were baseless, and vowed to help bring the perpetrators to justice. He denied that the agency had made any threats to the journalist and described Saleem Shahzad's death as "unfortunate and tragic" and a "source of concern for the entire nation." The intelligence official was unnamed in accordance with the nature of his job.
The ISI, which has been accused of multiple human rights abuses against journalists and political activists in Pakistan, said it was regrettable that some sections of the media had levelled such allegations against the agency. It called on them to act responsibly and suggested that it may consider taking legal action against them.
The official said that a meeting between ISI officials and Shahzad in October was part of the media wing's mandate to keep in touch with members of the media and that it represented nothing sinister.
The only problem with this version of events is Shahzad's last written testament to Human Rights Watch in Pakistan some months ago in which he communicated his fear that the ISI, rather than some unknown forces, had warned him off for wading into troubled waters and might exact punishment. Additionally, his wife has confirmed that a senior ISI officer was in touch with her husband and had even "interrogated" him some time ago.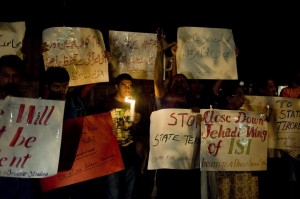 Hopes for any inquiry, however, are low. Although the ISI technically reports to Prime Minister Gilani, in reality it is controlled by the army chief, General Ashfaq Kayani. Although accused of numerous human rights abuses over the years, serving ISI officials have never been prosecuted.
Waseem Shahzad, Saleem's younger brother, says 'Nobody can say my brother backed down because of threats or bribes. He paid the ultimate sacrifice'.
Saleem Shahzad is survived by his wife, Anita, and three children. His widow wants no autopsy nor any charges filed against anyone. (Syndicate Features)
(*The author, Saad Sarfraz Sheikh, is an independent journalist and a reputed photographer based in Lahore. He can be reached at saadsarfrazsheikh@gmail.com)