Another Pak Deception Before 26/11 Anniversary
The prominence with which the media in India has displayed the news of a Lahore court ordering a 10-year jail sentence for the Jamaat-u-Dawa chief Hafeez Saeed is a bit surprising because it does not denote that Pakistan is finally turning serious in dealing with the mastermind of the November 26, 2008 terror attacks. It is nothing more than another act of deception by Pakistan which it has perpetrated several times in the past to deflect international pressure.
But what else can be expected from a country whose prime minister hails terrorists. He has admitted on record that Pakistan sent terrorists to Jammu and Kashmir. He cannot be expected to be sincere in eliminating the terror networks in his country. Not when America appears eager to humour Pakistan in order to have an 'honourable' exit from Afghanistan.
Pakistan has let loose a propaganda barrage against India, accusing New Delhi of fomenting terror attacks inside Pakistan by presenting a 'dossier' to the UN and envoys of P-5 nations. The 'irrefutable' evidence against India was presenting by the babble-mouthed foreign minister of Pakistan, Shah Mahmood Qureshi.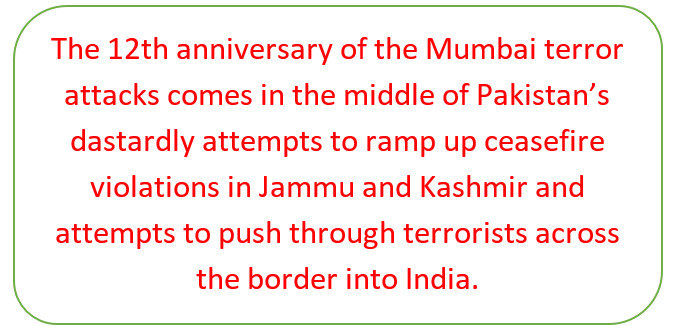 The 12th anniversary of the Mumbai terror attacks comes in the middle of Pakistan's dastardly attempts to ramp up ceasefire violations in Jammu and Kashmir and attempts to push through terrorists across the border into India. That only goes to show how deeply Pakistan is committed to the cause of not peace but spreading terrorist mercenaries in the region.
It may be recalled that it was the same Qureshi who held the same portfolio and was touring India at the time of the 26/11 attacks. He appeared unapologetic about what his hirelings had done in Mumbai. As in the past, Qureshi's wild imaginations about India's role in acts of terror inside Pakistan have found no takers in the international community– a sure sign of Pakistan's zero credibility in the world and the shamelessness of its loose-talking leaders.
Afghanistan, the western neighbour of Pakistan also charges Pakistan with aiding terror acts inside its territory while pretending to establish peace in the war-torn country. Peace and Pakistan simply do not go together.
It could be dismissed as funny had it not been a serious matter of killing of innocent school children. Qureshi blames India for, among many other acts of terror, attacking a Peshawar army school in December 2014 which had killed over 100 children. He forgets that Pakistan has hanged four perpetrators, all Pakistanis, in December 2015. Their names had cropped up during investigations, not of any Indian national.
The Pakistani 'dossier' speaks of 'dozens' of non-existent Indian consulates in Afghanistan to suggest preposterously that the consulates are spread in every nook and corner of Afghanistan and facilitating terror attacks inside Pakistan! Names of alleged RAW agents have been mentioned none with accuracy. An Indian 'colonel' in the Indian embassy in Kabul is mentioned when no colonel was posted at the Kabul mission.
Pakistan has few peers when it comes to presenting false narratives and giving fictitious accounts. Just after the 26/11 attacks, nearly everyone in Pakistan, from the very top to the ordinary denizens, were proclaiming that it was an attack stage managed by India with some help from Israel and the US!
The Pakistani caught alive after the Mumbai attacks, Ajmal Kasab, was found wearing a thick red thread around his wrist, the types many Hindus wear. The idea was obviously to impose a Hindu—thereby Indian–identity on Kasab if he, one of the ten Pakistani terrorists who had sneaked into a boat from Karachi, had been killed.
Pakistan has made some ridiculous excuses to wash its hands off its failure to prosecute the 26/11 attackers by falsely complaining that India has not prosecuted the 2007 Samjhota Express bomb attackers that left nearly 70 Indians and Pakistanis dead. The government of India had indeed proceeded against the attackers in a court of law. It is a different matter that about a year ago the trial ended with their acquittal. But Pakistan has doggedly resisted efforts to prosecute the Mumbai attackers. How can Pakistan be trusted to take 'credible' action against those guilty of the 26/11 terror attacks?
Saeed's arrest is not a move to punish the perpetrators of the Mumbai terror attacks launched on behalf of the Pakistani state, which had left 166 dead, including five American citizens. According to media reports, Saeed's sentence relates to acts of terror financing and money laundering, not hatching the 26/11 conspiracy. Saeed does not stand accused of ruthless murder and mayhem in Mumbai which he had planned with the blessings of the Pakistani establishment—the puppet civilian government and the army, the all-powerful de facto ruler of the country.
Keep in mind that by February next year, the Paris-based Financial Action Task Force will be doing another review on Pakistan's compliance with its action plan for ending terror financing and money laundering. Pakistan has been in the 'grey list' of FATF for the past two years and if it is again concluded that it has yet again failed to comply with all the measures it was asked to take to end terror financing and money laundering Pakistan should graduate to the 'Black List'.
That will make it difficult for the already cash-starved Pakistan to raise funds from international agencies. But for India what is more important is to see how the country moves in the direction of winding up its terror industry by taking genuine, 'credible' action against globally designated terrorists, the likes of Saeed and Maulana Masood Azhar. To meet its cash needs, Pakistan can always move with its begging bowl before donors in Saudi Arabia and China.
Pakistan's intentions are clear from the fact that it refuses to proceed against Saeed and others involved in the 26/11 terror attacks on the ground that India has not provided sufficient 'evidence' against them. Pakistan does have the 'evidence' to proceed with the prosecution because all the terrorists were Pakistani nationals, had purchased or were supplied within Pakistan all the materials needed to facilitate the attacks.
Pakistan disowned the nationality (Pakistani) of the perpetrators. It is a standard practice by Pakistan whenever its nationals are caught in terror acts in India. The bodies of the Pakistani terrorists killed by Indian security men remain unclaimed though the terror organisations in Pakistan do glorify their names by alluding to their 'sacrifice' in the name of the terrorists' brand of religion. Sometimes, their 'sacrifice' is acknowledged through newspaper advertisements but obviously Pakistani authorities do not see such ads.
Book Shelf

Recent Top Post