China says No to ill Uyghur prisoner's treatment in Turkey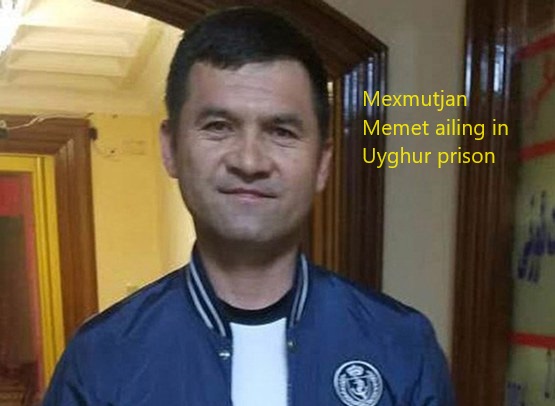 The Chinese Embassy in Turkey has rejected a request to release a critically ill Uyghur man serving a 20-year sentence in northwest China's Xinjiang region so he can rejoin his family in Istanbul and receive medical treatment there, his wife said.
Mexmutjan Memet, a 48-year-old former staffer at the agricultural bureau in Xinjiang's Korla, or Kuerle in Chinese, who later set up a business shipping pears, is being treated at the hospital at Korla Prison since August, though he has shown no signs of improvement, said his spouse Kifaye Éhsan.
He is suffering from liver disease, which his wife attributed to poor prison conditions, Radio Free Asia reported earlier.
At the time, a prison hospital employee said Memet also had heart problems and high blood pressure, though he was in stable condition after receiving medical treatment for two months.
Éhsan said she sent the request for medical parole through a lawyer to the Chinese Embassy in Ankara on Aug. 9 , but the letter was returned unopened.
"I sent a letter to the Chinese Embassy requesting the immediate release of my husband, medical treatment for him, family reunification, and the continuation of his treatment in Turkey," Éhsan told Radio Free Asia.
"However, the embassy that received the request returned the envelope to Gülden Sunmaz, the lawyer who sent it, without opening it."
Éhsan said she received the news that the letter was sent back on Aug. 28.
Sunmaz said she would resend the letter through Turkey's Foreign Ministry and explore other avenues.
"But up to today, I haven't received any response," Éhsan said.
Re-education camps
Like many other Uyghurs living abroad, Éhsan has not had direct contact with her relatives since 2017, when authorities in Xinjiang began detaining Uyghurs and other Turkic minorities in "re-education" camps and implemented strict controls on the flow of information to and from the region.
A police officer from Korla Prison District 5 contacted by RFA said he guarded Memet for one night recently but could not say whether his illness had progressed beyond the critical stage.
Javlan ?irmamet, a Uyghur lawyer who works in Turkey but is not involved in the matter, said the embassy's action was a "manifestation of criminal psychology" and demonstrated "a lack of recognition for legal and moral considerations on the Uyghur issue."
"Gülden Sonmaz is a lawyer with a long-standing involvement in Uyghur issues, so the Chinese Embassy is well aware that this envelope likely contained a letter concerning Uyghurs, specifically seeking information about individuals who have disappeared or who are ill or who have died in prison," he said. "I believe that's why the embassy chose not to open the envelope."
"The Chinese government knows what it is doing and does not want these issues to surface and create further problems for it," he added.
Memet and his family relocated to Turkey in 2015, so his six children would have better educational opportunities. The following year, he escorted his elderly mother back to Korla after she visited his family in Turkey following an Islamic pilgrimage to Saudi Arabia's holy city of Mecca, only to have his passport confiscated by authorities on his arrival.
In 2017, authorities arrested him and sentenced him to 20 years in jail on charges that he had violated China's policy on the number of children ethnic minorities can have, provided religious education to his children and traveled to Turkey.
An RFA investigation found that at least seven members of Memet's family, including his brothers and mother, were sentenced to prison after his return, although his mother was released this year for treatment after becoming seriously ill.
—RFA report, Nov 13, 2023
https://www.rfa.org/english/news/uyghur/chinese-embassy-in-turkey-11132023162357.html
Book Shelf

Recent Top Post

AdSense code