Khalistan- Patiala Reminder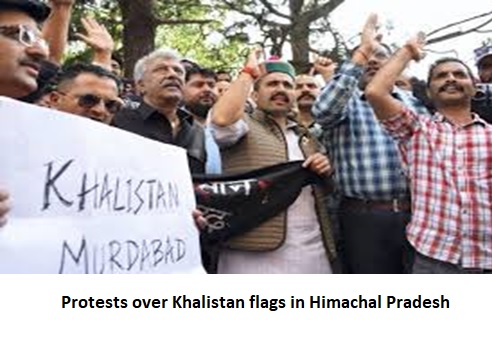 Rattan Saldi*
The violent incidents in the historic city of Patiala in Punjab on 29 April have brought the almost dead issue of Khalistan to the fore. Four persons, including a Police Inspector were injured in the clashes between anti-Khalistan rallyists and those opposing them. Both sides were wielding swords, spears, and other lethal weapons and pelted stones.
Patiala violence was a sequel to a call to celebrate Khalistan Foundation Day by hoisting Khalistan flags on 29 April at all district headquarters in neighboring Haryana state. The US-based Gurpatwant Singh Pannun of the banned Sikhs for Justice (SFJ) gave the call. He and his outfit had earlier unsuccessfully attempted what they called Referendum 2020 among the Sikh diasporas. Haryana government had sounded alert, and foiled SFJ designs.
Shiv Sena (Bal Thackrey Group), organized anti-Khalistan rally in Patiala. This outfit has hardly any following in Punjab and much less in the Sikh dominated Patiala, which was founded in 1763 by Ala Singh, a Jat Sikh chieftain. Reasons for its rally remain a sudoku. Firstly, because there was no visible Khalistan activity. Secondly because peace was prevailing in the state.
The Shiv Sena -B rally met with resistance. Who were these Sikh groups who had opposed them is not materially unimportant more so since they were not Khalistani affiliated. But what is germane to our discussion is the fact that some pro Khalistan slogans were heard as both groups came face – to – face in front of a historic temple amidst provocative slogans from both sides. Police fired some 50 to 60 rounds in the air to disperse the frenzied mobs. And imposed curfew to cool tempers and to restore peace.
India has banned Sikhs for Justice, SFJ, three years ago. Its public face, Gurpatwant Singh Pannun, and Canada based Hardeep Singh Nijjar of Khalistan Tiger Force have since been designated terrorists along with seven others. As many as 40 Websites of pro-Khalistani groups stand banned.
Swiftly acting, Punjab Police have arrested the main Patiala accused Barjinder Singh Parwana. He is the self-styled head of Rajpura unit of the Damdami Taksal, a hardline Sikh organization to which Sant Jarnail Singh Bhindranwale belonged. The president of the local Shiv Sena unit Harish Singla, was also arrested even as he faced suspension from his party for his suomoto rally with his Sena high command not in the loop.
The Patiala incident and the arrest of weapon and explosive carriers near Delhi need close study to nip in the bud any attempt to give a fresh lease to Khalistani campaign which had met its violent end in 1984 after Ops Blue Star eliminated Bhindranwale and his cronies. This is not to deny that a microscopic number of radicalized youths, mainly in border areas of Punjab come alive from their sleeper cells from time to time and try to foment trouble.
Khalistani and other anti-Indian elements have set up their bases in Lahore and elsewhere in Pakistan as also in the United States, Canada, Great Britain and elsewhere in Europe. They have been radicalizing youth in Punjab and Jammu and Kashmir and raising funds to carry out terrorist activities in India with the support of the Inter-Services Intelligence agency of Pakistan. The ISI infiltrates militants and arms and ammunition and drugs to shatter peace and tranquility mostly in Punjab and Jammu and Kashmir.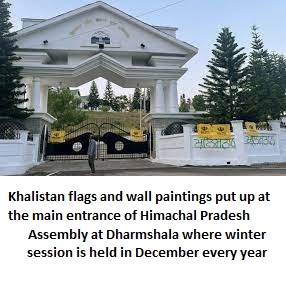 Of late, drones are being used by the terrorist handlers to drop consignments of arms and drugs in border areas of Punjab. Several such drones were either shot down or captured by the Border Security Forces (BSF) in recent years. Many attempts to infiltrate militants through difficult terrain routes or clandestinely dug out tunnels from across the border have also been foiled by the Indian armed forces.
Recently, four Khalistani sympathizers were arrested at a check point while they were heading towards New Delhi from Ferozepur in Punjab. They were on their way to deliver a consignment of arms and explosives to a contact in the far away Adilabad town of Telangana state in South India. Their Lahore based handler had sent them a map of the location at which the weapons were to be delivered. During interrogation they admitted to having received the consignment through a drone drop.
The Telangana town is almost 2,500 kilometers away from the Pakistan border. So, the question arises as to why these weapons and explosives were sent and how these were to be used. Apparently, the ISI is upto some new terrorism mission in the hinterland India after Punjab and Jammu and Kashmir.
During interrogation the arrested persons told the police that they had delivered a similar consignment in the month of April. In August last year the Special Cell of the Delhi police had arrested two gangsters for allegedly supplying arms to Khalistani terrorists, and recovered 18 pistols and 60 live cartridges from them.
To cut to Patiala again, it is essential to give a deep thought as to how, why and who provoked the anti-Khalistan rally in a peaceful Punjab. The Khalistani slogans raised by some opposing the anti-Khalistan rally is clearly indicative of the presence of K- sympathizers. The hawks sitting in Pakistan and elsewhere would try to exploit the situation to instigate trouble in India.
Security agencies not only in Punjab and Jammu and Kashmir but across India need to be extremely vigilant more so because of what had happened in the hill state of Himachal Pradesh adjoining Punjab shortly after the Patiala violence.  Khalistani flags appeared at the main entrance of Himachal Pradesh Assembly at Dharmshala where winter session is held. Khalistan Zindabad was written on the wall adjoining the main entrance to the assembly.
*The writer, a veteran journalist, is a regular contributor to SAT
Book Shelf

Recent Top Post

AdSense code