Uyghur lecturer 'detained' for not signing allegiance oath to CCP: Report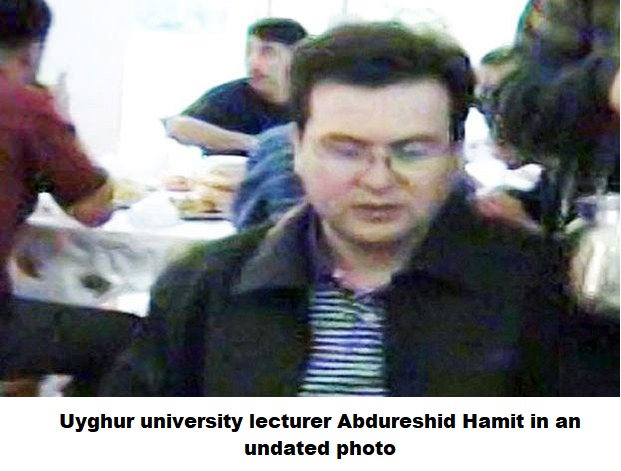 A computer teacher from a university in the Xinjiang region has been detained by Chinese authorities since 2017 for failing to sign an oath of allegiance to the Chinese Communist Party (CCP), a Uyghur source in the town of Ghulja and local officials told RFA.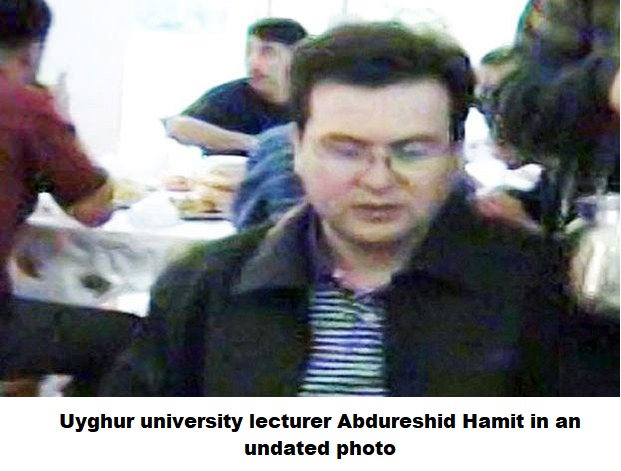 Abdureshid Hamit, who worked at Ili Pedagogical University in Ghulja (in Chinese, Yining), was arrested and later charged with failing to make clear statements against what the Chinese government terms the "three evils" — separatism, extremism and terrorism — in the Xinjiang Uyghur Autonomous Region (XUAR) and failing to sign the oath of allegiance, said a source in the city who has knowledge of the situation. 
Hamit is among a group of more than 20 educators at the university that an earlier RFA report said have been detained. Not all of the names of the educators have been publicly released.

Chinese authorities have purged Uyghur society of intellectuals, prominent businessmen, and cultural and religious figures, imprisoning many of them in a vast network of internment camps, as part of what Beijing says is a campaign to prevent religious extremism and terrorist activities.

The U. S. and the parliaments of other Western countries, however, have declared that such actions constitute genocide and crimes against humanity.

The computer instructor is the son of Hamit Qadirghoja, a former university dean, and he grew up on the school campus.

Hamit enrolled in Xinjiang University in 1995 and graduated in 2000 with a bachelor's degree in computer science. Besides Uyghur and Chinese, he is fluent in English, the source with knowledge of the situation said

As a lecturer at the university's Institute of Information Technology in 2000, Hamit was known for his professionalism and strict moral code, the person said.

He regularly expressed his dissatisfaction with what he saw as the unequal treatment of Uyghur and Kazakh students and the disparity in teacher salaries to school administrators, the source said.

As a result, Hamit became an unofficial representative for Uyghur and Kazakh teachers at the school. At the time, the university's Chinese leaders said his character was "quarrelsome," and in 2017 he was accused of "ethnic separatism" and "being a two-faced person" —accusations that were the basis for his arrest, the source said.

When RFA called the university to inquire about Hamit's fate, an official in the Education Department said that the educator was not currently on the school's list of teachers and was likely detained.

"He was more socially active among Uyghurs," the official said. "It's been five years since he was arrested. We don't know where he is in captivity."

Another official at the school said Hamit was in detention but provided no further details.

"His case was concluded three years ago," she said. "I don't know his imprisonment information."

A former classmate of Hamit who now lives in exile told RFA by email that the lecturer did not sign the oath of loyalty to the CCP. Nor, the source said, did Hamit swear to be against the "three evils" in a document prepared by the university's Political Department in 2016, when the Chinese government sought to get Uyghurs in the XUAR to profess an allegiance to the CCP.

His refusal prompted an official investigation later the same year, the former classmate said. The university's Disciplinary Committee repeated Hamit's previous disagreements with school administrators and charged him with political "crimes," such as "creating a sense of ethnic hatred" and "inciting ethnic divisions" at the school, he said.

Hamit's case was then referred to judicial authorities. Investigators found that Hamit used a virtual private network, or VPN, to circumvent Chinese government censorship of internet sites and to contact foreigners online. Authorities charged him with harboring separatist sentiments.

A disciplinary officer at Ili Pedagogical University told RFA that Hamit was arrested in 2017, but he did not know the length of his prison term or where he was incarcerated.

Hamit, whose parents are Uyghur and Kazakh, traveled to Kazakhstan in 2010 to visit his Kazakh relatives, the source with knowledge of the situation said. During his second visit to the Central Asian country, he also visited Turkey and met with computer professionals there.

Chinese authorities later cited these foreign visits as evidence of his connections with "separatist organizations and individuals" and used them as a basis to charge Hamit with the crime of "trying to separate the country," the source said. (Copy Right/courtesy: RFA)
By Shohret Hoshur in RFA


https://www.rfa.org/english/news/uyghur/abdureshid-hamit-05182022165012.html
Book Shelf

Recent Top Post

AdSense code